Product: Plus! GamePack
Company: Microsoft
Website: http://www.microsoft.com/games
Estimated Street Price: $19.95
Review By: Julien JAY
Introduction
Microsoft has recently released the Microsoft Plus GamePack as itís latest collection of card games. Donít let the name trick you Ėthere arenít themes, etc. as there was in Microsoft plus in the past. In fact this new card game pack is more likely designed to be a game enhancement for your Windows OS. Many of you like playing Solitaire, Freecell or even the Spider Solitaire and have a lot of fun with these games. If that's your case you'll surely love the 12 classic cards games & 10 puzzles offered by Microsoft Plus GamePack. At Home or at the Office, this game pack will bring a fun touch to your PC.
Setup
Installing the Microsoft Plus GamePack is pleasant: you're guided through a nice colored setup interface and you'll have to choose the install method. Indeed you may choose a full install to be able to play without having to insert the CD (this method is convenient though it takes a lot of space [up to 519Mb]) or if your hard disk space is precious you may choose the small install that'll request the CD when you play. Note that you may also choose to install or not the Pandora's Box demonstration. At the end of the setup you're prompted to register your software on the Internet.
Bicycle Card Collection
The Bicycle Card Collection contains 12 classic cards games that are: Hearts, Spades, Cribbage, Pinochle, Crazy 8's, Oh Hell!, Go Fish, Old Maid, Euchre, Gin Rummy, and European favorites Schafkopf and Skat. When you first start the Bicycle Card Collection you'll have to define your character (between a variety of twelve 3D rendered people), name the character and choose the game you want to play. You can play against the computer that'll simulate your opponents or you can choose to play online with real opponents, which can be really entertaining. Each game you choose runs in full screen mode like a real game and presents the rules when you start so you can quickly play a round even if you didn't previously know the rules. The funniest thing in this game is that not only your opponents are in full 3D and move naturally but they also speak letting you know what they'll do, which color of card they choose, etc. During the game good quality music creates a fun and relaxed atmosphere. The Bicycle Card collection lets you choose the back style of cards between 12 different ones as well as the game carpet style between 6 different styles. With three different game levels you can make progress to your rhythm. If there was only one game I would choose from this software itíd surely be the Crazy 8's game: itís funny, fast, easy to play & understand and best of all youíve got good chances to win. So Iíd recommend it to anybody.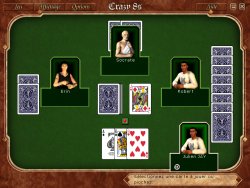 Microsoft Bicycle Starting Screen & Crazy 8s game (click to enlarge)

Puzzle's Collection

Microsoft Plus GamePack also includes the full version of the old Microsoft Puzzle Collection. The Puzzle Collection regroups 10 different games that have a common point: they all require you to think fast and intelligently in order to win. The thing you'll like is that these games were designed by Alexei Pajitnov the famous creator of Tetris -promising hours & hours of fun with those clever games thatíll strain your brain (however be careful to donít pull out your hair if you lose). Iíve owned the original puzzle collection since 1997 and havenít stopped playing since. Here are some game descriptions:

Fringer: Untangle knots in a mad scramble against time. Fall behind and you'll be at the end of your rope. Stay ahead and be tied up for hours.

Jewel Chase

:

Jewellers: pass your way! Logic is the key to this gem. Plan your moves carefully in this unique twist of cat and mouse and treasures are yours for the taking. This game really requires a clever plan from the map so you can win. Iíve reached the level 109 and there are still levels afterÖ This small game is really absorbing.

Finty Flush

:

Fill the grids with the correct combination of marbles. The clock is your adversary, but logic rules. Lose your cool and it's gridlock.

Color Collision

:

Dodge obstacles at breakneck speeds in pursuit of the color target. Think you've got it mastered? Try the next level and you'll be seeing red.

Mixed Genetics: Cure bizarre, mutant animals by mixing and matching common traits. Use your analytical skills and fast thinking to create genetic order out of chaos.

Charmer

:

Dancing snakes are too entranced to see their doom. Stay alert to save them before the last pot is sealedóand they're hisssssstory.

Rat Poker

:

Quickly trap rats and combine them into winning poker hands. Anticipate the next move or get lost in the rat race.

Spring Weekend

:

Use shrewd decision-making to match garden patterns in as few moves as possible. You'll need more than a green thumb to conquer this one!

Lineup: Take a time-out with this new ball game. Sharp eyes and sound thinking will give you command of the playing field.

Muddled Casino

:

Deductive reasoning and endless strategizing are required to win the jackpot. WARNING: There's no bluffing in this casino!

All this games run in windowed mode and feature 2D graphics. The 2D graphics are nice but the music soundtrack can be a bit tiresome. Each game comes with a built-in help so you know what to do in order to play. The funny thing is that I really enjoy 3D action games like MechWarrior but I also like these simple but smart games and can spend as much hours to play with it than playing with the latest Age Of Kings.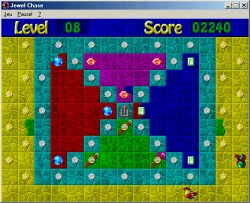 Microsoft Puzzle Collection: Jewel Chase (click to enlarge)
Microsoft Pandoraís Box Trial
Here is my deepest regret about this new set of games: the Plus GamePack includes a trial version only of Pandoraís Box and not a full one. Pandoraís Box is probably the finest and ultimate reflection game right going from the devilish brain of Alexei Pajitnov, the Tetris Creator. If my own advice wasnít enough to convince you of the goodness of this game, you have to know that it was nominated as the Best Puzzle Game in 1999 at E3. This game is a one with a history: somebody opened the Pandoraís Box spreading the havoc on the whole earth. Youíll have to solve, through a world trip, 8 different kinds of 3D puzzles that represent 400 different ones (only that!) to close the Pandoraís Box and restore peace on earth. The puzzles are not typical word and logic puzzles, but instead take advantage of computer technology and challenge your visual skills: recognition, observation, image composition, and spatial relationships. Some are twists on a familiar challenge and others are completely unique. Here are a few type of puzzles:
They all provide a more relaxing subconscious, and a enjoyable challenge that can be more fun than cerebral word or logic puzzles. Thankfully before you begin each kind of puzzle is clearly explained so youíll be able to play almost instantly. Puzzles are most of the times made up with well-known Photos or pictures from the city youíre in. If youíre in Paris youíll have to reconstruct the Eiffel Tower to winÖ There are several fascinating levels and for certain puzzles if you solve them in time (just before the allowed time you were granted expires) youíll earn jokers thatíll help you solve insolvable puzzles. But you can also win jokers as some are hidden in certain puzzles. There are two kinds of jokers: hints & wildcard ones. The help displays specific tips to help you solve the problem while the magic one solves the whole puzzle itself. To conclude the Pandoraís Box review Iíd say that I was stuck in front of my computer during 4 weeks to solve the whole thing and I managed to do it J
Note that the demo version of Pandora's Box included in the Microsoft Plus GamePack contains only 8 puzzles from the full version.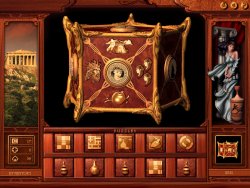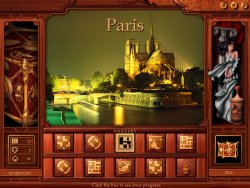 Microsoft Pandora's Box ScreenShots (click to enlarge)
Final Comments
How It Grades

Installation

: 9

0

%


Originality

:

80

%


Games Fun

:

80

%
Graphics: 80%
SoundTrack: 85%
MultiPlayer over MSN
Gaming Zone: 90%


Price

:

9

0

%
Overall:

85

%

Microsoft Plus GamePack is a must-have game collection for those of you that like card games and puzzles. From child to grandma everybody in the family will find interest in playing to the various games offered in the pack. We regret that this Plus GamePack comes only with a demonstration version of the excellent Pandora's Box as we'd prefer Microsoft to bundle a full unlimited version. But this trial version will have an advantage: itíll show you how Pandoraís Box is great and youíll want to buy it right if you havenít already got it. In conclusion this Plus GamePack is a perfect and affordable gift to offer for Christmas to almost every computer user (except maybe to Quake fans).
Specs & Package
Overall Score
85%
Version Reviewed

Microsoft Plus! GamePack

Release Date

Available now!

In The Box?
1 CD
1 License book
The Good Points
Funny and entertaining
Affordable price
MultiPlayer Enabled
The Bad Points

Pandora's Box Only in Demo Mode (and not a full release)

Reviewers PC Setup
Pentium

4

1

.5

Ghz
Intel

D850GB

Motherboard
Windows Millennium Edition


384

MB PC800 RDRAM w/ECC
DirectX

8


17" Sony Trinitron Monitor
Hercules 3D Prophet II Ultra 64Mb AGP 4x Graphics Card
Sound Blaster Live! Platinum

5.1


Adaptec 19160 Ultra SCSI card
Pinnacle Studio DV

Plus


Pinnacle Studio PCTV USB

Microsoft TrackBall

Explorer


Microsoft Natural Keyboard Pro

DVD Pioneer 105s (16/40x)
PC Required

Minimum System

Windows 95/98/Me or Windows 2000
Pentium 166Mhz or greater
32Mb of RAM
150Mb of free hard disk space
2Mb SVGA display card
Quad Speed CD-Rom Drive
Optional Sound Card
There are however more fun games that you can play on your PC. Online casino games are very popular at the moment and they are available as both free games and cash games Ė go with the one are most comfortable with. Finding the best casino game is easily done via a casino guide. This could work as a good complement to the Plus GamePack.