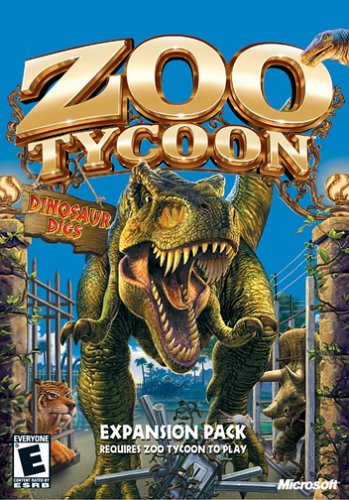 New Games Features
The first new feature brought by this expansion pack is obviously the ability to mix contemporary animals and dinosaurs into an exciting virtual zoo where youíre the manager. Microsoft has included twenty new prehistoric creatures in this pack: from the well known mammoth to the scary T-Rex and velociraptor youíll be able to build real pandemonium. Since the release of this expansion pack Microsoft has put online two new free creatures, thus making the number of available dinosaurs to 22. As you progress through the game, more prehistoric animals become available. Having dinosaurs in your zoo requires a new environment thatís why dozens of new habitats/building materials have been added to the game in addition to brand new buildings. You can now add stuff like skeleton exhibits, volcanoes, geysers, kiddie rides, tar pits, dinosaurís ice cream stands and other exclusive content available only in Dinosaur Digs. The game also includes brand new maps for freeform mode.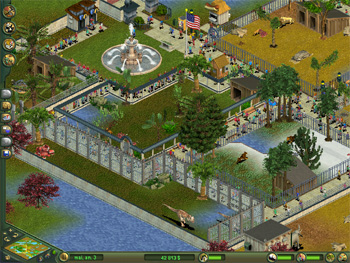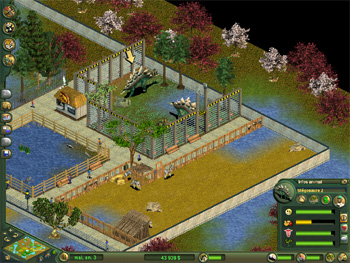 Microsoft Zoo Tycoon Dinosaur Digs (click to enlarge)
Since a dinosaur isnít exactly the everyday animal, youíll have to build special enclosure to avoid escaping. New closure material is available like electrical fences or rock solid concrete walls. Of course one day or another, a dinosaur will succeed at his favorite game, destroying his enclosure, and will spread chaos in your zoo. Thatís why you need to purchase an expensive DRT (Dinosaur Recovery Team) unit that consists of a heliport with a helicopter to spot the dinosaur and send him to sleep thanks to a tranquillizer. Otherwise the dinosaur will rummage through your zoo and his dinner will probably be some visitors, something to avoid if you want to keep a substantial income. Once the dinosaur is captured you can send him back to his cage. I must say that seeing a dinosaur escaping from his cage is extremely funny even if it recalls some Jurassic Park memories.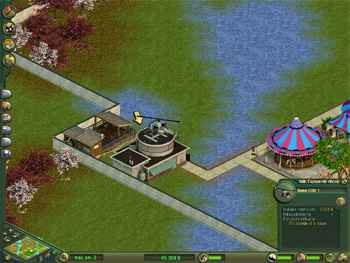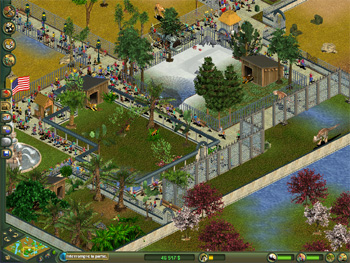 Microsoft Zoo Tycoon DRT Base & DRT in action (click to enlarge)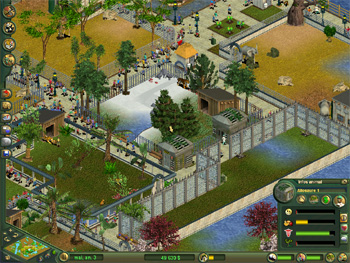 (Re)Captured Dinosaurs (click to enlarge)
Unlike other animals, when you adopt a dinosaur you just purchase a dinosaur egg that will later hatch as a baby dinosaur. Thatís why you need new staff to take care of these animals. Only scientist will be able to raise dinosaurs and feed them.
This pack also includes six new scenarios where the difficulty increases as you progress. These new scenarios will put to the test your talent of manager since dinosaurs are extremely expensive. Youíll have to watch funds in order to avoid the bankruptcy of your zoo. Not to say you constantly need to check out dinosaurs enclosures so they donít destroy your zoo and kill your customers. In most of these scenarios you have to create an Ice Age park. Throughout the scenarios youíll have to research genetics, breed T-Rex, etc.
Game Play
For this expansion pack, Microsoft has slightly revamped the game management. A few new buttons appear on the bottom left area of the screen that lets you hide guests, foliage or buildings so itís much easier to build new enclosures and see whatís going on in your zoo. The game includes an improved building management tool that lets you compare all the buildings and their profits.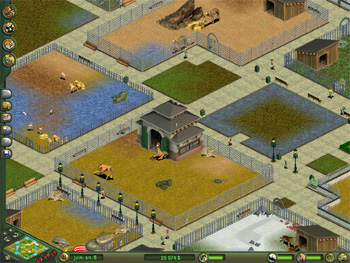 Microsoft Zoo Tycoon Dinosaur Digs With Building/Trees/Visitors Hiding Options Enabled (click to enlarge)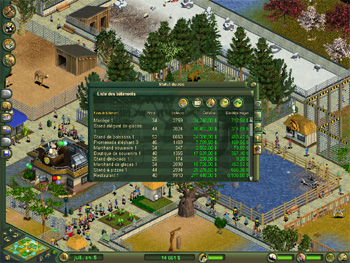 Microsoft Zoo Tycoon Dinosaur Digs Building Profit Screen (click to enlarge)
For novice users the game includes a brand new and extremely complete tutorial thatíll teach you the basis of creating a prehistoric zoo.
Despite a few new textures, the game still offer the same graphics and the same level of details. The soundtrack hasnít evolved much apart the fact Dinosaurs benefit from new sounds like snarls and roars.