DirectX
ActiveMac
Downloads
Forums
Interviews
News
MS Games & Hardware
Reviews
Support Center
Windows 2000
Windows Me
Windows Server 2003
Windows Vista
Windows XP



News Centers
Windows/Microsoft
DVD
Apple/Mac
Xbox
News Search



ActiveXBox
Xbox News
Box Shots
Inside The Xbox
Released Titles
Announced Titles
Screenshots/Videos
History Of The Xbox
Links
Forum
FAQ



Windows XP
Introduction
System Requirements
Home Features
Pro Features
Upgrade Checklists
History
FAQ
Links
TopTechTips



FAQ's
Windows Vista
Windows 98/98 SE
Windows 2000
Windows Me
Windows Server 2002
Windows "Whistler" XP
Windows CE
Internet Explorer 6
Internet Explorer 5
Xbox
Xbox 360
DirectX
DVD's



TopTechTips
Registry Tips
Windows 95/98
Windows 2000
Internet Explorer 5
Program Tips
Easter Eggs
Hardware
DVD



ActiveDVD
DVD News
DVD Forum
Glossary
Tips
Articles
Reviews
News Archive
Links
Drivers



Latest Reviews
Xbox/Games
Fallout 3

Applications
Windows Server 2008 R2
Windows 7

Hardware
iPod Touch 32GB



Latest Interviews
Steve Ballmer
Jim Allchin



Site News/Info
About This Site
Affiliates
Contact Us
Default Home Page
Link To Us
Links

News Archive
Site Search
Awards



Credits
©1997-2012, Active Network, Inc. All Rights Reserved.
Please click here for full terms of use and restrictions or read our Light Tower Privacy Statement.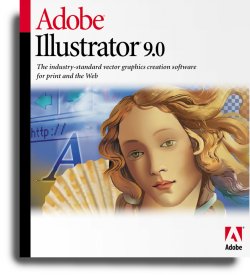 Product: Illustrator 9
Publisher: Adobe
Website: http://www.adobe.com/illustrator/
Estimated Street Price: $399.00
Review By: Julien Jay
Web Features
Previous versions of Illustrator werenít web oriented at all. Illustrator 9.0 truly corrects the problem by adding some very interesting features dedicated to web graphics. One of these features is the pixel preview mode that lets you see the look your vector based illustration will have once itíll be converted into a rasterized GIF or JPEG file so you wonít have to worry about it anymore. Adobe Illlustrator 9 even lets you use pixels as measure unit. Actually many animation designers which use either Macromedia Flash or Adobe LiveMotion are forced to comply with some painful methods to export their illustrations. Adobeís answer lets Illustrator 9 users create as many layers as there are objects in their creation so objects are obviously automatically distributed over the layers, this way you can export to flash by choosing else to export the whole illustration, to export each layers into a separate frame of the SWF file or to export layers into different files. Since Adobe chosen to support the new open standard SVG (scalable vector graphics) animation format created by the W3C (this new format is clearly a Flash rival) you can define and assign to your illustration several interactive actions like JAVA scripts routines using the interactivity palette. Your SVG animations can be obviously exported, with the help of a nice feature ensuring that when users will resize their web browser window the entire web page youíve created stays visible in other words the feature will make sure the scale of the layout will conform to the frame. Just like its Photoshop brother, Adobe Illustrator 9 comes with the convenient Save for Web window, so you can catch a strike balance between image quality and downloading time for your graphics. You can export your wonderful creations to GIF, JPG and PNG-8/24 file formats ensuring a wide compatibility with web standards. Finally the Web safe color palette is supported so you can use only browser compatible colors.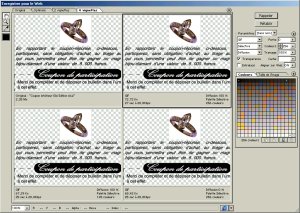 Adobe Illustrator 9 Save For the Web Dialog Box
Advanced Features
If Adobe Illustrator 9 still save files under the *.AI extension, files are now in fact saved using the core PDF format ensuring that Illustrator can now handle perfectly postscript (EPS) & PDF files without damaging elaborated layouts or losing some attributes like fonts, etc. The PDF file format also features settings for font embedding, color management, compression & security in the aim to produce high quality printing. I bet that next versions of Adobe Acrobat Reader will be able to open Illustrator 9 files due to this internal architecture change. Adobe has also streamlined the graphic engine of Illustrator 9 with a new anchor point reduction feature to minimize the number of handles defining the shape of objects inside a drawing so illustrations load quickly. Like its predecessor Illustrator 9 can perfectly import PhotoShop files but it now also imports correctly masks, blending modes, transparencies and layers. Like in the previous release text on a path is still included so you can align text over a curved lined or a path of your own very easily. Illustrator 9 now provides two lasso tools to help you accurately select irregular areas named the lasso and direct lasso tools. The lasso tool selects entire object or paths into an irregular selection area while the direct select lasso tool select only portions of paths or objects. Just like in Windows pressing the shift key lets you add onto selection. The eyedropper and paintbucket tools can now be used to sample and apply graphic styles like transparency, fill, or stroke effects. Rotating objects has never been so easy since the mouse cursor now changes for a rotation one when you position it next to the corner selection point on a bounding box.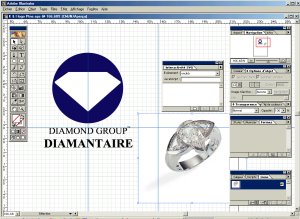 Adobe Illustrator 9.0 is more opened than ever and supports a wide variety of file formats ensuring a vast compatibility with almost all of todayís software! You can save your artwork to the following file formats: Illustrator, EPS, PDF, SWF, SVG, GIF, JPEG, PNG, Photoshop (including layers), BMP, PICT, PCX, PXR, TGA, or TIFF. Best of all you can open several kinds of file formats from any version of llustrator, to EPS, PDF (one page at a time), Photoshop (versions 2.5 and higher), SVG, Macromedia FreeHand (versions 5.0, 5.5, 7.0, and 8.0), CorelDraw (versions 5.0 through 8.0), BMP, GIF, JPEG, PNG, Kodak Photo CD, PICT, PCX, PXR, TGA, and TIFF formats. Great isnít it? Like in the previous release the action palette is always included so you can select automated actions in this palette that will be applied instantly to your creation in just one click! Well if software does our job, what will we do next? Easy to use, the actions palette lets you by a simple click of a button select an action. For example Ď3Dí cube and push the play button. In a few seconds Illustrator will draw itself the wonderful cube you can see on top. Illustrator 8 carried the gradient mesh tool that is still in this ninth release. It allows users to blend colors on multiple directions in a single object. This new tool will effectively enhance the usersí creativity and will expand the range of shading, lighting.