DirectX
ActiveMac
Downloads
Forums
Interviews
News
MS Games & Hardware
Reviews
Support Center
Windows 2000
Windows Me
Windows Server 2003
Windows Vista
Windows XP



News Centers
Windows/Microsoft
DVD
Apple/Mac
Xbox
News Search



ActiveXBox
Xbox News
Box Shots
Inside The Xbox
Released Titles
Announced Titles
Screenshots/Videos
History Of The Xbox
Links
Forum
FAQ



Windows XP
Introduction
System Requirements
Home Features
Pro Features
Upgrade Checklists
History
FAQ
Links
TopTechTips



FAQ's
Windows Vista
Windows 98/98 SE
Windows 2000
Windows Me
Windows Server 2002
Windows "Whistler" XP
Windows CE
Internet Explorer 6
Internet Explorer 5
Xbox
Xbox 360
DirectX
DVD's



TopTechTips
Registry Tips
Windows 95/98
Windows 2000
Internet Explorer 5
Program Tips
Easter Eggs
Hardware
DVD



ActiveDVD
DVD News
DVD Forum
Glossary
Tips
Articles
Reviews
News Archive
Links
Drivers



Latest Reviews
Xbox/Games
Fallout 3

Applications
Windows Server 2008 R2
Windows 7

Hardware
iPod Touch 32GB



Latest Interviews
Steve Ballmer
Jim Allchin



Site News/Info
About This Site
Affiliates
Contact Us
Default Home Page
Link To Us
Links

News Archive
Site Search
Awards



Credits
©1997-2012, Active Network, Inc. All Rights Reserved.
Please click here for full terms of use and restrictions or read our Light Tower Privacy Statement.



Product: Photo Deluxe 4.0 Home Edition
Company: Adobe
Website: http://www.adobe.com
Estimated Street Price: $49,00
Review By: Julien JAY
Touching Up Photos
With Adobe PhotoDeluxe you can acquire directly your pictures via your scanner or digital camera if they are provided with TWAIN compliant drivers. You can also open every picture file that is on your hard disk. Supported file formats are more than numerous: EPS, WMF, TIF, PNG, PCT, PIC, JPG, FPX, Generic EPS (AI, etc.), LCA, GIF, BMP, RLE, PSD, PDD & PBD (the specific Adobe PhotoDeluxe formats). Notice that you can export your photos or paper creations to Adobe Acrobat PDF files that can be viewed by everyone simply by downloading the free Acrobat Reader tool. With its wide support youíre sure to be able to view and work on almost every picture file formats that exists. The FlashPix support is great for those of you who make their photos developed on Kodak new Picture CDs. However no support is offered to display traditional photo CD pictures: too bad. Once you have opened a photo or acquire it you can start working on it: imagine that youíve just scanned this old forgotten photo where you were young with your favourites pets next to you: the photo is scratched, there are dust points all over it and finally you and the pets have got red eyes. Can you imagine you can repair it in order to erase red eyes, scratches and dusts? Adobe PhotoDeluxe 4 offers all the tools needed to do so and will guide you through easy steps to do so. Letís fix the red-eye effect first: click the editing button activity, then click on touch up picture and choose the fix red eye menu command. Now read what PhotoDeluxe prompts you to do and click the select tab then select with the frame the area of the picture that contains red eyes and click the fix red eye button: thatís it the red eyes effect due to the dilatation of your pupil has gone: repeat the operation if other areas of the photo need it and when itís finished click the finish tab. Now you may think that adobe Photodeluxe will never manage to repair the scratch of your photo as your local photo dealer told you years ago it was impossible. Youíre wrong!!!! With three simple to follow steps your photo is now entire! Finally letís attacked the dust points that recover some parts of the photo: once again the simplicity of implementation of this feature and its incredible efficiency has simply amazed us: select the areas where there are dust points click the fix button and theyíre all gone! We cannot better dream!! Sure other touching up features allows you to remove some parts of the picture that wastes its beauty like this annoying electricity post that is just in front of the castle youíve photographed during your holidays in Spain. With PhotoDeluxe 4 youíll erase it in a few clicks by using the smart selecting tools that stick to the contours of every objects of the photo to accurately select and remove them. Hopefully PhotoDeluxe offers more conventional features to rotate, resize, applying symmetries effects to opened pictures. Obviously traditional selecting tools are accessible with this software such as Magic Wand, Rectangle, Square, Polygon, Hand selection, etc. Adobe PhotoDeluxe supports wheel mice so you can zoom your photos simply by scrolling the wheel. Enhancing the global quality of a photo is a capital thing to impress viewers of the photo so adobe PhotoDeluxe offer to the more-advanced users features to adjust color, brightness, contrast, saturation and other aspects with separate tools. While novice users can use Extensisô Instant Fix tools to improve photo quality in one step. Finally you can share photos through email using the send to email feature of PhotoDeluxe: however we regret that the sending wizard doesnít provide a shortcut to launch users address book in order to avoid remembering the exact email addresses of your friends.
Special effects
If you want have fun by turning your girlfriend into an evil monster then youíll love the several distortion effects PhotoDeluxe offers you. The Old Fashioned option makes photos appear antique more exactly in Sepia, while the newly-revised Disguise feature lets the user drag clip art props into a photo for humorous results. Other options include changing the photoís background and creating composites. Hopefully many other special effects come with the software thatíll allow to add a creative touch to every photo you treat.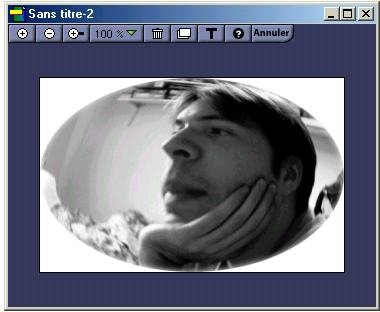 Digital Camera Support
As always Adobe PhotoDeluxe 4 automatically installs a Digital Camera plugin that integrates itself to the Microsoft Windows Explorer: so you can access supported digital cameras directly through the Microsoft Windows Explorer. Itís a great feature thatíll interest all Windows 95/98 users, but unfortunately it doesnít support a lot of digital cameras and the interface of the tool is a bit obsolete. Finally as Windows Me includes this feature in standard the Adobe one loses its interest. Hopefully you can easily remove it through a small provided on the CD.

Cards & papers projects
Adobe PhotoDeluxe 4 pushes back the limits of this kind of software by including papers based projects that every home users will use someday to create beautiful documents that include personal photos. A wide variety of templates composed by more than hundred of new professionally designed layouts lets you use your photos to create greeting cards, stickers, magnets, diplomas, mailing labels or even calendars in a few clicks. You can even commemorate holidays or special occasions using the new seasonal projects. New provided cliparts are a plus to enhance further the quality or your creations. A new feature of this release has impressed us: you can create screen savers which contain the pictures you choose: itís a great way to share pictures with friends. The new 3d wizard of PhotoDeluxe lets you put your photos on 3d objects or insert 3d cliparts onto your photos: the best thing is that when sharing this photo family and friends donít need PhotoDeluxe nor special glasses ;-) This new release of PhotoDeluxe introduces changeables: itís an assortment of morphable pieces of clip art that can be adapted to everyoneís taste by simply dragging some slides into the interface. So you can turn an alarming dinosaur into a laughing or smiling one! You can even change colors, add shadows, etc. Sure every pictures as well as every creations can be printed in standard sizes with multiple copies to a page or mixed and matched to create custom print packages, etc. You can even define the quality of the printing and for advanced users you can dig into the colour management to ensure that your printing will correctly restore the colours of your screen composition.