DirectX
ActiveMac
Downloads
Forums
Interviews
News
MS Games & Hardware
Reviews
Support Center
Windows 2000
Windows Me
Windows Server 2003
Windows Vista
Windows XP



News Centers
Windows/Microsoft
DVD
Apple/Mac
Xbox
News Search



ActiveXBox
Xbox News
Box Shots
Inside The Xbox
Released Titles
Announced Titles
Screenshots/Videos
History Of The Xbox
Links
Forum
FAQ



Windows XP
Introduction
System Requirements
Home Features
Pro Features
Upgrade Checklists
History
FAQ
Links
TopTechTips



FAQ's
Windows Vista
Windows 98/98 SE
Windows 2000
Windows Me
Windows Server 2002
Windows "Whistler" XP
Windows CE
Internet Explorer 6
Internet Explorer 5
Xbox
Xbox 360
DirectX
DVD's



TopTechTips
Registry Tips
Windows 95/98
Windows 2000
Internet Explorer 5
Program Tips
Easter Eggs
Hardware
DVD



ActiveDVD
DVD News
DVD Forum
Glossary
Tips
Articles
Reviews
News Archive
Links
Drivers



Latest Reviews
Xbox/Games
Fallout 3

Applications
Windows Server 2008 R2
Windows 7

Hardware
iPod Touch 32GB



Latest Interviews
Steve Ballmer
Jim Allchin



Site News/Info
About This Site
Affiliates
Contact Us
Default Home Page
Link To Us
Links

News Archive
Site Search
Awards



Credits
©1997-2012, Active Network, Inc. All Rights Reserved.
Please click here for full terms of use and restrictions or read our Light Tower Privacy Statement.




New Features
Well, what can I say, this NOS has a lot of new features in it, but the ones that I will refer to in this article do not necessarily fit in any of the other major enhancement sections, so here you are. Let's get started with the Manage Your Server utility. (Not Computer Manager. But we will get to that one…) For the complete of features please peruse: http://www.activewin.com/winnetserv/featureslist.shtml
MANAGE YOUR SERVER
After the installation process has completed and you have logged in successfully for the first time, Windows provides you with a new utility to make our lives much easier. This utility is called the Manage Your Server wizard. Initially, this nice add-in only gives you the option to setup new services on the server; but once you begin to install new Server services, this utility becomes the best In-Your-Face tool an administrator would ever want. As you install additional services, like Active Directory or IIS, the functionality of Manage Your Server increases to show you common tasks associated with each service installed on the server. This way, every time that you log on to the server, you don't have to go searching around the system to manage the server (maybe that's where they got the name) with utilities scattered in many different places. All services can be either added or removed from Exchange using either Add/Remove Programs, or the Manage Your Server utility.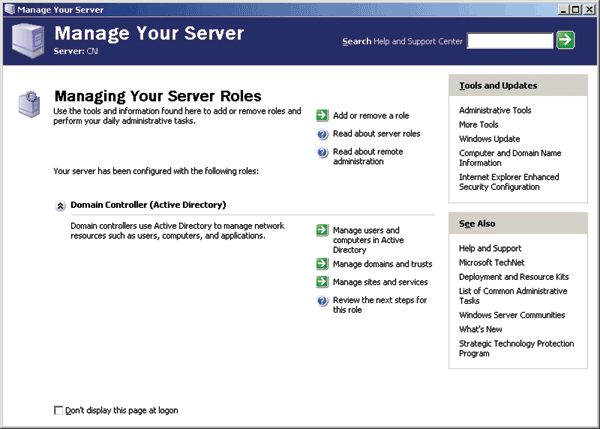 COMPUTER MANAGER
Well, Computer Manager is still the nice convenient tool that it used to be. The Functionality is the same. The only nice change that I saw, aside from the icons, was that when you promoted the server to be a domain controller, the Computer Manager completely removes the Local Users and Groups icon. (2000 would put a red "X" over it, so a novice may think that something is wrong.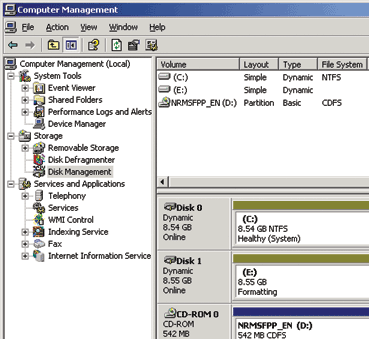 GROUP POLICY
Group Policy has grown tremendously, not modified, just grown. If you look at the screen capture, you will notice that there are many additions just in the sections shown. As you can see, some have to do with Wireless Technology, Windows Messenger, IIS, Windows Media Digital Rights Management, Time Server Synchronization, etc… The only catch is that many of these enhancements are only applicable to Windows XP and 2003 Server. The interface has changed for Group Policy as well to include the new Extended View that was first introduced in Windows XP. The Extended View provides you with the ability to select a policy option from the right and see a description of what the policy does and what clients the policy can be applied to.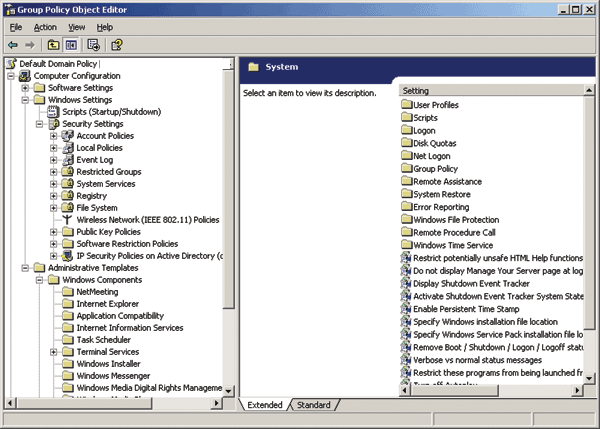 The WEB BASED ADMINISTRATOR
I love this feature. I really do. There was a Web Administration program for Windows 2000 that was included with IIS, but it only allowed you to manage IIS. The new one for 2003 Server lets you manage user accounts, services, alerts, etc… It'll even give you the ability to schedule a shutdown on a 2003 Server. Did I mention that you could do this from anywhere on the network. How sweet is that?
I must say, I really like the web admin. The only catch is that you must install IIS to get this functionality.