DirectX
ActiveMac
Downloads
Forums
Interviews
News
MS Games & Hardware
Reviews
Support Center
Windows 2000
Windows Me
Windows Server 2003
Windows Vista
Windows XP



News Centers
Windows/Microsoft
DVD
Apple/Mac
Xbox
News Search



ActiveXBox
Xbox News
Box Shots
Inside The Xbox
Released Titles
Announced Titles
Screenshots/Videos
History Of The Xbox
Links
Forum
FAQ



Windows XP
Introduction
System Requirements
Home Features
Pro Features
Upgrade Checklists
History
FAQ
Links
TopTechTips



FAQ's
Windows Vista
Windows 98/98 SE
Windows 2000
Windows Me
Windows Server 2002
Windows "Whistler" XP
Windows CE
Internet Explorer 6
Internet Explorer 5
Xbox
Xbox 360
DirectX
DVD's



TopTechTips
Registry Tips
Windows 95/98
Windows 2000
Internet Explorer 5
Program Tips
Easter Eggs
Hardware
DVD



ActiveDVD
DVD News
DVD Forum
Glossary
Tips
Articles
Reviews
News Archive
Links
Drivers



Latest Reviews
Xbox/Games
Fallout 3

Applications
Windows Server 2008 R2
Windows 7

Hardware
iPod Touch 32GB



Latest Interviews
Steve Ballmer
Jim Allchin



Site News/Info
About This Site
Affiliates
Contact Us
Default Home Page
Link To Us
Links

News Archive
Site Search
Awards



Credits
©1997-2012, Active Network, Inc. All Rights Reserved.
Please click here for full terms of use and restrictions or read our Light Tower Privacy Statement.



Product: Copernic 2000 Pro
Company: Copernic, Inc.
Website: http://www.copernic.com
Estimated Street Price: $79.95
Review By: Julien JAY
Features
We've just spoke of integration… Let's see things in details: Copernic 2000 can be integrated with the search menu of the Windows start menu so you can launch it quickly. Best of all you can integer Copernic 2000 with Internet Explorer: this will be translated by the addition of two new buttons in the Microsoft Internet Explorer main toolbar that will help you to launch Copernic and even translate web pages using the Gist-in-Time website with more than 14 couple of languages available (note that this command will be also added to the tools menu of Microsoft Internet Explorer). Finally the search panel of Microsoft Internet Explorer can be replaced by a Copernic 2000 enabled one: when doing so the search panel will ask you to enter the words you're looking for and when you will push the 'go' button Copernic 2000 will be launched and will instantly begin searching for what you requested.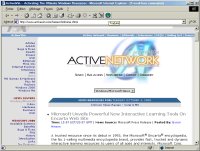 Integration with Internet Explorer 5.5 (click to enlarge)
As every modern and 'in the wind' software the interface of Copernic 2000 can be softly skinned: indeed you can change the toolbar layout as well as the background of some Copernic lists. Applying or searching a new skin is very easy as with a simple click of a button you're connected to the Copernic skins gallery… Then you'll be only embarrassed by the amazing choices you'll be offered.
Making your first search is really intuitive: simply click the create search button and then type the string you're looking for. You can even type a natural language question, as the English version of Copernic 2000 is clever enough to understand sentences! As Copernic is a smart software you don't need to use logical connectors such as 'and', 'or', etc. but you can still check 'search for all words', 'search one word' or 'search exact expression'. You can then define the domain of your search to obtain accurate results. Available search domains are: search 'the whole web', search the 'French web', search the web for 'software', 'newsgroup', etc. Then you can use the build in spell checker to make sure your search string doesn't contain any typo mistakes. You can even more customize your search by defining different kind of searches that will return a maximum amount of 'x' results per searching engines. This feature is really useful, as it'll reduce the amount of results by selecting only the best ones. Note that each search can be "update" enabled: that is to say that your search results will be updated as much as you want at your convenience. Finally novice users will be happy to know they can use a wizard to do so instead of using the settings box. The wizard is really user friendly and provides simple and understandable steps to make your search. As Copernic 2000 really uses the Microsoft standard the application is fully compatible with Microsoft IntelliMouse devices so you can scroll in the software as easily as in Outlook!
Search Results
When Copernic is searching for what you asked, a window is displayed that shows, which search engines, are scanned and the amount of results found on each search engine. Note that a progress indicator helps you to know when the search will be finished and its actual status. Once the search is over results are displayed in a nice list where search results that match parts of your request are automatically highlighted in yellow. Another good thing to know is that search results are classed by the estimated result accuracy. So possible best results are in top of the list with a small gauge that shows the exactitude state of the request. And the worst accurate results are obviously put in the down of the list. The sort order of the search results can be changed, as you may want to sort them by title, address, etc. A great feature named 'Refined' will help you enhance the accuracy of your search using some criteria like 'AND', 'OR', etc. But this refine feature can also clean up the search results to respect the case, delete documents that doesn't match the accurate search criteria search entire words and more… You can even search your search result for a specific word using the search feature of the edit menu. You can also directly reach a website that may contain what you are looking for using the default browser. Each search results offer a right click contextual menu that offers a neat feature to open the website that may contain the thing you're looking for in a new Internet browser window so you're sure to don't replace the previously interesting visited website by an other one. An other practical feature offers by a right mouse click on a search result is the properties box that'll display the properties of the link that contain the complete URL, the search engine that returned it and much more! Every search result you don't like/appreciate can be deleted from your history. Searching the net for a specified thing can returns a lot of links and some of them may be useless or dead links: so once again Copernic 2000 is here to assist you and can, at your request, filter out useless information and remove from the search results every dead link. The software saves each search you've done so you can easily access it again and view its results even if you're online, and the best thing is that you can modify an old search. Search results can be sent by email in HTML or TXT format: the feature is totally automatic and will launch your default email client and will add the report to the attached file of the 'compose email' window. Search results can also be exported to several different file formats that will be stored on your hard disk. Available export file formats are: HTML, TXT, CSV, DBF, XML. Every search or search results can be put in a folder of your own that you can create directly in Copernic: it's really a great idea to organize your searches.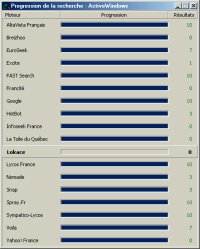 Search Progress Indicator (click to enlarge)
Advanced Features
With Copernic 2000 you can schedule search updates and be notified by email when something new is found. Though the aim of Copernic 2000 is to ease your Internet experience it even allows you to remove add banners on website to speedup your internet consultation and prevent you to be bothered by some add banners. Every search result can be downloaded to your hard disk with the settings of your choice: that is to say the webpage will be downloaded and you'll be able to read it offline: an other very useful feature! Sure you can specify to not download the pictures that contain the webpages! As web searching engines perpetually evolve, Copernic 2000 includes an online update feature that'll regularly or at your request search if updates are available for your software. If ever you found that a search engine is missing to Copernic 2000 and isn't include in the latest update of the software you can add it manually! Copernic also offers a 'duplicate' feature that'll create a new search using exactly the same settings than the selected one. If you're afraid that Copernic 2000 may not returned you a sufficient number of answers per search engine you'll be happy to know that the maximum number of results per engine is 300 and that the maximum number of results per query is 1000. The interface of Copernic 2000 is fully customisable as you can choose to display or not toolbars, status bar, text labels and more… However you can't remove or add buttons to the default toolbars.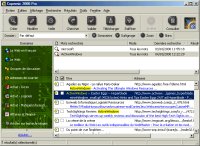 GUI of Copernic 2000 Pro showing search results (click to enlarge)