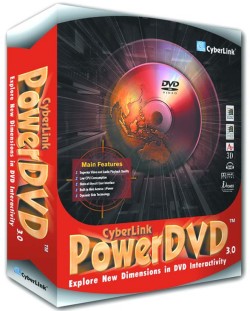 Software Features
The main interface of Power DVD 3.0 is as cool as with previous releases. It has been slightly streamlined but the principle stays the same: you have one main window (with no buttons, etc.) where the film is played as well as a separate element looking & acting like a real DVD deck. The DVD deck is where you have access to every PowerDVD 3.0 features including the most vital ones like play, stop, pause, next/forward, etc. Thanks to a very neat and well cared interface most users will be able to use PowerDVD right away without any worries while some may find that the advanced buttons that are hidden by a small trapdoor show cryptic icons making it hard to understand their purposes. When you perform a DVD playback in full screen mode the DVD commands console is obviously hidden. To make sure you can have control over the DVD playback and to avoid bringing the deck on screen (so it cuts part of the movie), Cyberlink has included a hidden secondary command bar that appears when you let your mouse cursor on top of your screen: from it you have access to the most used features (play, pause, eject, progression gauge, etc). Sure the right click menu still provides access to various features when DVDs are played. Like on VCR you have a jog dial wheel to make rewind & forward operations easier by simply turning the button: well in PowerDVD you have to click so the jog dial can turn. Power DVD was one of the first software to introduce the skins concept. As a matter of fact you can dynamically change Power DVD 3.0 skins so the interface sports a different look that best fits your needs. PowerDVD 3.0 is bundled with five different interchangeable skins. While every taste is in nature, only two of the provided skins are really beautiful…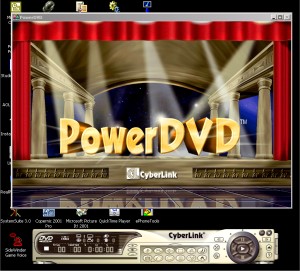 Main PowerDVD 3.0 Interface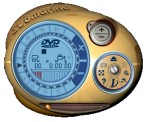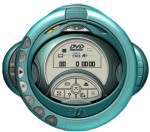 PowerDVD 3.0 Skins (click to enlarge)

Cyberlink introduced a pretty useless feature in PowerDVD 3.0 dubbed I-Power. I-Power is in fact a build-in link to the Cyberlink DVD news portal. From PowerDVD 3.0 you can surf this internet portal. It provides visitors with DVD reviews, DVD news, technology updates & explanations, etc. Personally I don't find any interest in this feature.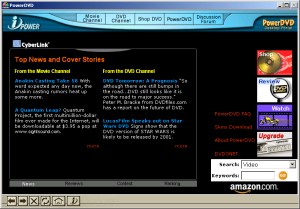 IPower portal (click to enlarge)
When viewing a DVD you might want to bookmark some scenes that you like. PowerDVD 3.0 is to my knowledge the only software that lets you bookmark scenes that are stored with a thumbnail! Nothing is simpler than bookmarking a scene with PowerDVD! During a DVD playback you simply have to right click on the screen select bookmark/add, and a new bookmark will be added in your bookmark catalog. Then when you insert the DVD for which you have created bookmarks you can access the bookmark viewer to see every bookmark you defined with a snapshot of the scene: a click on it brings you directly to the specific time code of the scene!!! You can also have direct access to bookmarks without the need to use the viewer through the contextual menu. This is a top notch feature!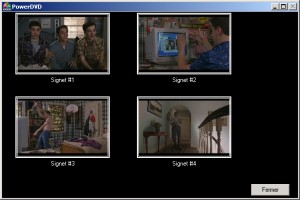 PowerDVD 3.0 Bookmark Viewer (click to enlarge)
Since PowerDVD 3.0 is fully compliant with the DVD specifications it perfectly supports 8 languages DVD and you can switch languages or subtitles easily while you're watching the movie. The number of features offered by PowerDVD in playback mode is quite simply amazing. You can use the digital zoom feature to perform 4x or 9x magnification: when doing so part of the film scene will be cut but thankfully, you can use the hand (just like in PhotoShop) to navigate in the close-up of the picture at your convenience to see everything! Navigate controls let you perform quick rewind & forward operations while you can have direct access to every chapters very easily using the right click menu. The parental feature lets you restrict the viewing of films depending on their rating so your kids are protected while you're out.
Usually there's no way you can capture a snapshot of the currently played DVD video with casual DVD software like SoftDVD Max, WinDVD, etc. which is quite a pity. However with PowerDVD 3.0 you can copy an image from the movie you're watching and store it in the clipboard (or save it to a file or even set it as your desktop wallpaper).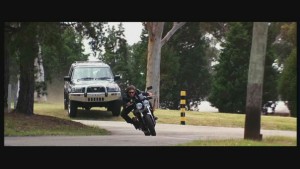 Capture Sample (click to enlarge)
Like recent TVs, when you watch DVDs and perform an action (like bookmarking, playing, etc.) a small on screen display indicator appears saying which function has been engaged. It's nice and can be helpful when using hotkeys to make sure you've pressed the correct keys combination to achieve the action you want. If you're lost while using PowerDVD you can always display the very complete HTML help to learn in details how to use one of the numerous features.
Compatibility
PowerDVD supports ATAPI & SCSI DVD-Rom drives as well as AMD & Intel platforms. Every graphics card is supported and the software supports DVD hardware acceleration when available. Finally Microsofties will be glad to know PowerDVD 3.0 has been certified by the Windows Hardware Quality Lab to be fully compliant with current Microsoft operating systems including Windows 95, Windows 98, Windows Me and Windows 2000. During our test however we weren't able to use the hardware acceleration offered by our Creative DXR3 MPEG2 hardware decoder: PowerDVD 3.0 isn't compatible with it, but it seems to be due to the Creative drivers.