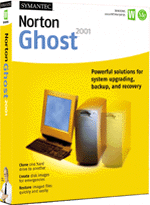 Product: Ghost 2001
Company: Symantec
Website: http://www.symantec.com/
Estimated Street Price: $71.35
Review By: Julien JAY
Introduction
Norton Ghost is a recent addition to the Norton product family. This software helps users take images of their hard disk to clone or restore them in case of emergency. Ghost takes what we can call a photo of the contents of your hard disk and stores it on the drive of your choice so you can restore it later. But Ghost 2001 is also very useful for business environments since system administrator can clone one PC configuration to easily and quickly deploy it over the network. Since it was released Norton Ghost has quickly grown and is now one of the best Ďcloningí tool. This new version 6.5 comes with several useful enhancements weíll review. The key features of Ghost 2001 are:
Clone one hard drive to anothe

r

Create disk images for emergencies

Restore imaged files quickly and easily
Setup
Installing Norton Ghost 2001 is a breeze and in one minute youíre done thanks to the small size it takes on your hard disk. You donít even need to restart the computer after the setup since the software runs under DOS. If you own Norton SystemWorks 2001 youíll love the fact that Norton Ghost 2001 is perfectly integrated with it since you can launch Ghost and its utilities directly from SystemWorks 2001.
Features
Norton Ghost 2001 carries the version number 6.5. The major new feature of this new version is the Linux EXT2 full support. Like for other FAT formats (NTFS, FAT16, FAT32, Ö) you can now clone and backup Linux partitions. Even the Ghost 2001 Explorer that is used to browse the content of an image file under Windows supports Linux EXT2 images. Obviously Norton Ghost 2001 natively supports Windows 2000 NTFS 5 partitions. New to Ghost 2001 is the ability to add files or folder to an image after youíve created it. The other new major feature of this release is the ability to burn images directly on CD-R or CD-RWs using your CD burner. If Norton Ghost 2001 supports IDE or SCSI compatible Packet Writing burners, itís not the case for USB, FireWire and parallel burners. Norton Ghost 2001 can create bootable CDs when you burn an image on this medium so youíll be able to start your PC directly with the CD and restore the image instantly. Like in the previous release, Norton Ghost 2001 comes with LiveUpdate so youíre sure to always run the latest version.
First Start
Even if Norton Ghost 2001 can be started directly from Windows Me, it works under DOS. So when you want to create an image your PC will reboot in DOS mode. However under Windows Me, Windows 2000 and Linux if you want to use Norton Ghost 2001 youíll have to reboot the PC using else the bootable CD provided or a boot floppy disk. If you want to start Ghost using a boot floppy disk, youíll be glad to know that Norton Ghost 2001 comes with a Windows wizard thatíll help you to create such a floppy by offering three different choices: create a floppy disk thatíll initialize CD drives, create a network enabled floppy (Ghost comes with drivers for the most well-known cards) or create a direct transfer floppy. Indeed with Norton Ghost 2001 you can even create an image file via a direct transfer between two computers using an USB or a parallel cable. Norton Ghost 2001 supports a lot of image destinations: you can save images on hard disk, ZIP, JAZ, DVD-Ram, CD burners and more generally every SCSI or IDE device that comes with DOS drivers. When Ghost 2001 will start youíll discover a clear & sober interface thatíll guide you to create your first images. Good thing to know is that the DOS interface of the software is commanded by the mouse. Ghost 2001 provides several features so you can choose the compression level of your image file to save precious space. Creating an image file is almost fast (even if it generally depends of the speed of your backup destination drive) and youíre correctly informed about the status of the process due to the very complete progress indicator window. Finally you can ask Ghost to check what it writes on your backup disk to ensure the safety of your image file.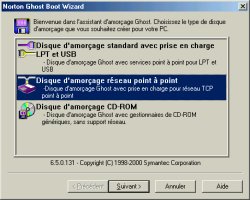 Norton Ghost 2001 Boot Wizard (click to enlarge)
Ghost for which use?
The Personal Edition of Norton Ghost 2001 is specially designed to help users creating a backup of their hard disks so they can restore them later if a crash occurs. Indeed everyone knows that a working system is like a jewel and that it should be protected against every threat. Creating an image of your main hard disk will save you from hours and hours of reinstall processes as if you need to reinstall everything youíll simply format the C: drive, and restore the image. In approximately an hour youíll get back a healthy working system. But Ghost 2001 can be useful to clone hard disks: imagine youíve just bought a new hard drive you want to install as the C: one. Normally to do so youíd have to unplug the C: drive and install the new one. On the new one youíll have to reinstall everything to make it works. But with Norton Ghost 2001 youíll be able to transfer the exact contents of your old C: drive to the new one in a few minutes! Best of all Norton Ghost 2001 will create a full sized new partition on the new C: drive before restoring the whole image of the old drive on it. That is to say your old 6.4Gb partitions will be transferred on a 21Gb one (if your new HD is a 21Gb).
But Norton Ghost 2001 also comes with Network support so you can use it on a TCP-IP based network to easily deploy software, restore the system of an user, create an image file of a network computer and more. Obviously to be able to do so your network should be very fast, at least 100Mbps else it'll be very long to backup, restore or deploy stuff.
CD BackUp
We tested Norton Ghost 2001 with two different burners (a Yamaha 8824s and a Yamaha CRW2100E) to create image files and we didnít encounter any burning errors even if the burning speed was slow. Indeed with 8x, 12x, 16x burners, Norton Ghost 2001 will generally burn images at the maximum speed of 4x (600kbps) so creating a 4 GB CD based image of a main hard disk can takes a long time. Another thing to consider is that a CD backup will never fit on one CD but most likely on five CDs. However due to the low cost of CD-Rs this isnít a major drawback except that youíll have to switch CDs when youíll restore the image. Obviously Norton Ghost 2001 supports disk spanning.
Image Explorer
Norton Ghost 2001 comes with a Windows Image Explorer: this small program will display the whole contents of the image file stored on the disk youíve inserted and youíll be able to extract content on the fly without restoring the whole image set. Best of all if the image file isnít stored on a read-only media youíll be able to add files or folders. With Image Explorer you can also open old images created with previous releases of Ghost.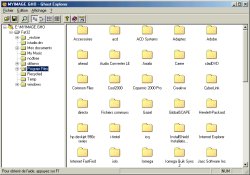 Norton Ghost 2001 Image Explorer (Click to enlarge)

G-Disk
There was Fdisk now thereís GDisk: GDisk is a powerful line command partitioning DOS tool provided with Norton Ghost 2001. You can use it to manually create partitions using advanced options. However if this tool is useful and is even automatically used by Ghost when you clone hard disks it isnít as powerful as Partition Magic can be.
Final Comments
How It Grades

Installation

: 9

5

%


Performance: 90%




GUI

:

85

%
Features: 85%
Reliable: 90%
Price:

85

%
Overall:

88

%

For those of you that donít already use Norton Ghost 2001 Iíd strongly recommend you buy this awesome update so youíll have a crash protected PC right away. With other backup software sometimes you are unsure of the integrity of the backup, but with Ghost 2001 you donít have to worry. Existing Ghost users will be able to burn images directly on CDs with this upgrade thatís the biggest reason for upgrading.
Specs & Package
Overall Score
88%
Version Reviewed

Norton Ghost 2001

Release Date

Available now!

In The Box?
1 CD
1 Users' Guide
The Good Points
Easy to use,
Complete,
Reliable,
Less buggy than before.
The Bad Points
A bit pricy,
Slow CD Image burning.
Reviewers PC Setup
Pentium

4

1

.5

Ghz
Intel

D850GB

Motherboard
Windows Millennium Edition


384

MB PC800 RDRAM w/ECC
DirectX

8


17" Sony Trinitron Monitor
Hercules 3D Prophet II Ultra 64Mb AGP 4x Graphics Card
Sound Blaster Live! Platinum

5.1


Adaptec 19160 Ultra SCSI card
Pinnacle Studio DV

Plus


Pinnacle Studio PCTV USB

Microsoft TrackBall

Explorer


Microsoft Natural Keyboard Pro

DVD Pioneer 105s (16/40x)
Yamaha CRW2100E
PC Required

Minimum System

Windows 95/98/Me, Windows NT 4.0 or Windows 2000
i486 or higher
16Mb of RAM
5Mb of free hard disk space
CD-Rom Drive
Microsoft Compatible mouse