DirectX
ActiveMac
Downloads
Forums
Interviews
News
MS Games & Hardware
Reviews
Support Center
Windows 2000
Windows Me
Windows Server 2003
Windows Vista
Windows XP



News Centers
Windows/Microsoft
DVD
Apple/Mac
Xbox
News Search



ActiveXBox
Xbox News
Box Shots
Inside The Xbox
Released Titles
Announced Titles
Screenshots/Videos
History Of The Xbox
Links
Forum
FAQ



Windows XP
Introduction
System Requirements
Home Features
Pro Features
Upgrade Checklists
History
FAQ
Links
TopTechTips



FAQ's
Windows Vista
Windows 98/98 SE
Windows 2000
Windows Me
Windows Server 2002
Windows "Whistler" XP
Windows CE
Internet Explorer 6
Internet Explorer 5
Xbox
Xbox 360
DirectX
DVD's



TopTechTips
Registry Tips
Windows 95/98
Windows 2000
Internet Explorer 5
Program Tips
Easter Eggs
Hardware
DVD



ActiveDVD
DVD News
DVD Forum
Glossary
Tips
Articles
Reviews
News Archive
Links
Drivers



Latest Reviews
Xbox/Games
Fallout 3

Applications
Windows Server 2008 R2
Windows 7

Hardware
iPod Touch 32GB



Latest Interviews
Steve Ballmer
Jim Allchin



Site News/Info
About This Site
Affiliates
Contact Us
Default Home Page
Link To Us
Links

News Archive
Site Search
Awards



Credits
©1997-2012, Active Network, Inc. All Rights Reserved.
Please click here for full terms of use and restrictions or read our Light Tower Privacy Statement.



Product: Norton SytemWorks 2001
Company: Symantec
Website: http://www.symantec.com
Estimated Street Price: $59.95
Review By: Julien JAY
SystemWorks 2001 GUI
The first time you launch Norton SytemWorks 2001 youíll be prompted to check if there are updates available for your software on the Internet: this step is strongly recommended so your virusesí definitions will be up to date. Updates are always retrieved by the well known LiveUpdate that now carries the build number 1.6 since it was slightly streamlined (it has a new interface and is clearer).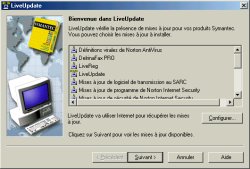 New LiveUpdate Module
The new interface of SystemWorks 2001 is wonderful and displays blue buttons. One thing is instantly notable: the LiveAdvisor tool of Norton SystemWorks 2000 has been ditched and itís good since it was really useless. From the SystemWorks 2001 toolbar you can launch the Norton Rescue applet, LiveUpdate or change the settings of each individual program in the suite. You can access the help file easily. The most interesting part of the SystemWorks 2001 GUI is that it regroups all Norton Software in a same interface due to the exclusive Norton Symmetry technology. So you can run different Norton applications from a single place easily! Indeed the SystemWorks 2001 GUI shows in its left margin four buttons that are assigned to Norton Antivirus, Norton CleanSweep, Norton Utilities and Symantec Web. When you click a Norton program button all the different possible actions will be displayed in the right part of the GUI and youíll have to make your choice! A new feature of Norton SytemWorks 2001 is the One button Checkup that replaces the confusing ĎNorton SystemCheckí component of the previous version: with a single click on this button your system will be entirely analysed with 10 separate scans while the SystemWorks 2001 GUI displays the status of the checkup with a gauge and an animated background. During this checkup almost every area of your system will be carefully analyzed to ensure itís a Healthy PC: Registry, Hard disk fragmentation, free hard disk space, shortcuts integrity, hard disk integrity and more. If errors are found, Norton SystemWorks 2001 will automatically fix them if you decide to, by pressing the correct button. Another good thing to know is that you can schedule automatic checkups.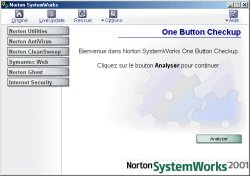 Norton SystemWorks 2001
Note SystemWorks 2001 contains a Symantec Web tab that links to the free Norton Web Services that will analyse your current software and hardware configuration in order to let you know which updates are available for your system. Links to XDrive (free hard disk storage), Expertcity.com and promise mark are also offered.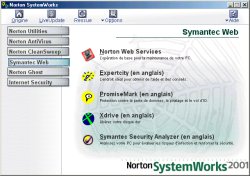 Symantec Web panel of Norton SystemWorks 2001
Due to the Norton SymMetry technology all other Norton Software will integrate themselves to the SystemWorks GUI: it's the case for Norton Internet Security, Norton Personal Firewall, Norton Ghost, etc. Even older versions of this software will adopt the new look & feel of SystemWorks 2001.