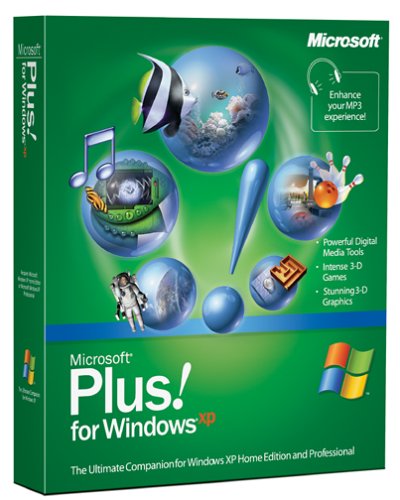 Games
Itís a fact, we all regret, Microsoft Windows XP comes with a few games. Thankfully Microsoft Plus! for Windows XP, corrects this by adding three exciting games to the operating system.
Microsoft Plus! Russian Square
This game was designed for fans of the mythic Tetris game. And believe me, if you were a Tetrs addict youíll love Russian Square. In this game you have to erase lines or columns by regrouping shapes of the same color. The more you progress, the more there are rows or columns to clear in a less time resulting in a race against the clock. That game is awesome and should be natively included in future versions of Windows.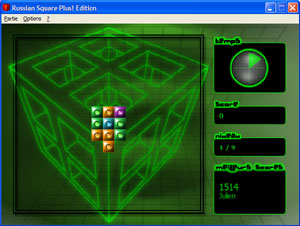 Microsoft Plus! Russian Square (click to enlarge)
Microsoft Plus! HyperBowl
If you like bowling youíll adore HyperBowl since you donít have to leave your office to experience your favorite passion. In an immersive 3D environment youíll have to roll the bowl to knock all the keels down to make the Strike! To launch the bowl you just have to move your mouse in front of you: the faster you go the faster the bowl goes but be careful to maintain the good direction. The specificity of HyperBowl is the scenery: from well known towns to the Pantheon of Rome, your bowling experience will be radically different to everything you have already experienced. In some journeys youíll have to guide the ball down a curving walkway, avoiding obstacles and traps. However only two worlds are available with the Microsoft Plus! Edition of HyperBowl so if you want more sceneries, you'll have to purchase them separately.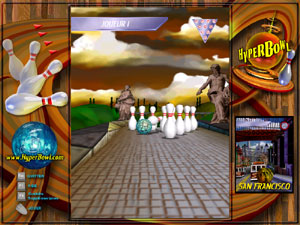 Microsoft Plus! HyperBowl (click to enlarge)
Microsoft Plus! Labyrinth
We all played, when we were kids, with those wood labyrinths or maze games where you have to reach the end of the labyrinth guided the ball by tilting the field in order to avoid traps and pitfalls. The computer adaptation of this famous game is wonderful and quite exciting with superb graphics and a good soundtrack. With forty different levels and themes you have everything to test your dexterity. The game is spiced by small bonuses the ball can catch to enhance your score. Those bonuses are generally positioned near those nightmare holes so catching them is quite a challenge.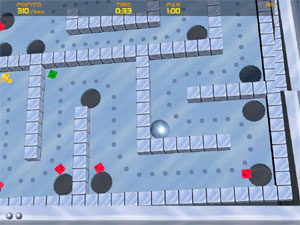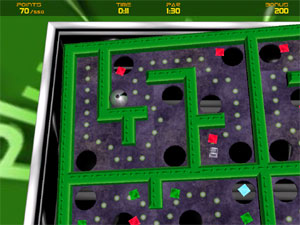 Microsoft Plus! Labyrinth (click to enlarge)
Themes
Microsoft Plus! has always included themes to change the appearance of Windows. Microsoft Plus! 98 included something like 25 different themes, while there are only three different themes in Plus! for Windows XP. Each theme include a wallpaper, a screensaver, a windows media player skin, a set of cursors & sounds, and uses one of Windows XPís existing styles. Plus! Themes are: Plus! Aquarium, Plus! Space, and Plus! Nature. Each theme looks pretty good and will please usersí various tastes. However the Windows Media Player skins, being the same as what we described in the digital media part of this review are really awful and disappointing. We really regret the small number of themes included in Plus! for Windows XP: we would have expected more themes to be included in the package. But the worst thing is that thereís no new visual style brought by Plus! for Windows XP while Microsoft could have packed in Plus! some visually appealing new styles.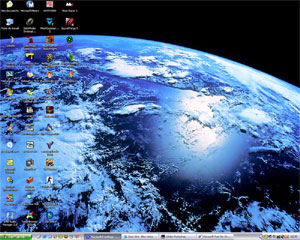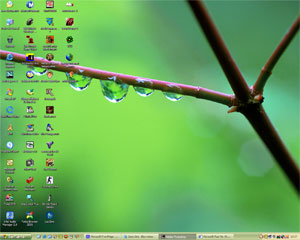 Microsoft Plus! For Windows XP Space & Nature Themes (click to enlarge)
Screensavers
To match themes, Microsoft has developed (or licensed) high quality 3D screensavers. With Plus! Aquarium your screen becomes a having with exotic fishes, with Plus! Space youíll explore a space station and experience a space walk while the earth slides beneath you. Plus! My Pictures displays your own pictures in a variety of attractive 3D arrangements on which you can add your favorite music to build the most original album. Plus! Nature lets you spend some time beside a clear quiet stream animated in 3D, Plus! Da Vinci presents you Leonardo Da Vinciís most famous inventions. Plus! Robot Circus shows a gilded robots performing swirling and gravity defying motions. Plus! Sand Pendulum will let you watch a 3D pendulum swings back and forth carving intricate and beautiful patterns in the sand. Plus! Mercury Pool shows a pool filled with liquid mercury where effects of 3D waves ripple across its surface. In fact those screensavers are no longer made to save your monitor from being worn out. Thanks to the use of 3D, youíll want to spend your work day watching them rather than doing your job.