DirectX
ActiveMac
Downloads
Forums
Interviews
News
MS Games & Hardware
Reviews
Support Center
Windows 2000
Windows Me
Windows Server 2003
Windows Vista
Windows XP



News Centers
Windows/Microsoft
DVD
Apple/Mac
Xbox
News Search



ActiveXBox
Xbox News
Box Shots
Inside The Xbox
Released Titles
Announced Titles
Screenshots/Videos
History Of The Xbox
Links
Forum
FAQ



Windows XP
Introduction
System Requirements
Home Features
Pro Features
Upgrade Checklists
History
FAQ
Links
TopTechTips



FAQ's
Windows Vista
Windows 98/98 SE
Windows 2000
Windows Me
Windows Server 2002
Windows "Whistler" XP
Windows CE
Internet Explorer 6
Internet Explorer 5
Xbox
Xbox 360
DirectX
DVD's



TopTechTips
Registry Tips
Windows 95/98
Windows 2000
Internet Explorer 5
Program Tips
Easter Eggs
Hardware
DVD



ActiveDVD
DVD News
DVD Forum
Glossary
Tips
Articles
Reviews
News Archive
Links
Drivers



Latest Reviews
Xbox/Games
Fallout 3

Applications
Windows Server 2008 R2
Windows 7

Hardware
iPod Touch 32GB



Latest Interviews
Steve Ballmer
Jim Allchin



Site News/Info
About This Site
Affiliates
Contact Us
Default Home Page
Link To Us
Links

News Archive
Site Search
Awards



Credits
©1997-2012, Active Network, Inc. All Rights Reserved.
Please click here for full terms of use and restrictions or read our Light Tower Privacy Statement.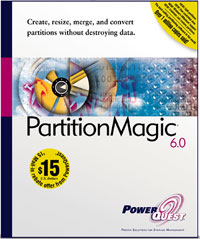 Product: Partition Magic 6
Company: PowerQuest
Website: http://www.powerquest.com
Estimated Street Price: $69.95
Review By: Julien Jay
Features
Partition Magic 6.0 is an unique software in its kind. Many competitors try to imitate it but the original remains the best. The graphical interface of Partition Magic 6 has evolved and now presents hard disks and their partitions at the same time on the same window while another view shows their content (you can choose to enable a proportional hard disk representation view): the strong point of Partition Magic is that you can resize, merge, create, move directly from the GUI! A new flat toolbar is also displayed with a small PowerQuest logo on the extreme right just like in Internet Explorer while Partition Magic 6.0 is now included to the shell of Windows thanks to the right click menu integration.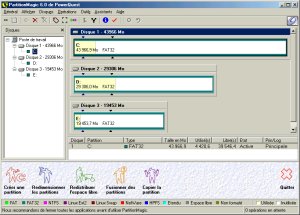 Partition Magic 6 New GUI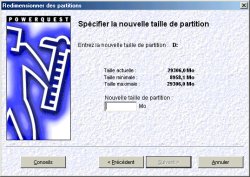 Partition Magic 6 Partition Resize Wizard
New to Partition Magic 6.0 is the ability to divide a single partition in order to keep a special folder you may want to keep: to do so Partition Magic will separate one partition in two and move data from the first one to the second. However only files and folders that are located in the root of the partition can be moved. Note Partition Magic 6 can perfectly move folders that contain program files and so but this may be risky since your OS may refuse to work later on, so be careful! You can now also fusion two partitions into a single one: very useful to reunify two partitions that became too small over time. FAT users will be glad to know that Partition Magic can convert all their existing data and programs to FAT 32. Expert users can also choose the size of the clusters they want to use on a specific partition so they can optimise the size of a partition and retrieve some precious mega bytes. Windows 2000 users can obviously convert NTFS partitions into FAT then FAT 32. Partition Magic 6 now natively works with Windows Me except that it reboots the computer in DOS mode to achieve certain operations: to do so a bootup floppy disk image is stored in memory and launched at the reboot to run specific commands. You can create an emergency floppy disk where Partition Magic 6 for DOS in case Windows or Linux refuse to boot. Another new feature of Partition Magic is that you can copy one partition into another using a simple drag and drop. Partition Magic also perfectly supports Linux ext2 & Swap partitions so you can manage Linux partitions or create them easily. Most of the time when you delete a partition incorporating all its content in another one causes some programs will refuse to work since they wonít find the previous mentioned directory where they were installed. PowerQuest has thought of everything since they included DriveMapper that will analyze your system registry and change the shortcuts to the new path once the partition has been changed, ensuring every program will work correctly. PowerQuest BootMagic is also present in this release: with it you can easily configure a multiboot system with tons of different OS and choose which one you want to start and work with when youíll start the computer. Partition Magic now features a step-by-step undo process so you can undo changes easily and accurately and undelete a partition if you didn't overwrite it. The software can now be protected against use with a password and network wizard lets you do some partition related jobs over an existing network on remote machines using the famous TCP/IP protocol. Finally novice users will be glad to know that wizards have been widely improved and will guide them to do the most complex tasks easily.
Test
First we chose to change the partitioning of a small 6.4 GB FAT32 hard disk that was previously divided in four non-equal partitions (2GB, 2GB, 2GB and 40MB). Using the fusion tool we first fused the C & D partitions into a single one, during this process we were guided by a wizard that even let us define a folder where to save D data on the C folder. Once it was done we had three different and fully working partitions: C: 4GB D: 2GB E: 40MB. Then we decided to fusion D & E into a single partition, which was done in a few seconds. We thought that the D partition was a bit bigger for a backup one so we have resized it using the partition magic dedicated wizard and we redistributed the free hard disk space to assign it on the C drive. 5 minutes later we have one C: partition of 5GB and one backup reserved one of 1GB. Great isnít it? Obviously the most interesting thing is that during this processes we didnít lose a byte of data! Notice that if you have some programs installed on a partition youíre about to remove and transfer on an other one, the Drive Mapper tool of Partition Magic will revive the shortcuts for this programs so itíll work as before! We also used Partition Magic 6 to convert a FAT 32 partition in a NTFS 5 one and even if it took a long time the job was once again achieved correctly without any problems. Resizing the clusters was to our eyes a good feature: using it we retrieved some precious space on older and smaller hard disks by specifying a much more adapted cluster size. We ran also a classic test to divide one huge partition of 40GB into two: once again everything worked great. During our tests under Windows Me, we have found two Partition Magic 6 issues: first it cannot handle FireWire hard disks which is normal since this kind of disks isn't supported by DOS, but if you have one plugged to your system you'll never be able to launch PM 6 since it'll crash all the time (you'll have to unplug the firewire HD so it can works). Finally we used the Boot Magic feature of Partition Magic 6 to enable the support of multiple operating systems on different partitions: with we created a multi boot enabled system with Linux, Windows Me & Windows 2000: this was done without a problem and the menu displayed when you boot the computer lets you choose which OS you want to start.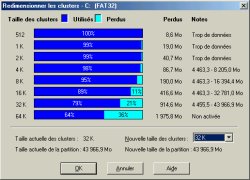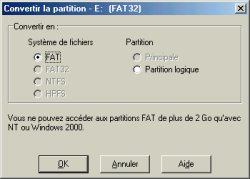 Cluster Resize & Partition Convert Dialog Boxes