DirectX
ActiveMac
Downloads
Forums
Interviews
News
MS Games & Hardware
Reviews
Support Center
Windows 2000
Windows Me
Windows Server 2003
Windows Vista
Windows XP



News Centers
Windows/Microsoft
DVD
Apple/Mac
Xbox
News Search



ActiveXBox
Xbox News
Box Shots
Inside The Xbox
Released Titles
Announced Titles
Screenshots/Videos
History Of The Xbox
Links
Forum
FAQ



Windows XP
Introduction
System Requirements
Home Features
Pro Features
Upgrade Checklists
History
FAQ
Links
TopTechTips



FAQ's
Windows Vista
Windows 98/98 SE
Windows 2000
Windows Me
Windows Server 2002
Windows "Whistler" XP
Windows CE
Internet Explorer 6
Internet Explorer 5
Xbox
Xbox 360
DirectX
DVD's



TopTechTips
Registry Tips
Windows 95/98
Windows 2000
Internet Explorer 5
Program Tips
Easter Eggs
Hardware
DVD



ActiveDVD
DVD News
DVD Forum
Glossary
Tips
Articles
Reviews
News Archive
Links
Drivers



Latest Reviews
Xbox/Games
Fallout 3

Applications
Windows Server 2008 R2
Windows 7

Hardware
iPod Touch 32GB



Latest Interviews
Steve Ballmer
Jim Allchin



Site News/Info
About This Site
Affiliates
Contact Us
Default Home Page
Link To Us
Links

News Archive
Site Search
Awards



Credits
©1997-2012, Active Network, Inc. All Rights Reserved.
Please click here for full terms of use and restrictions or read our Light Tower Privacy Statement.



Product: VirusScan 5.02
Company: McAfee
Website: http://www.mcafee.com
Estimated Street Price: $39.95
Review By: Julien JAY
Installation
Installing VirusScan 5 Deluxe is very easy: insert the CD and simply click the install VirusScan button of the auto play panel. The VirusScan 5 setup is build with InstallShield 2000 that uses the brand new Windows Installer technology, so it's user-friendly and the icons it displays are nice (small details make great software). The setup program will first update your Windows Installer components and then reboot your computer before installing VirusScan. After your PC has rebooted, setup will copy the components needed by VirusScan 5. During this setup you can customize some VirusScan features (autoscan at startup, schedule weekly scans, check for updates after setup, change the destination folder…) Once the files are copied the setup wizard will restart a second time your computer. Finally two restarts and a few minutes later you're now protected against every virus threats. Even if the use of the Windows Installer technology enhances the manageability and scalability of VirusScan by including a repair feature, we really regret that the setup is so slow due to the multiple reboots it requires to complete. Once VirusScan 5 is installed you have to launch separately the setup of FirstAid 2000 and PGP 2000. We regret that these setups aren't built on the Windows Installer technology unlike VirusScan. Finally for integrated software suite launching each component separately isn't very practical.
VirusScan
Once VirusScan is installed on your system, you have to simply double click its (new) desktop icon to launch it. A very nice revamped user-friendly interface named 'VirusScan Central' will display all the basic features of VirusScan. You'll notice that when you fly your mouse over buttons of the central application, a metallic sound is played while the button are highlighted by a new stylish blue effect. The central design is now in the wild as it uses cold colors and rounded shapes. From the central you can launch a new virus scan to ensure the good health of your PC, schedule viruses scans, check for updates, connect you to the McAfee website, change settings or put items in quarantine. Each time you launch the central, the homepage will display information about the VShield settings, the DAT file versions and much more such as the date of the last virus scan. You can now scan your disks directly from the central by selecting them from a list: we like this integrated feature as no separate instance of VirusScan is launched. Changing virus scan settings is very easy due to a simple settings' box layout. You can exclude files; select which kind of files to scan, enable and change the heuristics settings, choose the appropriate action to make when an infected file is detected and more. The activity log feature has been enhanced and you can now consult the log directly from the central (instead of displaying it in the notepad) and print this information. As antivirus software is reliable only if it's often updated, VirusScan 5 at least includes a smart update feature that downloads and applies automatically virus definition updates in an incremental manner to fight off new viruses. It's a great improvement.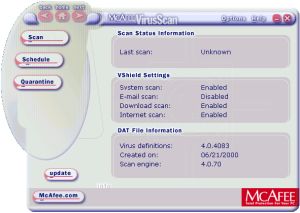 Background protection
No antivirus protection can be reliable if it doesn't run permanently. VirusScan 5 comes with Vshield that will always protect your computer. Indeed Vshield is a complete virus guardian that runs in the background while you're working (you can see its icon in the tray notification area of Windows.) If it detects that you try to read a file that contains a virus it'll instantly inform you about the virus status and it'll also clean the infected file by eradicating the virus. But that's not all! Vshield can monitor your email inbox with its new X-ray feature, analyze the files you download from the 'Net, protect you from malicious ActiveX or java Internet applets. Thanks to the new Vshield wizard you can easily tweak it up to best suit your protection need. The new email X-Ray feature, that works with cc:mail, Eudora, Microsoft Exchange, Outlook & Outlook express, will analyze all your incoming emails to check that they're virus free. We tested this feature by sending ourselves an email containing the Happy 99 hoax virus and Vshield instantly told us during the reception that the email contained a virus! So the X-Ray feature works great. The Internet download scan feature will ensure that all the ZIP files (or other kind of files!) you download from the 'Net don't contain any viruses and will try to repair them if so, depending on the virus infection. Concerning the ActiveX and Java protection Vshield only checks that no 'malicious' destructive applet is run by a website without your knowledge while you're browsing. Due to its unique ScreenScan feature, VirusScan 5 can scan the disk you've selected while a screensaver is displayed by Windows during your pause time: it's a great time-saving feature. Finally VirusScan 5 obviously detects all those annoying macro viruses like the ones that attack Microsoft Word or Excel documents. For example we tried to open a word file that contains the Melissa virus and hopefully Vshield detected the virus and clean our document file. That's great because macro viruses can really become a nightmare as they may destruct your hard work and pollute all of your documents.