DirectX
ActiveMac
Downloads
Forums
Interviews
News
MS Games & Hardware
Reviews
Support Center
Windows 2000
Windows Me
Windows Server 2003
Windows Vista
Windows XP



News Centers
Windows/Microsoft
DVD
Apple/Mac
Xbox
News Search



ActiveXBox
Xbox News
Box Shots
Inside The Xbox
Released Titles
Announced Titles
Screenshots/Videos
History Of The Xbox
Links
Forum
FAQ



Windows XP
Introduction
System Requirements
Home Features
Pro Features
Upgrade Checklists
History
FAQ
Links
TopTechTips



FAQ's
Windows Vista
Windows 98/98 SE
Windows 2000
Windows Me
Windows Server 2002
Windows "Whistler" XP
Windows CE
Internet Explorer 6
Internet Explorer 5
Xbox
Xbox 360
DirectX
DVD's



TopTechTips
Registry Tips
Windows 95/98
Windows 2000
Internet Explorer 5
Program Tips
Easter Eggs
Hardware
DVD



ActiveDVD
DVD News
DVD Forum
Glossary
Tips
Articles
Reviews
News Archive
Links
Drivers



Latest Reviews
Xbox/Games
Fallout 3

Applications
Windows Server 2008 R2
Windows 7

Hardware
iPod Touch 32GB



Latest Interviews
Steve Ballmer
Jim Allchin



Site News/Info
About This Site
Affiliates
Contact Us
Default Home Page
Link To Us
Links

News Archive
Site Search
Awards



Credits
©1997-2012, Active Network, Inc. All Rights Reserved.
Please click here for full terms of use and restrictions or read our Light Tower Privacy Statement.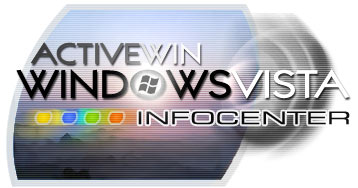 Windows Vista Section - Introduction
Microsoft Windows Vista is a major upgrade to the Windows operating system and is both an evolutionary and revolutionary step forward in the progression of the Windows platform. More base services than ever are provided to increase developer ability and productivity, as well as enhance the level of rich interactivity, usability, and integration delivered to the end-user.
The Windows NT kernel has been further enhanced to achieve greater levels of security, reliability, and performance. Several platform services and device driver interfaces have moved to (or returned to) user-mode, increasing platform resiliency and simplifying extensibility. Secure computing technologies may utilize trusted hardware components to help maintain user data privacy and system integrity.
Windows Vista also offers rich media experiences for end-users and developers. The most visible change in Vista is its new graphical user interface (GUI). Windows Vista's new GUI enables the seamless integration of 2D and 3D vector graphics, documents, animations, and media while maintaining the snappy, glitch-resillient performance Windows users expect by pushing the increased workload to the graphics processing unit (GPU). On systems that have older GPUs or just a plain 2D VGA graphics adapter, Windows Vista will scale back to graphical levels comparable to that experienced on Windows XP or Windows 2000.
The .NET Framework 3.0 (previously known as WinFX) is now an integral part of the platform and enables Windows Vista's new application experiences. The security, rapid development, and extensibility benefits .NET developers have enjoyed for years now extend to the primary API of the OS.
Windows Vista offers many other enhancements and conveniences. New visualization, organization, and search technologies let users view documents without first opening an associated application, organize information in a way that makes the most sense to them, and quickly find the information they need whether it is located on the end-user's computer, on a local network, or on the Internet. Inking, spellchecking and enhanced speech synthesis and recognition are integral parts of the user interface. Real-time communications services like conferencing, application sharing, peer-to-peer, and remote administration have been enhanced to make it easier to connect to your computer or to friends' computers remotely and have a richer experience doing so.
For more in-depth coverage, visit other content pages in the ActiveWin.com Windows Vista InfoCenter.


Return To The Windows Vista Section