DirectX
ActiveMac
Downloads
Forums
Interviews
News
MS Games & Hardware
Reviews
Support Center
Windows 2000
Windows Me
Windows Server 2003
Windows Vista
Windows XP



News Centers
Windows/Microsoft
DVD
Apple/Mac
Xbox
News Search



ActiveXBox
Xbox News
Box Shots
Inside The Xbox
Released Titles
Announced Titles
Screenshots/Videos
History Of The Xbox
Links
Forum
FAQ



Windows XP
Introduction
System Requirements
Home Features
Pro Features
Upgrade Checklists
History
FAQ
Links
TopTechTips



FAQ's
Windows Vista
Windows 98/98 SE
Windows 2000
Windows Me
Windows Server 2002
Windows "Whistler" XP
Windows CE
Internet Explorer 6
Internet Explorer 5
Xbox
Xbox 360
DirectX
DVD's



TopTechTips
Registry Tips
Windows 95/98
Windows 2000
Internet Explorer 5
Program Tips
Easter Eggs
Hardware
DVD



ActiveDVD
DVD News
DVD Forum
Glossary
Tips
Articles
Reviews
News Archive
Links
Drivers



Latest Reviews
Xbox/Games
Fallout 3

Applications
Windows Server 2008 R2
Windows 7

Hardware
iPod Touch 32GB



Latest Interviews
Steve Ballmer
Jim Allchin



Site News/Info
About This Site
Affiliates
Contact Us
Default Home Page
Link To Us
Links

News Archive
Site Search
Awards



Credits
©1997-2012, Active Network, Inc. All Rights Reserved.
Please click here for full terms of use and restrictions or read our Light Tower Privacy Statement.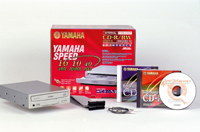 Product: CRW2100E
Company: Yamaha
Website: http://www.yamaha.com
Estimated Street Price: $249.00
Review By: Julien JAY
Easy CD-Creator Deluxe
Yamaha provides its latest drive with the most easy-to-use and feature-rich burning software actually out on the market. Adaptec Easy CD-Creator Deluxe is what we can call a burning suite that comes with several modules that are: DirectCD 3 to burn data on CD-RW like if they were floppies, Easy CD Creator the burning software itself, TakeTwo a smart backup to CD utility, Jewel Case Creator to design nice CD jewel papers, and more! Adaptec has imposed itself in the burning software world with its awarded product Easy CD Creator. The release 4 is much more powerful than ever. Once youíve installed it you have access through the different & various modules using the Create CD applet that categorizes the various features of ECDC 4 by CD Type. In the Data CD tab youíll be able to launch Easy CD to create customized CDs, CD-Copier to copy CDs, TakeTwo to backup your drives while the music tab will help you record your MP3 files on CD Audio for example.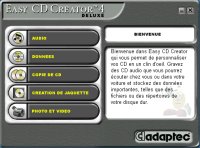 Adaptec Create CD
Easy CD Creator
Easy CD Creator is the main program intended to create customized burning sessions, using it you can burn CDs by putting the files you want into them. The release 4 comes with a nice new and streamlined interface and Adaptec even thought to novice users as like in Microsoft Office an animated character (an agent) will help you create your CDs. Easy CD Creator supports the most current burning features: you can create bootable CDs, multisession ones, define the file system (usefull for Mac/PC or hybrid dedicated CDs), and more very easily. Overburning technique is also supported so you can burn 700Mb CDs in your piece of mind. Easy CD Creator can erase CD-RWs. The interface of Easy CD Creator is divided in two: the top part is a file explorer that shows your hard disks contents. The bottom part is the place where youíll have to add or drag the files that should be burned on your CDs. Obviously Easy CD Creator can import CD sessions that already exist on CD-R so you can reuse space on old CDs if you didnít close the session. Traditional session management features are also offered: so you can choose to finalize a CD, close it by forbid future records and more. When youíre ready to burn a simple click on the red button and the burning wizard will start. In it youíll have to select the burning speed as well as the session settings. Then a simple click on the start button will create the CD. Youíll be informed very accurately about the status of the burning process thanks to the very detailed gauge of the status window. We burnt CDs with Easy CD-Creator 4 along with the Yamaha CRW2100E burner and we didnít encounter any error, problem, buffer underrun, etc. The Yamaha CRW2100E drive used in conjunction with Easy CD Creator 4 is a real marvel of reliability. Depending on the CD type you want to create, Easy CD Creator will load its advanced music support feature. Indeed when you drag WAV or MP3 files to a CD-Audio structure this files will be automatically converted in real CD audio tracks so youíll be able to listen your MP3 files on your traditional CD player: simply great! Easy CD creator also supports CD-Text so you can add names to your audio tracks in order for your CD player to display track names if it supports it. Best of all you can rip audio CD tracks into MP3 and add them to your burning queue: Easy CD Creator will connect itself on the CDDB database to retrieve in the background all the characteristics of the disc you have inserted. Easy CD Creator also comes with a build-in media player that looks like the Microsoft Plus 98 one so you can control the playing of CD Audios and MP3 file correctly. Music fans will use CD Spin Doctor to purify old audio tracks they want to record on CD from their old phonograph. CD Spin Doctor comes with several audio filters to remove noises in records, add funny effects and more. Easy CD Creator also features a separate CD-Copier applet that will copy a CDc inserted in the CD drive to the burner quickly. Various utilities are also included with Easy CD Creator so you can create Video CDs, Photo CDs, a sound file editor is even included!! Even if it isnít able to compete with CoolEdit itíll provide basic and useful features novice users will like. Finally the WebCheckup component will check the adaptec web servers to see if updates are available. If so itíll retrieve and apply them instantly.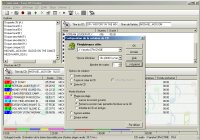 Easy CD-Creator Deluxe 4.02E in Audio CD mode (click to enlarge)
Direct CD
Direct CD 3 is a small add-in that starts with Windows. A small CD icon in the Windows tray area betrays its presence. When Direct CD is enabled youíll be able to use Packet CD recording in other words youíll be able to burn CDs directly from the Windows Explorer to use the CD burner like a removable drive (floppy or ZIP drive). Now burning CDs is a breeze and is almost transparently. When you want to use a CD-RW with DirectCD youíll have to format it and it will take some time (but you can buy Direct CD preformatted CD-RW in shops). Once itís done your CD is ready to be used and you can launch the windows explorer to add files by a simple drag & drop of the file on your CD burner icon. DirectCD will burn files in the background and with a fast burner like the Yamaha CRW2100E you wonít notice that the system is burning CD-RW so youíll be able to do other things with the computing promising a real productivity level increase.
Take Two
TakeTwo is a small user-friendly applet that will backup the contents in folder of a drive on a CD-R or CD-RW by compressing it. TakeTwo can create backups that fit on several CDs thanks to the spanning feature but you canít backup Windows since files that are in used wonít be copied. Even with this major drawback TakeTwo 1 is a good and interesting solution to create backup of your stuff on CD.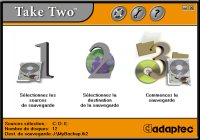 Adaptec TakeTwo
Jewel Case Creator
Jewel Case Creator is state of the art CDís cases creating software. Presented like separate software it comes with tons of drawing functions to create high impact CD covers easily and quickly. You can add texts, use provided themes, insert pictures, create basic drawings to cheer up your covers. When burning CD audios, Easy CD Creator will automatically populate the back cover part of your CD project with the titles of the track so you wonít have anything to do. Jewel Case Creator lets you create CD labels and you can place hemline texts on them.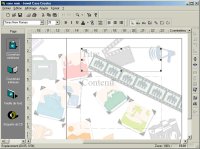 Adaptec Jewel Case Creator (Click to enlarge)