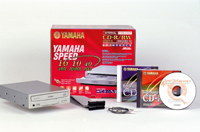 Product: CRW2100E
Company: Yamaha
Website: http://www.yamaha.com
Estimated Street Price: $249.00
Review By: Julien JAY
Performance
First of all when you write a CD-R the CLV speed reaches 12x, but due to the use of a partial CAV mode the burning speed can reach the high speed of 16x during the burning process. That is to say that when you start recording the speed is 12x but after approximately 15 minutes the burner reached the 16x burning speed. The use of this method is interesting especially when you copy CD to CDs as few CD drives support can extraction data at 16x speed.



Yamaha CRW2100E Front Panel

Due to the use of a wide 8MB buffer (double than in competing models like 12x or so) Yamaha exempts using software technology like BurnProof or JustLink to ensure the reliability of a burning session. If BurnProof technology is interesting to reduce TCO itís not as good and efficient as a wide buffer. Note that when burning at 16x, the cache memory can contains up to 4 seconds of data. The average recording speed we obtained with the Yamaha is 15,6x which is very near to the 16x theorical speed. During our tests using CD-Speed, the reading speed of the burner reached 36.82X for the fastest speed, which is very correct for such a model (the average speed was 28.10). The average access time demonstrated during the tests reached 127msec while the CPU occupation level didnít overtake 12%: a strong advantage for an IDE model that lets every other competitors like Plextor in the dust. The Yamaha 2100E burner uses few CPU resources when burning or reading CDs like if it was using a SCSI interface (only 12% in 8x reading mode). Yamaha has done a good job here.
Audio Extraction
When extracting digital audio using MusicMatch JukeBox 6.0 we reached the average speed of 9x, which is very small and is surely due to a software bug since with other programs like Audio Catalyst the extraction speed begins at 15x and ended at 21x for MP3 files. But most of the time when extracting digital audio using CD-Speed 99 we get an average extraction speed of 26,98x. For WAV files we get higher extraction speeds that began at 17X and finished to 29x giving an average of 23x extraction speed. For extracting jobs, the Yamaha burner is a marvel and every MP3 addict will get instant benefits if they choose use this device: extracting a full CD Audio in 3 or 4 minutes has always been a dream that is now real due to Yamaha. This feature is the fruit of the long experience of one of the best worldwide music instruments maker. If that wasnít enough the audio quality of burned CDs is excellent and we didnít encounter any errors during extraction processes. Yamaha now offers to registered users a free software named Fast Audio Rip made by Nero to extract digital audio at the maximum 40x speed allowed by the CD recorder in case the software they use like Adaptec Easy CD Creator is bugged (Adaptec is aware of the bug and should correct it soon). You can download it now.



Easy CD Creator Extracting Audio from a CD using the Yamaha burner

Extracting Digital Audio from the Yamaha burner using Fast Rip from Ahead Software (click to enlarge)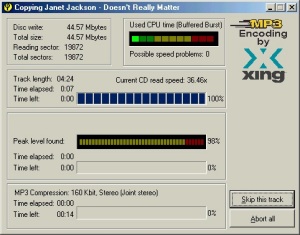 AudioCatalyst 2.1 Ripping CD Audio tracks at 36.46x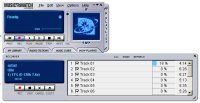 MusicMatch JukeBox Extracting Audio from a CD using the Yamaha burner (click to enlarge)
CD Speed 99 Results
Here are the graphics of the results we obtained after testing the Yamaha CRW2100E using CD-Speed 99: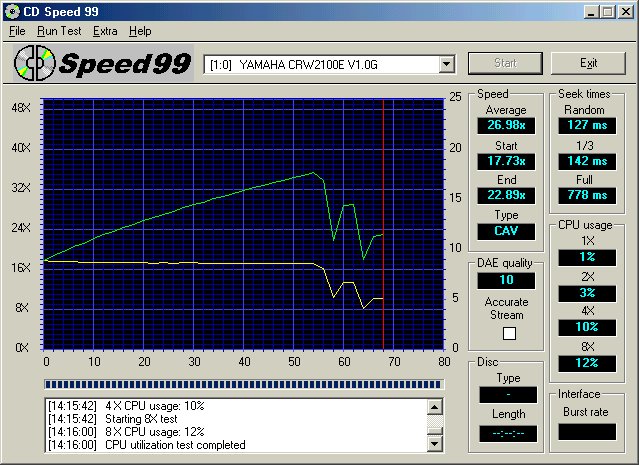 CD Speed 99 0.8 Digital Audio Extraction Test Results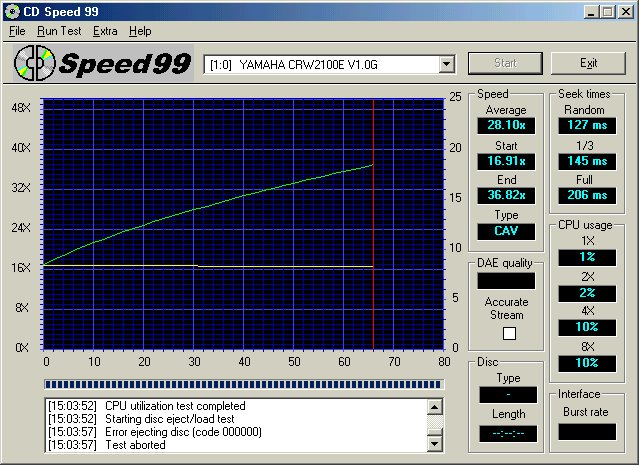 CD Speed 99 0.8 650Mb Data CD Test Results

Burning


We used both of the most well-known recording programs; Easy CD Creator Deluxe 4.02E1 (provided with the drive) and Nero 5.0.3.5 to burn CDs. If the Yamaha 2100E supports the DAO-RAW mode, at this time Clone CD isnít yet compatible but it should be compatible with it soon. We burned tons of CD-R & CD-RWs during our tests and we didnít encounter any burning errors with Easy CD or Nero proving the high reliability of this new Yamaha burner. Even in IDE due to the wide buffer memory and the high speed of the burner we were able to do other tasks like playing to Age of Empires II, Microsoft Casino or Need for Speed 5. At least with this model, burning CDs can be done while youíre working or playing without blocking the whole computer like with USB or first generation models. The burner isnít touchy with CD-R media and you can use 6x or 8x certified ones and burn them in 16x with no problem. The only drawback we noticed with this burner is that itís unusually noisy when reading or burning CDs: but this is surely normal! Have you ever imagined a Ferrari that drives without making noise?
Finally we have drawn up a table showing the various format of CD you can burn with the Yamaha:

| | |
| --- | --- |
| Type of CD or Mode | Supported |
| 80mins CD | Yes |
| Audio CD | Yes |
| Photo CD | Yes |
| CD-I | Yes |
| Video CD | Yes |
| Mac | Yes |
| CD-DA | Yes |
| CD-R | Yes |
| CD-RW | Yes |
| CD-Rom | Yes |
| CD-Rom XA | Yes |
| CD Extra | Yes |
| CD-Text | Yes |
| CD+ | Yes |
| Track At Once | Yes |
| Disk At Once | Yes |
| Packet Writing | Yes |
| MultiSession | Yes |
| BurnProof | No |
| Unix | Yes |
Now that you've seen the Yamaha CRW2100E burns almost everything you may wonder what it can read? Right? If so the table below will present you all the CD formats the Yamaha burner supports in reading mode:

| | |
| --- | --- |
| Type of CD or Mode | Supported |
| Audio CD/CD-DA | Yes |
| CD-R | Yes |
| CD-RW | Yes |
| CD-Rom XA | Yes |
| CD-Rom | Yes |
| PhotoCD | Yes |
| Mac & Unix | Yes |
| CD+ | Yes |
| CD Text | Yes |
| CD Extra | Yes |
| CD-I | Yes |
| Video CD | Yes |

At this time the Yamaha CRW2100E can read all the existing CD types. If we'd have only one regret to express it would surely be the non support of DVD-Rom in reading mode.