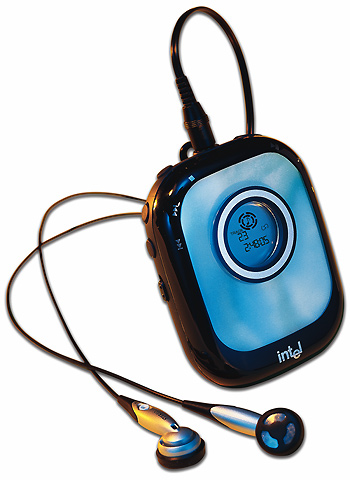 Intel Audio Manager 2.0
In order to transfer files to the Intel Personal Audio Player 3000 youíll have no other choice than using Intelís proprietary Audio Manager 2.0 software. Indeed the Personal Audio Player 3000 is unfortunately not provided with Microsoft Windows Media Player 7/8 compatible drivers. So you wonít be able to transfer files from your PC to the player using the latest Microsoft Windows Media Player 8 nor will you be able to do so directly from the Windows Explorer of Windows XP. Nonetheless Intel Audio Manager 2.0 is far from being bad software. The first time youíll launch it, a stylish interface divided in two parts will appear. The left side lets you browse the directories on your hard disk to find and select audio files while the right side shows the playerís memoryís content. In each side, MP3 or WMA files will be displayed along with the artist name, the track name, the album name, etc. Sure you can choose to sort music files by artists name, file name, etc. by a single click on a column.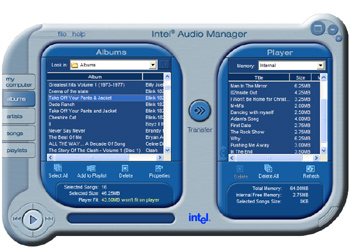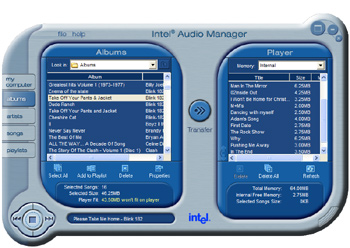 Intel Audio Manager 2.0 Albums View (click to enlarge)
From the right panel you can either select, through a drop down list, the internal or external memory. External memory being a MMC card. Intel Audio Manager 2.0 permanently displays the amount of free memory available for music storage so you know how much room is left. Transferring your favorite tracks to the player cannot be done more easily: simply select the files; you want to move with, in the left panel of Audio Manager 2 and click the ĎTransferí button. Obviously before doing so you can preview files directly from the software to make sure the file youíve selected match the song you have in mind. If youíve selected several files to transfer a dialog box will appear indicating the progression of each separate file transfer. The transfer process is painless and will be done in a few minutes thanks to the USB connection. Sure if ever your selection of files is too big to fit in the memory, the software will warn you about this problem.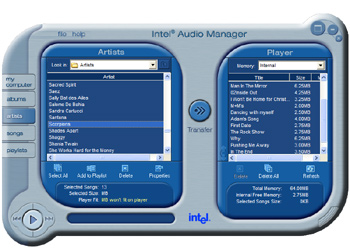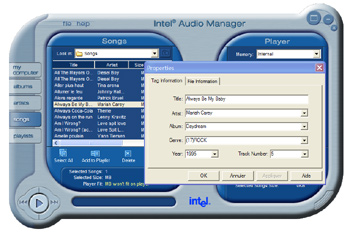 Intel Audio Manager 2.0 Artists View & MP3 Properties (click to enlarge)
Intel Audio Manager 2.0 now supports playlists. So you can create your own playlists directly from the software. It means the software can automatically generate playlists by artist, album or genre. Thatís pretty cool to avoid the use of the random feature so you can listen to tracks in the order you want, with the player.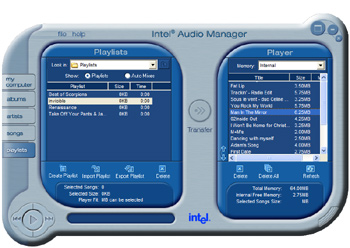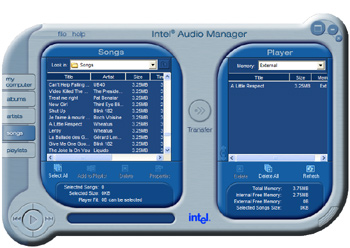 Intel Audio Manager 2.0 Playlist View & MMC Content (click to enlarge)
To use your MMC cards with Intelís player youíll have to format them using Intel Audio Manager 2.0. Indeed thereís no way you can use a MMC card where you have stored MP3 or WMA files using the Windows Explorer through an external USB MMC card reader. One major drawback to my point of view is once files are stored on the player[s memory thereís no way to retrieve them! You canít upload to a PC the MP3 or WMA music stuff recorded on Intel Personal Audio Player 3000ís memory.
Intel FacePlate Designer
The player is actually provided with five faceplates. Thankfully if the five provided faceplates arenít good for you, Intel has included on the CD a software to help you design your own customized faceplates for the Audio Player 3000. That way you can print a photo of you girlfriend and stick it up in the player or you can also create more artistic faceplates by importing graphic files of your choice onto the design. It's also possible to add text to your layouts. Thus your player will be unique featuring your very own look. The faceplate stuff is clearly a gadget (especially when you consider how awful three of the five inserts provided with the player are) but it remains funny and attractive for teenagers, at least I think so.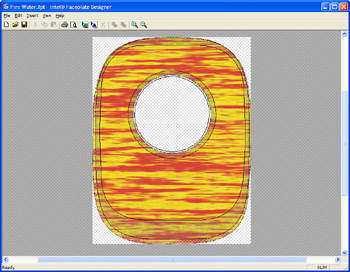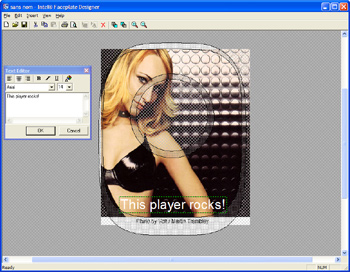 Intel FacePlate Designer (click to enlarge)
Listening Music
The first advantage of a digital player is the fact itís skip free. Indeed, since there are absolutely no mechanical parts, you can move as much as you wish while listening to music! During the test the small size of the player impressed us. Itís a real advantage when bringing the player on the road: having the player clipped to his belt while walking down the streets, buying groceries, etc. was simply a pleasure. Once youíve put the player in your pocket or everywhere else, thanks to a very discreet design you can concentrate on the outstanding music quality it delivers. Thanks to its clip belt you can easily attach the player next to your portable phone on your belt. Best of all the clip belt really ensures a firm grip so the player wonít drop.
Speaking of music quality we have to say Intel didnít disappoint us! For a manufacturer, that has barely any experience in the audio world their product is very good. The sound delivered by the apparatus is quite impressive. First itís really powerful thanks to the built in 6.5mW amplifier. This amplifier not only lets you crank it up and listen loud, but itís really useful to connect the player to a Hi-Fi system.
During our listening sessions we didnít experience any distortion or any blow effect which is usually common with digital players. Thanks to a frequency response of 20- 20 000Hz the player delivers a crisp, sharp, vivid, sound that sings. The signal to noise ratio of Intelís Personal Audio Player 3000 reaches 90dB which is fairly good. In comparison a tape walkman typically offers a signal to noise ratio of 70dB while a CD playerí signal to noise ratio is generally around 98dB. In the audio world the signal to noise ratio helps to determine the sound quality of a device: more this ratio is high more the CD is perfect.
Even though you can manually customize the bass and treble levels of the player to experience a more contrasted enveloping sound you wonít be able to save these presets as various equalizer profiles. Thereís also no way to use predefined equalizer settings like some digital players offer. This is a real regret even with the positioning of the product. Intel provides the Personal Audio Player 3000 with gray earphones. Despite the fact they have a gold platted connector, their design is quite prehistoric! They are way too big but the worst thing is that they fail to provide a clear sound with deep bass. Indeed the sound is rather metallic since the earphones donít offer a correct bass circuit. Thankfully replacing the provided pair by some Sony ones will solve the problem.
The playerís autonomy is average. One battery isnít sufficient for a long lasting autonomy. Intel claims the player offers up to 10 hours of playtime. The reality is less cheerful, with a recorded autonomy of approximately 5-6 hours. You can replace the battery with a rechargeable one to save batteries costs.