DirectX
ActiveMac
Downloads
Forums
Interviews
News
MS Games & Hardware
Reviews
Support Center
Windows 2000
Windows Me
Windows Server 2003
Windows Vista
Windows XP



News Centers
Windows/Microsoft
DVD
Apple/Mac
Xbox
News Search



ActiveXBox
Xbox News
Box Shots
Inside The Xbox
Released Titles
Announced Titles
Screenshots/Videos
History Of The Xbox
Links
Forum
FAQ



Windows XP
Introduction
System Requirements
Home Features
Pro Features
Upgrade Checklists
History
FAQ
Links
TopTechTips



FAQ's
Windows Vista
Windows 98/98 SE
Windows 2000
Windows Me
Windows Server 2002
Windows "Whistler" XP
Windows CE
Internet Explorer 6
Internet Explorer 5
Xbox
Xbox 360
DirectX
DVD's



TopTechTips
Registry Tips
Windows 95/98
Windows 2000
Internet Explorer 5
Program Tips
Easter Eggs
Hardware
DVD



ActiveDVD
DVD News
DVD Forum
Glossary
Tips
Articles
Reviews
News Archive
Links
Drivers



Latest Reviews
Xbox/Games
Fallout 3

Applications
Windows Server 2008 R2
Windows 7

Hardware
iPod Touch 32GB



Latest Interviews
Steve Ballmer
Jim Allchin



Site News/Info
About This Site
Affiliates
Contact Us
Default Home Page
Link To Us
Links

News Archive
Site Search
Awards



Credits
©1997-2012, Active Network, Inc. All Rights Reserved.
Please click here for full terms of use and restrictions or read our Light Tower Privacy Statement.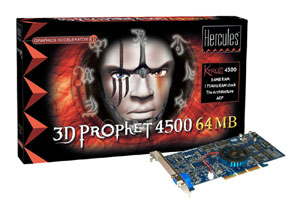 Installation
Installing the 3D Prophet 4500 64 MB card was very easy and I didnít encounter any problems: I simply unplugged (before I have removed its specific drivers) the 3D Prophet II MX and replaced it by the latest 3D Prophet 4500 64 MB from Hercules. Then I plugged on it a Sony Trinitron 17Ē monitor and start the computer. After Windows 2000 SP1 started, I was prompted to insert the CD containing the drivers for the card. The latest drivers 7.89 were installed easily and one reboot later I was able to discover the new possibilities offered by the 3D Prophet 4500 64 MB and above all benchmark it.
2D Features
If most of the 3D Prophet 4500 64MB buyers attend high performance in 3D mode that doesnít mean standard 2D features donít count. Indeed playing game is one thing but surfing the web, touching up pictures, mounting movies require good 2D quality. In this area the card is a bit weak. In fact its onboard Ramdac looks like a dinosaur since its only a 270 MHz one. To compare the Matrox Millennium G450 offers a 350MHz Ramdac! With such a Ramdac the 3D Prophet 4500 64 MB card isnít able to let customers use high refresh rates in high resolution modes. Anyway the 120Hz resolution in 1024*768 32 bit sounds sufficient to me (even if itís not much when you know that the 3D Prophet III maximum resolution reaches 240Hz in 1024x768 32 bit mode). For the record, the minimum acceptable resolution is set at 75 Hz: under this rate the screen will kind of hurt your eyes.
| | | | | | | | |
| --- | --- | --- | --- | --- | --- | --- | --- |
| Resolution | 640*480 | 800*600 | 1024*768 | 1152*864 | 1280*1024 | 1600*1200 | 1920*1440 |
| Refresh Rate in 32 bit | Up to 120 Hz | Up to 120 Hz | Up to 120 Hz | Up to 120 Hz | Up to 120 Hz | Up to 95 Hz | Up to 75 Hz |
During our tests the visual quality in 2D mode didnít reach high levels. Compared Matrox (the outstanding 2D graphic cards maker) or even to any nVidia based card (from GeForce 2 MX to GeForce 3) the colors shown on our screen by the 3D Prophet 4500 64 MB were slightly altered and didnít respect the original color (for example a defined picture with different levels of blue, red, and yellow colors is much more clearer when displayed by the 3D Prophet 4500 64 MB than with any other graphic card I had the chance to test). If you can obviously correct color tones through the drivers itís a pity that the default mode isnít set properly. Another boring thing with this card is that when I plug the Sony Trinitron screen the image displayed in the default resolution of 640*480 was totally misplaced on the screen (half of it was cut). If with any graphic card you definitely have to adjust the image output to fit the specificity of your screen through the screen electronic controls itís unusual you have to do so much. Indeed generally when showing a 640*480 mode you have nothing to adjust nor in 800x600. You have to adjust the image on your screen (enlarging, centering, etc.) only starting with resolutions like 1024*768 or higher.
Support
One good point goes to Hercules for its top-notch technical support. The card is warranted for 3 years and you can reach the technical support by phone or email. But another good point goes to Hercules for the drivers. Unlike Creative, Hercules provides their customers with latest Bios or Drivers updates regularly. Best of all the bios or drivers updates are really easy to install since a setup wizard under Windows will guide users doing critical tasks almost automatically. Concerning drivers, Hercules used to diffuse latest drivers based on the ST reference ones but the Hercules drivers differ from the ST ones since they show nice (really!) Hercules & 3D Prophet 4500 64 MB logos.
Kyro II Presentation

Letís say directly that this new Kyro II GPU (graphic processor unit) is fully able to compete with GeForce 2 GTS and obviously widely outperforms GeForce 2 MX graphic cards. If the name of the GPU sounds new, the product has already a long history. This GPU is manufactured by a French semi-conductor corporate called ST MicroElectronics. ST MicroElectronics (a corporation issued from the fusion of Thomson Semi-Conductor division & Microelettronica) has teamed up with PowerVR Technologies (a subsidiary of Imagination Technologies, previously known as Videologic) to bring leading edge semiconductor processes. The Kyro II is the result of this association and represents in fact the third generation of the PowerVR processor. First Power VR GPU equipped Matrox M3D graphic cards in 1997 and later on Sega DreamCast consoles. When Sega chose to include PowerVR processors in the DreamCast instead of the 3DFX ones, they didnít make a mistake when you consider the unprecedented level of 3D graphics quality the DreamCast brought. Thus Imagination Technologies has a long known how in the 3D graphic market. Their first GPU, the PowerVR, came with a revolutionary technology (when it was released a few years ago) called Tile Rendering. The Tile Rendering engine, weíll review later, made all the interest of the PowerVR GPU and is still present and obviously enhanced in the Kyro II. Now letís take a look to the 2D features of the card.