DirectX
ActiveMac
Downloads
Forums
Interviews
News
MS Games & Hardware
Reviews
Support Center
Windows 2000
Windows Me
Windows Server 2003
Windows Vista
Windows XP



News Centers
Windows/Microsoft
DVD
Apple/Mac
Xbox
News Search



ActiveXBox
Xbox News
Box Shots
Inside The Xbox
Released Titles
Announced Titles
Screenshots/Videos
History Of The Xbox
Links
Forum
FAQ



Windows XP
Introduction
System Requirements
Home Features
Pro Features
Upgrade Checklists
History
FAQ
Links
TopTechTips



FAQ's
Windows Vista
Windows 98/98 SE
Windows 2000
Windows Me
Windows Server 2002
Windows "Whistler" XP
Windows CE
Internet Explorer 6
Internet Explorer 5
Xbox
Xbox 360
DirectX
DVD's



TopTechTips
Registry Tips
Windows 95/98
Windows 2000
Internet Explorer 5
Program Tips
Easter Eggs
Hardware
DVD



ActiveDVD
DVD News
DVD Forum
Glossary
Tips
Articles
Reviews
News Archive
Links
Drivers



Latest Reviews
Xbox/Games
Fallout 3

Applications
Windows Server 2008 R2
Windows 7

Hardware
iPod Touch 32GB



Latest Interviews
Steve Ballmer
Jim Allchin



Site News/Info
About This Site
Affiliates
Contact Us
Default Home Page
Link To Us
Links

News Archive
Site Search
Awards



Credits
©1997-2012, Active Network, Inc. All Rights Reserved.
Please click here for full terms of use and restrictions or read our Light Tower Privacy Statement.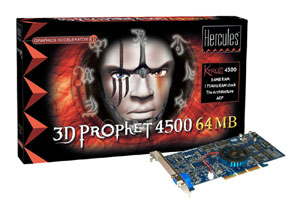 Drivers
Hercules has worked closely with ST by sharing their long experience in the drivers field to develop the most reliable drivers. And so they did! The 3D Prophet 4500 64 MB drivers are really reliable and work great on any platform like Windows Me, Windows 2000, etc. The only drawback we found is that with international released some strings are truncated. One surprising thing that the 3D Prophet 4500 64 MB introduced is that when you start your computer before the full windows desktop appears, a splash screen is displayed over the background of your Windows desktop showing the 3D Prophet 4500 64 MB logo. Not only the 3D Prophet 4500 64 MB drivers are reliable but they also let you change a lot of settings like enabling or not the FSAA mode, changing the Direct 3D or Open GL settings (enabling or not the Depth/Stencil buffer, wait or not for the VSync, compress textures), etc. The 7.89 drivers also let you adjust the display settings by letting you move the image (on the left, right, etc.) via a software control on your screen. An useful slider is also present on the 2D display settings tab letting you correct the gamma value: this is pretty neat especially when you consider that the default color shown by the card isnít very accurate in comparison to what we were used to by other cards. Adjusting this slider thankfully corrects the problem.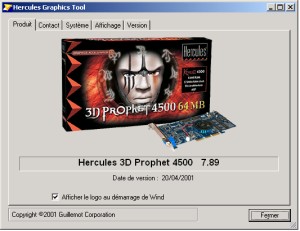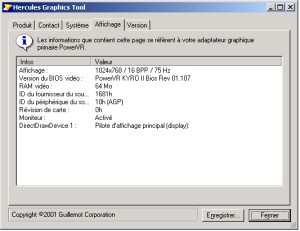 Hercules 3D Prophet 4500 64MB Drivers
GamePlay
To ensure the graphics card works great with most of actual games without featuring any compatibility issues we tested it with a wide variety of today games. We didnít experience any problem and best of all the graphic quality was really high: we barely noticed a quality difference between the 16 bits & 32 bits color modes for real. Below is the list of games we used with the Hercules 3D Prophet 4500 64 MB:
Black & White,

Deus Ex,

Quake III Arena,

Microsoft International FootBall 2000,

Microsoft Motocross Madness 2,

Microsoft Midtown Madness 2,

Microsoft Urban Assault,

Microsoft Starlancer,

The Sims HouseParty,

SimCity 3000 World Edition, etc.
During our long play tests (that lasted something like 5 hours) the card was very reliable and didn't hang or show any sign of weakness. Finally in comparison to a 3D Prophet III the visual quality of the games we tested was very similar. Thus we can say that the 3D Prophet 4500 64MB is simply wicked!
3D Quality
Below are two screenshots extracted from the Kyro II technical demo that show the kind of 3D scene the card can displayed when games are fully optimized for it.