DirectX
ActiveMac
Downloads
Forums
Interviews
News
MS Games & Hardware
Reviews
Support Center
Windows 2000
Windows Me
Windows Server 2003
Windows Vista
Windows XP



News Centers
Windows/Microsoft
DVD
Apple/Mac
Xbox
News Search



ActiveXBox
Xbox News
Box Shots
Inside The Xbox
Released Titles
Announced Titles
Screenshots/Videos
History Of The Xbox
Links
Forum
FAQ



Windows XP
Introduction
System Requirements
Home Features
Pro Features
Upgrade Checklists
History
FAQ
Links
TopTechTips



FAQ's
Windows Vista
Windows 98/98 SE
Windows 2000
Windows Me
Windows Server 2002
Windows "Whistler" XP
Windows CE
Internet Explorer 6
Internet Explorer 5
Xbox
Xbox 360
DirectX
DVD's



TopTechTips
Registry Tips
Windows 95/98
Windows 2000
Internet Explorer 5
Program Tips
Easter Eggs
Hardware
DVD



ActiveDVD
DVD News
DVD Forum
Glossary
Tips
Articles
Reviews
News Archive
Links
Drivers



Latest Reviews
Xbox/Games
Fallout 3

Applications
Windows Server 2008 R2
Windows 7

Hardware
iPod Touch 32GB



Latest Interviews
Steve Ballmer
Jim Allchin



Site News/Info
About This Site
Affiliates
Contact Us
Default Home Page
Link To Us
Links

News Archive
Site Search
Awards



Credits
©1997-2012, Active Network, Inc. All Rights Reserved.
Please click here for full terms of use and restrictions or read our Light Tower Privacy Statement.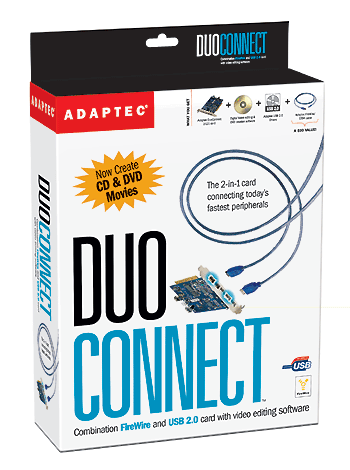 Card's Design
The Adaptec DuoConnect is a well designed PCI 2.2 card that features a neat-looking blue PCB. With its average size, the card will perfectly fit into any kind of PC. The rear panel of the card hosts three USB 2.0 connectors and two FireWire connectors. On the board there is one USB 2.0 connector and one FireWire connector that is used with internal USB 2.0 or FireWire devices. The USB 2.0 part of the card is powered by a NEC USB EHCI controller and received the full USB-IF Hi-Speed Certification which guarantees USB 1.1/2.0 compatibility and hassle-free operations. Itís no surprise to see that Adaptec uses Texas Instruments chips for the FireWire connectivity of the DuoConnect. Youíll notice a mini-molex connector on the DuoConnect with which you can connect a power cable in order to make sure passive FireWire devices receive enough power. With this system, the card is able to deliver up to 18 Watts of power to FireWire devices preventing system lockups, crashes and potential data loss.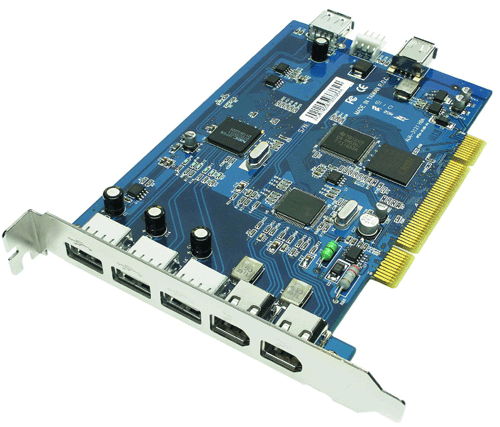 Adaptec DuoConnect Card (click to enlarge)
Installation
Installing the card is painless and will take only a couple of seconds. You simply have to plug Adaptecís DuoConnect into one free PCI slot of your computer. Then you can plug a mini-molex connector to the card connector. Once itís done, start your computer.
Drivers Installation
From Windows 98 on, every Microsoft operating system natively recognizes FireWire adapters. So every version of Windows, except 95 and prior, will automatically install drivers for the FireWire part of the DuoConnect. Nonetheless it is highly recommended that you use Windows 98SE because its FireWire support is bug free and far better than the one issued with the first edition of Windows 98.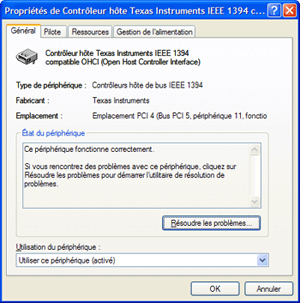 Windows XP FireWire Driver (click to enlarge)
But none of todayís Microsoft operating systems natively support USB 2.0. When you start your computer with a freshly added Adaptec DuoConnect card, Windows will detect only the USB 1.1 features of your card and will tell you it cannot find any drivers for the USB 2.0 controller. This is why Adaptec provides its own set of drivers for Windows 98, Windows 98SE, Windows Me, Windows 2000 and Windows XP. Installing Adaptecís drivers on these operating systems is quite simple, you just have to put Adaptecís CD in your CD drive and let the Ďadd new hardware wizardí automatically install the right drivers. Once drivers are installed, youíll have to reboot your computer and youíll be ready to live a new experience when using new USB 2.0 devices.
If youíre one of the lucky owners of Windows XP, you should know that Adaptec now provides USB 2.0 drivers for this operating system. Nonetheless Microsoft has also released, on their side, official USB 2.0 drivers for Windows XP in January everyone can download for free via Windows Update ( until Windows XPís Service Pack 1 is released). So you have the choice to use Microsoft USB 2.0 Drivers or Adaptec USB 2.0 Drivers. Whether you opt for Microsoft USB 2.0 drivers or Adaptec ones, the installation process is quite simple: you just have to tell Windows XP in which folder it should search for USB 2.0 drivers, and they'll be installed almost automatically and painlessly. Once itís done your DuoConnect card will be fully recognized by the computer and youíll be ready to use both USB 2.0 & FireWire devices.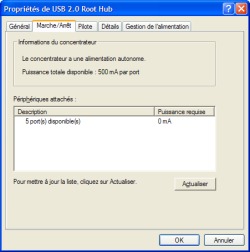 Adaptec DuoConnect Windows XP Drivers (click to enlarge)