DirectX
ActiveMac
Downloads
Forums
Interviews
News
MS Games & Hardware
Reviews
Support Center
Windows 2000
Windows Me
Windows Server 2003
Windows Vista
Windows XP



News Centers
Windows/Microsoft
DVD
Apple/Mac
Xbox
News Search



ActiveXBox
Xbox News
Box Shots
Inside The Xbox
Released Titles
Announced Titles
Screenshots/Videos
History Of The Xbox
Links
Forum
FAQ



Windows XP
Introduction
System Requirements
Home Features
Pro Features
Upgrade Checklists
History
FAQ
Links
TopTechTips



FAQ's
Windows Vista
Windows 98/98 SE
Windows 2000
Windows Me
Windows Server 2002
Windows "Whistler" XP
Windows CE
Internet Explorer 6
Internet Explorer 5
Xbox
Xbox 360
DirectX
DVD's



TopTechTips
Registry Tips
Windows 95/98
Windows 2000
Internet Explorer 5
Program Tips
Easter Eggs
Hardware
DVD



ActiveDVD
DVD News
DVD Forum
Glossary
Tips
Articles
Reviews
News Archive
Links
Drivers



Latest Reviews
Xbox/Games
Fallout 3

Applications
Windows Server 2008 R2
Windows 7

Hardware
iPod Touch 32GB



Latest Interviews
Steve Ballmer
Jim Allchin



Site News/Info
About This Site
Affiliates
Contact Us
Default Home Page
Link To Us
Links

News Archive
Site Search
Awards



Credits
©1997-2012, Active Network, Inc. All Rights Reserved.
Please click here for full terms of use and restrictions or read our Light Tower Privacy Statement.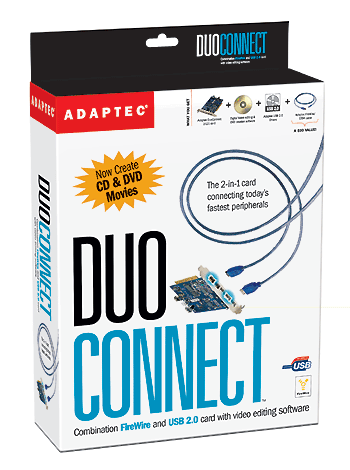 Adaptec USBControl
This small Adaptec utility isnít bundled with the DuoConnect but it can be downloaded free of charge from Adaptecís website. The purpose of Adaptec USBControl is to display the exact number of USB devices connected to your computer and their nature. When you start USBControl a compact window will appear listing all the USB devices plugged to the PC (including those which are connected to the native USB controller of your PC). Near each USB device entry thereís an icon representing its nature (mouse, game controllers, hard disk, modem, camera, etc.), the number (or letter) of the port/hub the device is connected to, as well as a green icon that blinks each time the USB device sends data to the computer. With this neat feature you know when the USB hard disk is in use so you donít have to crawl under your desk to see it! Not only can you customize the compact view to display information about only one device but you can also change the icon assigned to a USB device.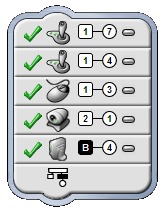 Adaptec USBControl Small View
Advanced users will appreciate the expert view; USBControl can display a diagram of your current configuration representing your computer, its USB controllers, the hubs connected to it and the devices connected. With this view you instantly see how many USB ports are free or in use. Through the software you can rename the name of each USB device, that way your Microsoft Wireless IntelliMouse Explorer can be renamed in Wireless Mouse. USBControl can be set to start at each Windows boot and can be minimized in the tray for convenience purposes.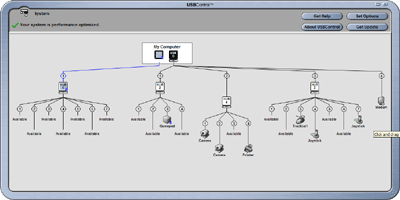 Adaptec USBControl (click to enlarge)
Tests
During our tests of the Adaptec DuoConnect we didnít encounter any problems with the card or Adaptecís drivers. Under Windows 98SE, Windows Me, and Windows 2000 SP2, Adaptecís USB 2.0 drivers worked like a charm and let us use Yamaha and Iomega USB 2.0 burners at their full speed. USB 1.1 burners were only able to record CDs at the maximal speed of 4x while USB 2.0 burners can reach recording speed of 16x, saving a huge amount of time.
The FireWire part of the DuoConnect performed great too. USB 2.0 and FireWire devices plugged into the DuoConnect can be used at the same time. We tested the card with various units like Iomega ZIP 250 FireWire, Epson Perfection 2450 Photo FireWire Scanner, Iomega Peerless FireWire, Iomega Predator FireWire and Maxtor 40GB External HD which worked just as expected. Our camcorder, a JVC GR-DVL9800e was perfectly recognized by the card and we were able to capture and output digital video using Pinnacle Systems Studio 7.0 or Adobe Premiere 6.0 software.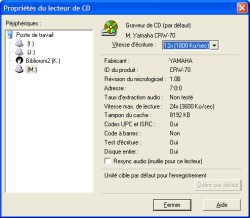 Roxio Easy CD-Creator 5 Dialog Box Showing Yamaha CRW-70 USB2 Burner and Its Ability to Burn in 12x (click to enlarge)
Software
The Adaptec DuoConnect comes bundled with the well known MGI VideoWave 4 SE software for editing your digital video; and Sonic MyDVD 3 for creating DVD, VideoCD or DVD-on-CD discs. Both of these software are interesting and powerful, yet at the same time easy to use. They were conceived for new byes that want to capture, mount, and output videos painlessly, in a few mouse clicks.