DirectX
ActiveMac
Downloads
Forums
Interviews
News
MS Games & Hardware
Reviews
Support Center
Windows 2000
Windows Me
Windows Server 2003
Windows Vista
Windows XP



News Centers
Windows/Microsoft
DVD
Apple/Mac
Xbox
News Search



ActiveXBox
Xbox News
Box Shots
Inside The Xbox
Released Titles
Announced Titles
Screenshots/Videos
History Of The Xbox
Links
Forum
FAQ



Windows XP
Introduction
System Requirements
Home Features
Pro Features
Upgrade Checklists
History
FAQ
Links
TopTechTips



FAQ's
Windows Vista
Windows 98/98 SE
Windows 2000
Windows Me
Windows Server 2002
Windows "Whistler" XP
Windows CE
Internet Explorer 6
Internet Explorer 5
Xbox
Xbox 360
DirectX
DVD's



TopTechTips
Registry Tips
Windows 95/98
Windows 2000
Internet Explorer 5
Program Tips
Easter Eggs
Hardware
DVD



ActiveDVD
DVD News
DVD Forum
Glossary
Tips
Articles
Reviews
News Archive
Links
Drivers



Latest Reviews
Xbox/Games
Fallout 3

Applications
Windows Server 2008 R2
Windows 7

Hardware
iPod Touch 32GB



Latest Interviews
Steve Ballmer
Jim Allchin



Site News/Info
About This Site
Affiliates
Contact Us
Default Home Page
Link To Us
Links

News Archive
Site Search
Awards



Credits
©1997-2012, Active Network, Inc. All Rights Reserved.
Please click here for full terms of use and restrictions or read our Light Tower Privacy Statement.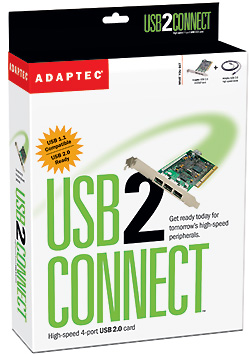 Card's Design
With more than twenty years of experience in the computer market, Adaptec provides a well designed extension board. The card sports a green PCB and is small in size so it wonít waste valuable space in your computer. The USB2Connect 3100LP offers 4 USB 2.0 ports: 3 USB connectors are on the rear panel of the card while one internal connector is fixed on the board. The Adaptec USB2Connect card is powered by a NEC USB EHCI controller and has received the full USB-IF Hi-Speed Certification guaranteeing USB 1.1/2.0 compatibility and hassle-free operations.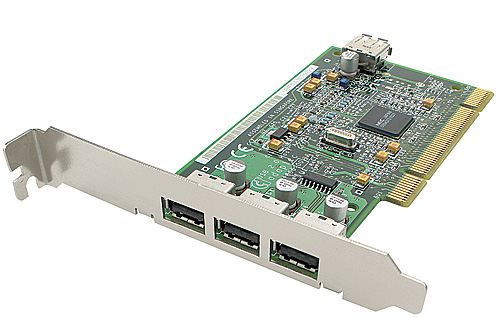 Adaptec USB2Connect 3100LP (click to enlarge)
Installation
Installing the card is painless and will take only a couple of seconds. You simply have to plug Adaptecís USB2Connect 3100LP into one free PCI slot of your computer. Once itís done start your computer. Now comes the most delicate step: installing the drivers!
Drivers Installation
Here is the problem: none of today Microsoftís operating systems support natively USB 2.0. When youíll start your computer with a freshly added Adaptec USB 2 card, Windows will detect only the USB 1.1 features of your card and will tell you it cannot find any drivers for the USB 2.0 controller. Thatís why Adaptec provides its own set of drivers for Windows 98, Windows 98SE, Windows Me and Windows 2000. Installing Adaptecís drivers on these operating systems is quite simple: you just have to put Adaptecís CD in your CD drive and let the Ďadd new hardware wizardí automatically installs the right drivers. Once drivers are installed, youíll have to reboot your computer and youíll be ready to live a new experience when using new USB 2.0 devices.
However with Microsoft flagship Windows XP, thereís a small issue. Indeed Adaptec hasnít released any drivers for this operating system and Microsoft is dragging along to release its official Windows XP USB 2.0 drivers. During the beta test of Windows XP, the announcement that Microsoft wonít provide inbox support for the USB 2.0 was the talk of the town. Microsoft quickly issued a denial stating their USB 2.0 drivers need more testing to ensure they work correctly and that they will release free USB 2.0 drivers once Windows XP will be officially released. Microsoft USB 2.0 drivers were expected to be available the day Windows XP was launched, then for Thanksgiving, now rumors say that those highly awaited drivers might be released sometime in January. Whenever they will be released, the Windows XP Service Pack 1 will offer native support for the USB 2.0. Nonetheless we managed to get our hands on Microsoftís hot official and final USB 2.0 drivers to test this Adaptec card.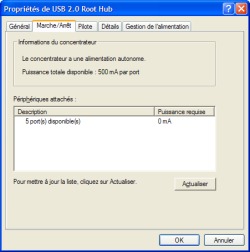 Adaptec USB2Connect 3100LP Windows XP Drivers (click to enlarge)