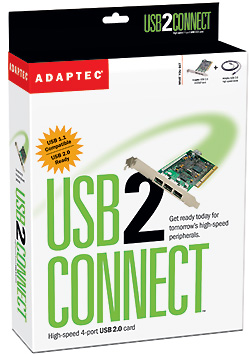 USB 2.0 Explanations

As stated before the main advantage of the USB 2.0 is its unprecedented bandwidth. With a 480 Mbps bandwidth the USB 2.0 beats the theoretical 400 Mbps bandwidth offered by the FireWire (also known as IEEE 1394) standard. Obviously your brand new USB 2.0 card is backward compatible with thousands of USB 1.1 devices: it means you can still connect and use your USB 1.1 equipment with the card. However USB 1.1 devices connected on a USB 2.0 controller will work only at 1.5 Mbps or 12 Mbps. Just like its predecessor you can connect up to 127 USB devices to the Adaptec USB2Connect 3100LP (you can combine USB 1.1 & USB 2.0 devices).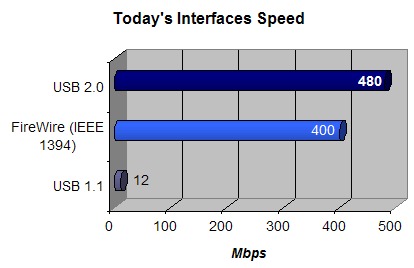 As hot and exciting as it sounds, USB 2.0 has some drawbacks! Indeed you have to change your existing USB hubs if you want a hub that offers full speed USB 2.0 connectors. Connecting a USB 1.1 hub to the Adaptec 3100LP card will limit the speed of your USB devices to the maximum speed of 12Mbps the USB 1.1 offers. Plus you have to use special USB 2.0 branded cables to connect USB 2 devices to the adapter otherwise the USB 2.0 devices will operate in USB 1.1.
Adaptec USBControl
This small Adaptec utility isnít bundled with the USB2Connect 3100LP but can be downloaded free of charge from Adaptecís website. The purpose of Adaptec USBControl is to display the exact number of USB devices connected to your computer and their nature. When you start USBControl a compact window will appear listing all the USB devices plugged to the PC (including those who are connected to the native USB controller of your PC). Near each USB device entry thereís an icon representing its nature (mouse, game controllers, hard disk, modem, camera, etc.), the number (or letter) of the port/hub the device is connected to, as well as a green icon that blinks each time the USB device sends data to the computer. With this neat feature you know when the USB hard disk is in use so you donít have to plunge under your desk to see it! You can customize the compact view to display information about only one device (for example) but you can also change the icon assigned to a USB device.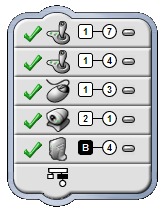 Adaptec USBControl Small View
Advanced users will appreciate the expert view: USBControl can display a diagram of your current configuration representing your computer, its USB controllers, the hubs connected to it and the devices connected. With this view you instantly see how many USB ports are free or in use. Through the software you can rename the name of each USB device: that way your Microsoft Wireless IntelliMouse Explorer can be renamed in Wireless Mouse. USBControl can be set to start at each Windows boot and can be minimized in the tray for convenience purposes.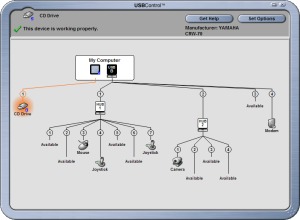 Adaptec USBControl (click to enlarge)
Tests
During our tests of the Adaptec USB2Connect 3100LP we didnít encounter any problems with the card or Adaptecís drivers. Under Windows 98SE, Windows Me, and Windows 2000 SP2, Adaptecís USB 2.0 drivers worked like a charm and let us use Yamaha and Iomega USB 2.0 burners at their full burning speed (respectively 12x and 16x)! As you know USB 1.1 burners were only able to record CDs at the maximum speed of 4x while USB 2.0 burners can reach recording speed of 16x implying a huge time saving. We sucessfully burnt several CDs with the Yamaha CRW70 in 8x: it took 8 minutes 30 seconds to burn a CD-RW in 8x while with our SCSI burner we recorded the same CD at the same speed in 8 minutes 25. Our Epson Perfection 2450 USB 2.0 Scanner was also perfectly recognized by the Adaptec USB2Connect 3100LP and worked just great under Windows XP.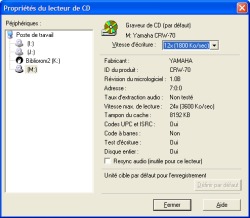 Roxio Easy CD-Creator 5 Dialog Box Showing Yamaha CRW-70 USB2 Burner and Its Ability to Burn in 12x (click to enlarge)