Product: TrackBall Explorer
Company: Microsoft
Website: http://www.microsoft.com/hardware
Estimated Street Price: $74.95
Review By: Julien JAY
Usability
New TrackBall users will have to take a few days to adapt themselves to this new way of moving your screen cursor by just moving their index & major fingers together or separately. However the learning phase is a breeze and less than a week after the purchase you'll use it as if you were born with it! If you've already used a TrackBall before then you'll be amazed by the comfort and ease of use this new one will bring you.
Programmable Buttons
This new feature on the TrackBall Explorer is very resourceful to avid computer users (especially handy for Internet use), and is very simple to set up:
<![if !supportLists]> · <![endif]> Simply click on the mouse icon in your control panel or on the mouse icon in your system tray.
<![if !supportLists]> · <![endif]> Click the buttons tab.
You will see TrackBall Explorer automatically selected in the upper "device" window, and an interactive picture of the mouse. As you move your pointer over the mouse, the buttons will highlight themselves as well as the corresponding button programming window.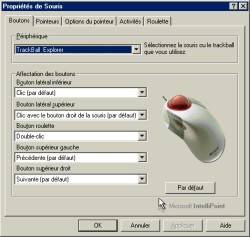 Microsoft IntelliPoint 3.2 Drivers
The buttons feature 35 common functions to choose from. These are the most common commands that users execute. For specialized functions, such as game software commands, you can map both the game command and the mouse button to the same keyboard key. Microsoft TrackBall Explorer now gives you five buttons to program. These five buttons are supported directly in DirectX 7 API, allowing you to skip the step of programming a keyboard key first.