DirectX
ActiveMac
Downloads
Forums
Interviews
News
MS Games & Hardware
Reviews
Support Center
Windows 2000
Windows Me
Windows Server 2003
Windows Vista
Windows XP



News Centers
Windows/Microsoft
DVD
Apple/Mac
Xbox
News Search



ActiveXBox
Xbox News
Box Shots
Inside The Xbox
Released Titles
Announced Titles
Screenshots/Videos
History Of The Xbox
Links
Forum
FAQ



Windows XP
Introduction
System Requirements
Home Features
Pro Features
Upgrade Checklists
History
FAQ
Links
TopTechTips



FAQ's
Windows Vista
Windows 98/98 SE
Windows 2000
Windows Me
Windows Server 2002
Windows "Whistler" XP
Windows CE
Internet Explorer 6
Internet Explorer 5
Xbox
Xbox 360
DirectX
DVD's



TopTechTips
Registry Tips
Windows 95/98
Windows 2000
Internet Explorer 5
Program Tips
Easter Eggs
Hardware
DVD



ActiveDVD
DVD News
DVD Forum
Glossary
Tips
Articles
Reviews
News Archive
Links
Drivers



Latest Reviews
Xbox/Games
Fallout 3

Applications
Windows Server 2008 R2
Windows 7

Hardware
iPod Touch 32GB



Latest Interviews
Steve Ballmer
Jim Allchin



Site News/Info
About This Site
Affiliates
Contact Us
Default Home Page
Link To Us
Links

News Archive
Site Search
Awards



Credits
©1997-2012, Active Network, Inc. All Rights Reserved.
Please click here for full terms of use and restrictions or read our Light Tower Privacy Statement.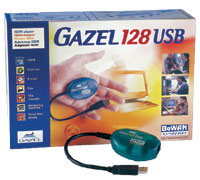 Product: Gazel 128 USB
Company: Bewan
Website: http://www.bewan.com/
Estimated Street Price: $110.00 ; £79.00
Review By: Julien JAY
Introduction
Bewan is a well-known French manufacturer specialized in the ISDN modem field. In 1998, they introduced in Europe, the first ISDN USB modem, named USBooster 128 that was a best seller, at least in France. This modem was the first ISDN one, worldwide, to use an USB connection designed to be used with Windows 95 OSR2.1c and Windows 98. Only two years later, Bewan, knocks a further great shot, by unleashing, the smallest USB ISDN modem of the world, named Gazel 128 USB that weights 0,1 pound only. This revolutionary new modem is a real technology's condense we'll review in details.
ISDN Reminder
The ISDN technology consists to transmit & receive, on an analogical line, digital data as well as voice. The immediate benefit of this technology is a constant 64kbps connection to the internet in both send & receive channels, ensuring faster uploads than with a 56kbps modem that only upload data at 33.6kbps. Best of all you can double the transmission speed up to 128kbps if you decide to temporarily sacrifice your voice phone line (however note that few ISP offers 128kbps connections.) Indeed the other advantage of ISDN is that you can be joined while you're surfing the net! But another strong point of the ISDN technology is that the connections are established in only two seconds (compare it to the minute or so needed to connect you to the net with a conventional modem…). When you subscribe to an ISDN line, you'll get three different phone numbers for two effective simultaneous connections (voice or data transfer). The cherry on the pudding is that with an ISDN line you can assign to one of your phone number, a fax machine, keeping the others for voice calls and internet connections. As we live in a real world, there are obviously some drawbacks about ISDN... If it's really affordable and more faster & reliable than a 56kbps modem (there's absolutely no disconnection by example), it's slower than an ADSL line and you still have to pay internet phone costs minute after minute like you do for a 56kbps modem (that means there's no all inclusive monthly price) except if you're one of the lucky guys to have unlimited phone costs included internet access. Note that unlike with ADSL or Cable technology you won't have to install neither a filter nor a network card and that there's no upload/download limits as there can be with some phone or cable companies. Concerning the ISPs, all of them offer a 64Kbps ISDN enabled connection without any supplementary fees (even free internet providers support ISDN!). The last thing to know about the implementation of ISDN technology is a low impact installation in your house, since only one small box will be added (you'll keep all of your existing phone plugs that will continue to work with normal phones) and you'll be ready to surf the web at a new speed in just an hour or so.
Setup

Installing the new Bewan's baby is a breeze, plug to it the ISDN RJ45 cable, and plug the USB cable to the appropriate connection port of your PC and you're done (there's no AC power adapter). As Windows will instantly recognize the presence of a new device, thanks to the plug & play, insert the drivers CD and wait until your system is updated. Then reboot your PC, update your current Internet connection settings to specify the use of the Bewan modem and surf the web!