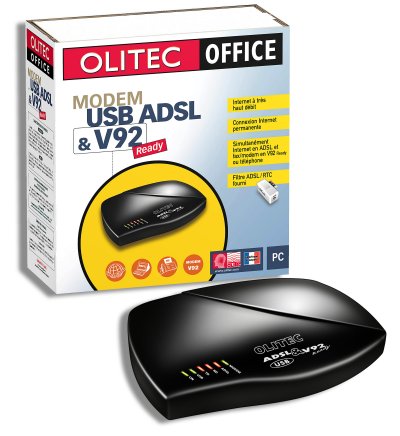 Drivers
Olitec uses Connexant chips. As a matter of fact the ADSL drivers of the Olitec USB ADSL V92 Ready are signed by Connexant. This is a clear proof of quality. During our intensive tests of the modem the drivers always worked great under Windows 2000 and Windows XP. We didn't encounter any BSOD or failure that was caused by these drivers. This is absolutely primordial! Users with Alcatel ADSL USB or ECI ADSL USB modems constantly experiment failures, BSOD, and other lockups that are caused by drivers. Olitec drivers are rock solid. Their presence is manifested by a small icon in the tray area of windows that show two green square over a modem: when you're connected and downloading or uploading data those green indicators will blink so you can monitor the status of the line. A double click on the tray icon opens a small dialog box that displays the amount of receives and sent bytes. For more in depth information on your ADSL connection you have to go in the Windows control panel and open the Olitec USB ADSL applet. There you'll see the upload and download rates along with other information. For your information Olitec's drivers perfectly support the hibernation feature of Windows 2000 and Windows XP so you can put your computer in standby or hibernation with the modem connected.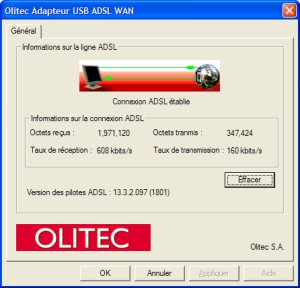 Olitec Connection Monitoring Dialog Boxes (click to enlarge)
Technical Specifications
The Olitec USB ADSL V92 Ready uses full speed USB 1.1 connection protocol (12 Mbps). The modem supports connections with maximum downstream of 8 MB and upstream of 1 MB. Olitec's ADSL modem supports ANSI T1.413 Issues 2, ITU G.dmt (G.992.1) and ITU G.lite (G.992.2) norms as well as Splitterless, PPPoE: RFC 1483 and PPP on ATM: RFC 2364. This extensive support of the various ADSL norms ensures the modem is 100% compatible with every equipment your ISP uses.
V90/V92 Compatibility
During our tests the V90/V92 part of the modem worked great with every Windows application that was TAPI 32 compatible. From Terminal software to fax software like Symantec WinFax Pro 10 we were able to use the Olitec USB ADSL V92 ready modem as an analogue modem without any problems! Not to say that we were able to connect to online services such as AOL using AOL Version 7 without any problems.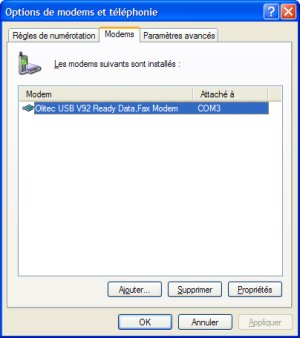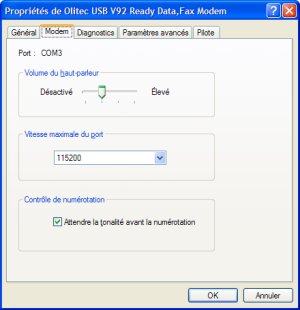 Olitec USB ADSL V92 Drivers (click to enlarge)
ADSL Tests
During our tests the Olitec USB ADSL V92 showed better pings and higher download speeds than the Alcatel SpeedTouch USB modem that was provided by our phone company. Indeed the Alcatel SpeedTouch USB easily saturates at 60KBps when you download while the Olitec USB ADSL V92 Ready perfectly sustains downloads with a permanent 63KBps downstream. This is quite interesting for those of you that download huge stuff (like games, software orDivX) on a regular basis. The upload is also more responsive than with the Alcatel SpeedTouch USB.

| | |
| --- | --- |
| Site | Ping |
| www.activewin.com | 158 |
| www.tomshardware.com | 148 |
| www.olitec.com | 79 |
Software
Here we touch the weak point of the Olitec USB ADSL V92 Ready. Indeed if this top notch ADSL & V92 Ready modem is probably the best all in one device you can get for an affordable price, the provided software is somewhat obsolete. Olitec provides the unit with its own home made software named 'Olifax'. The software surely works correctly and accomplishes every task it has to do. However it's still 16-bit software and even if though it works under Windows 95, Windows 98, Windows Me, Windows 2000, Windows XP, it features poor support of the TAPI 32 interface. With the software you'll likely experience several conflicts with TAPI 32 compliant applications and 'Olifax'. Installing the software on the computer is easy and takes a few minutes, the time for the files to be copied then a wizard will help you configure your new communication centre.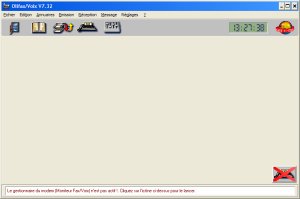 Olifax Software (click to enlarge)
You'll have to provide your fax number, name, and other information Olifax needs to properly work. I'm still wondering why Olitec keeps providing such prehistoric software while they can bundle with their modem software worthy of this name like Classic Phone Tools from BVRP. Anyway the software works correctly. You can obviously send faxes with the built in fax editor and receive faxes while the computer is on. The fax engine also lets you send faxes from every Windows application as long as this application features a printing command. Just like every great fax applications, you can preview your faxes before they are sent.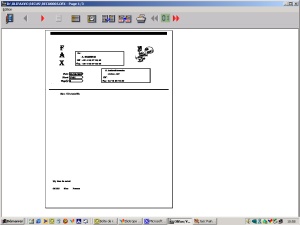 Olitec Fax Viewer (click to enlarge)
One fax can be automatically sent to several contacts and you can ask the software to delay the transmission at your convenience. Defer the sending of faxes is interesting to save money when you have to send a huge number of faxes. Every fax movement is logged into the inbox or sent items folders of the application. The build in fax viewer lets you rotate faxes, zoom in/out, and print them. You can constitute phone books within Olifax in order to not type anymore the phone numbers of your most frequent correspondent. As you can see, even if the software is repulsive, especially due to its poor interface, it remains very complete.