Product: Pentium III 1Ghz B & Intel VC820 Motherboard
Company: Intel corp.
Website: http://www.intel.com
Estimated Street Price for the CPU: $990.00 in 1000 unit quantities
Review By: Julien JAY
Intel VC820 MotherBoard
Intel has also gently provided us this Rambus enabled motherboard. This motherboard is manufactured in ATX format. It's a basic motherboard that comes with the latest i820 chipset from Intel that supports the latest technologies such as Ultra DMA66, AGP4x, Rambus memory, and more: we regret the chipset isn't the 820e one that supports UDMA 100. Many of you, power users, think the i820 isn't a stable & reliable chipset: I have to told that it is a true chipset you can rely on. Indeed I used several i820-based mobos (from Asus to Intel) since more than 6 months with no problems at all. Note that recent tests shown that to enjoy the benefits of the i820 chipset you should install the Intel drivers that'll increase the performance by 20%!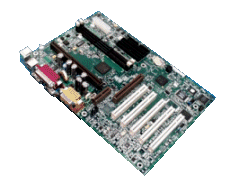 As Intel is the initiator of the PC99/2000 norms there's no ISA slot on this motherboard so you can throw away your old ISA boards. However 5 PCI slots are provided along with one AGP 4x (that comes with an AGP holder [RM] to avoid wrong contacts). At this time most of the mobo manufacturers provides users with 6 PCI slots & AGP Pro slots the VC820 offers seems to be quite limited in terms of evolution perspective: note that for a desktop PC it's sufficient enough, really. Near the AGP & PCI slots there's an AMR (Audio/Modem riser) to support low cost updates boards. Installing this mobo was a breeze and we didn't encounter any setup problems except the fact Intel mobo requires 2pins Power led connectors instead of usual 3 ones: a little adaptation is necessary to watch the power led of your computer lighting when you launch it. The two RIMM sockets allow users to add a maximum of 512Mb RDRAM through 256Mb barrettes. This motherboard supports ECC or non ECC RDRAM and if you put only one memory barrette on it a terminator is provided to put on the second socket to close the Rambus circuit. Also please note that the RAMBUS supported frequencies are 300, 356 and 400Mhz (indeed the 800Mhz speed is obtained by a technology trick that double the initial one). Plugging the CPU on the board is easy and the retention mechanism is efficient (unlike for Asus boards): two fan power plugs are present on the mobo to cool your PC the way you want. Intel included on its motherboard a new interesting feature: at the rear of the motherboard 4 leads will indicate the status of the computer to easily diagnostic breakdowns. However this indicators are located at the rear of the computer so it's painful to watch them and they indicate more than 10 different status using various LED colours: so to know what's the exact status of it you have to take the Mobo guidBook. It's really a good idea that isn't well applied for the moment. As with most of the today's motherboards the Intel one included only 2 USB ports (it's really few when you know you can chain up to 127 devices!!!!), 2 serial ports, 1 printer connector and two PS/2 connectors dedicated to the keyboard & the mouse: all this connectors are now identified by different colours in accordance with the PC99 specifications that Intel & Microsoft edict. Note that two IDE UDMA 66 connectors are located on the mobo along with one floppy connecter. The Intel mobo bios is a marvel: there's really no other word to describe it. Indeed it's the first one we've ever seen to provided a multi-languages enabled BIOS (from French to English!): also setting it is easily and the last thing we love is the very nice Intel Pentium III logo displayed during the boot of the PC that hide POST messages (sure if you want to read them you can disable it). The intel bios update is very easy and now work under Windows platforms. During our tests the Intel motherboard has shown that for every CPU you connect on it there's a 3 Mhz frequency lost: indeed where Asus boards make CPU runs at 1000.2Mhz for example, the intel one makes the CPU turns at 997Mhz (same thing for 600 & 800 CPUs): it's a bit disrupting. At the power features level the board is fully ACPI compliant and introduces the Suspend to ram power management mode to make PC working instantly. The last thing to note is that the CD of the motherboard contains a full version of Norton Antivirus 5 as well as different setup utilities and misc drivers (i820 drivers, UDMA drivers,…) we highly recommend you to install. Finally this motherboard offering the latest technologies & performance for a reasonable price. As always with intel motherboards it's solid (3 years of limited warranty) & will be perfect for desktop PCs! One thing is regrettable with the package of the mobo: the user's guide is very, very small & short and only provided in English & Japanese (even in European countries for example).
Intel latest Bios update P11, a step ahead
The latest Bios update P11 for the intel VC820 motherboard brings a new exclusive technology named Intel Rapid Bios that'll interest every users: in order to reduce long booting times & frustrations and to increase the efficiency of today's computers the latest generation of Intel Bios now improves boot time without sacrificing features, quality, or reliability. The BIOS Power On Self Test (POST) was streamlined by parallelizing tasks, eliminating redundant code, reduction of legacy features, and selective hardware usage and configuration. Underneath is an Intel chart showing the benefits of this new technology.
Finally every upcoming Intel motherboards will feature this new technology that exceeds the PC 2001 Design Specification Guide and that is compliant with Microsoft Windows Me (Millennium Edition).
Rambus
Intel chose to adopt Rambus (also known as RDRam) and integer it with its i820 line of chipset due to the high frequency the memory shows (600,700 and 800Mhz) on paper at least. However Intel started to admit that with current Pentium III (600, 700, etc.) the RDRam doesn't deliver better performance than SDRAM. So the company has decided to change things and new Pentium III processors from 1Ghz to future ones really take better advantages of this new memory kind that can now receive data without interruption due to the new high exceptional frequencies of the Pentium III 1Ghz CPU and upcoming ones. For the moment Intel didn't manage to make the Rambus a worldwide standard due to its expensive price explained by the economic rarity of this good. Some manufacturers are now looking for DDR-SDRAM (like the one include in latest 3d boards) but the game isn't over and Intel still have its chance to impose it.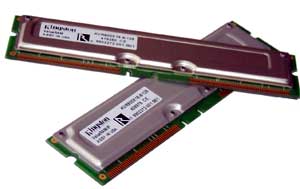 Here are the two Rambus barettes you have to plug in the RIMM sockets