DirectX
ActiveMac
Downloads
Forums
Interviews
News
MS Games & Hardware
Reviews
Support Center
Windows 2000
Windows Me
Windows Server 2003
Windows Vista
Windows XP



News Centers
Windows/Microsoft
DVD
Apple/Mac
Xbox
News Search



ActiveXBox
Xbox News
Box Shots
Inside The Xbox
Released Titles
Announced Titles
Screenshots/Videos
History Of The Xbox
Links
Forum
FAQ



Windows XP
Introduction
System Requirements
Home Features
Pro Features
Upgrade Checklists
History
FAQ
Links
TopTechTips



FAQ's
Windows Vista
Windows 98/98 SE
Windows 2000
Windows Me
Windows Server 2002
Windows "Whistler" XP
Windows CE
Internet Explorer 6
Internet Explorer 5
Xbox
Xbox 360
DirectX
DVD's



TopTechTips
Registry Tips
Windows 95/98
Windows 2000
Internet Explorer 5
Program Tips
Easter Eggs
Hardware
DVD



ActiveDVD
DVD News
DVD Forum
Glossary
Tips
Articles
Reviews
News Archive
Links
Drivers



Latest Reviews
Xbox/Games
Fallout 3

Applications
Windows Server 2008 R2
Windows 7

Hardware
iPod Touch 32GB



Latest Interviews
Steve Ballmer
Jim Allchin



Site News/Info
About This Site
Affiliates
Contact Us
Default Home Page
Link To Us
Links

News Archive
Site Search
Awards



Credits
©1997-2012, Active Network, Inc. All Rights Reserved.
Please click here for full terms of use and restrictions or read our Light Tower Privacy Statement.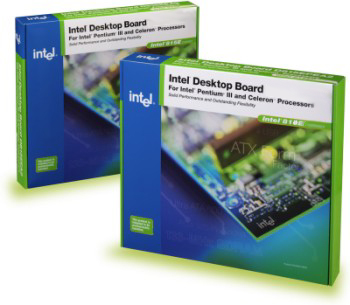 Product: D810E2CA3 Motherboard & Celeron 900MHz
Company: Intel
Website: http://www.intel.com/
Estimated Street Price: $81 for the CPU & $80 for the Mobo
Review By: Julien Jay
CNR
New to the i810E2 chipset is the CNR. CNR stands for Communication & Networking Riser and replaces the old AMR (audio/modem riser). CNR is materialized on the motherboard with a small new brown connector. This port can receive very affordable additional cards since the devices you'll plug in it won't feature any of the traditional components. Indeed those are directly integrated in the chipset or on one of the motherboard chip. CNR ports are definitely interesting for OEM manufacturers since they allow them to build low cost PC with powerful solutions. Nonetheless that doesn't mean that customers will get poor performance add-ons when they opt for a CNR solution. The CNR port can receive modem, audio, USB, Network and other kinds of cards. Intel provided us with the CNR SoundMax card: this card updates the onboard D810E2 motherboard audio circuit to one that provides analogical output to plug up to 6 speakers for a full 3D surround sound. That way you can enhance the performance of the build in AC97 sound controller adding a SoundMax CNR card.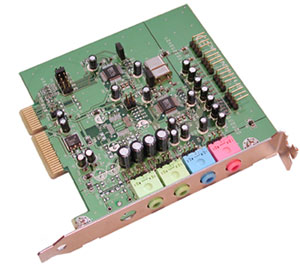 SoundMax CNR card (click to enlarge)
Intel D810E2CA3 Motherboard
The Intel motherboard comes in a micro-ATX form factor: this very small design helps system builders creating small & light PC while being fully compatible with ATX 2.01 compliant boxes. This green PCB motherboard features four PCI 2.2 slots operating at 33MHz along with a CNR (Communications Networking Riser) slot. The motherboard comes with a Socket 370 ZIF slot with support for Intel Celeron, Pentium III & Coppermine CPUs. With only two SDRAM DIMM sockets, the memory upgrade perspectives are quite limited, even if the chipset can support up to 512MB of memory. Indeed to support current and future memory needs, we'd have prefer the motherboard to come with 4 sockets. Why? Simply because when the customer will decide to upgrade its memory it may be cheaper to purchase two 128MB SDRAM units rather than one 256MB one, but in that case the memory that was furnished with the system is definitely lost. Anyway you can use 168-pin 100MHz non-ECC SDRAM on the motherboard. During our tests we have found several compatibility issues with SDRAM compatibility. Some of our SDRAM 100MHz units weren't compliant with the motherboard so we had to exchange our SDRAM for other no-name ones. You'll find near the SDRAM sockets, two ultra DMA 100 IDE connectors, letting you chain up to 4 devices. The usual old-school floppy disk connector is still there. A small onboard buzzer ensures you can hear system sounds whenever there's a problem.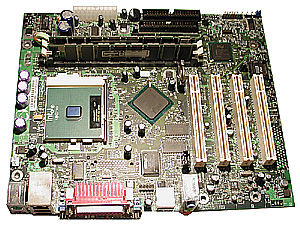 Intel D810E2CA3 Motherboard (click to enlarge)
The rear panel of the motherboard features several connectors: the usual PS/2 ones for mice & keyboard, two USB ports (thankfully to avoid the use of an USB hub, you have a connector on the motherboard letting you add, eventually, two other USB ports you can put everywhere you want in your PC), one ECC/EPP parallel port, only one serial port and a connector for your monitor. Near the serial port you'll find a ramp of three external audio connectors to connect the sound card with an auxiliary sound device, a microphone and speakers. Despite each connector sports a different color there's no indicator letting you know to what the green connector corresponds (is it mic, speakers or…). Next to the PCI slots are two sound entry connectors: the first one if receives the audio cable coming from your CD/DVD drive while the second one is used to retrieve sounds from every other system devices like TV cards, video mounting boards, etc.


Intel D810E2CA3 Connections (click to enlarge)
The system and video Bios are strangely stored on the SST 49LF004A FWH (instead of the usual Intel 82802AB Firmware Hub) offering a capacity of 4MB. Updating the bios is a child's game since Intel provides an Express Bios Update utility that runs directly under Windows: after launching the express updater (that weights only 1MB) the computer will be rebooted and your Bios will be updated in a breeze. This Intel genuine Bios can speaks several languages (English, French, etc.) and offers a quick access to the most current settings. The Bios supports ACPI 1.0b as well as every other power management features and can enter into hibernation (S3 and suspend to ram modes are supported). The Intel D815EPEA2 Motherboard bios also features the Instantly Available PC (IAPC) technology to make the computer act like every consumer device.
When you turn on your TV, the image appears instantly, and so does the PC with this feature. Instead of shutting down the PC when the user doesn't need it for a while, the system will take a snapshot of its current state and then removes the power from most major devices, including processor and fans. Only a small amount of standby power is left to those devices capable of waking up the system like the mouse, keyboard or network adapter. In this low power state the PC is asleep but remembers its previous state while being totally silent. When you decide to wake it up, it resumes to every application you were working in, very quickly. This feature is nice and very useful but can be touchy if you use incompliant devices or drivers, that's why the fact the chipset includes every major devices like sound cards & network adapters is a plus since every onboard devices are fully validated by Intel.
Like every new Intel motherboard, the Cayman 3 comes with the Intel Rapid Bios Boot function. This feature will surely interest every user: in order to reduce long booting time, user frustration and to increase the efficiency of today's computers the latest generation of Intel Bios now improves boot time without sacrificing features, quality, or reliability. The BIOS Power On Self Test (POST) was streamlined by parallelizing tasks, eliminating redundant code, reduction of legacy features, and selective hardware usage and configuration. To reduce the boot time you can even choose to disable hard disks tests so your PC will be ready to work faster than before, thus you can experience Zero to OS in 20.2 seconds! Underneath is an Intel chart showing the benefits of this new technology. This technology exceeds the PC 2001 Design Specification Guide and is compliant with Microsoft Windows Me (Millennium Edition).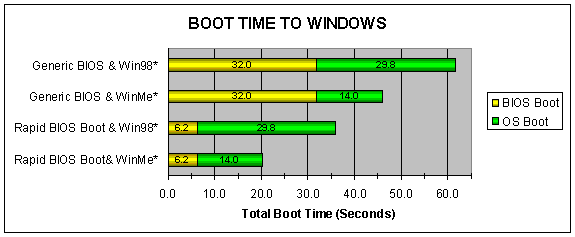 Targeting the low-end market, it's no surprise to see the motherboard doesn't support any kind of overclocking support. It's a regret but it remains a good argument for integrators making sure CPUs aren't damaged by too enterprising overclocking kiddies and that systems remain reliable by all time.
We tested the D810E2CA3 motherboard using Microsoft Windows 2000 Professional Service Pack 2. Once we have installed Windows 2000 on it, we installed the latest Intel chipset drivers so Windows 2000 can take advantage of all the performances of the i810E2 chipset. Then we installed the Intel UDMA storage drivers to beef up the hard disk performance (installing these UDMA drivers can enhance hard disk speed up to 20%). After another reboot we installed the Intel graphic controller drivers before finally installing the SoundMax 3.0 drivers for the build in sound card as explained in the audio paragraph and the LAN drivers. Once these drivers were installed our system was fully operational and we didn't encounter any problems: it worked just fine (there wasn't any conflict with Windows 2000 nor problems installing the drivers).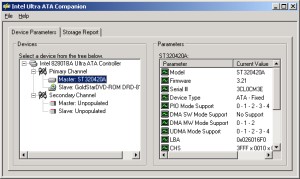 Intel Ultra DMA Storage Drivers (click to enlarge)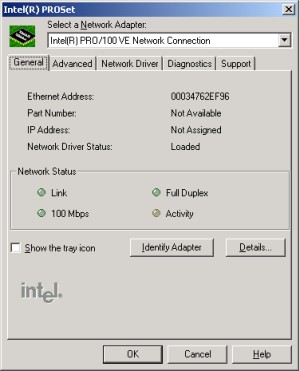 Intel Lan 10/100 Drivers (click to enlarge)
Also in the motherboard package are free Norton Internet Security 2001 v2.5 Family Edition & Norton AntiVirus 2001 programs. With these two major Symantec software that work under Windows 95, 98, Me, 2000 you're sure to be protected against every kind of computer threats like viruses, hack attempts, Trojan horses, etc. This is a nice attention from Intel to provide its customers with security software in those paranoid days.
Specifications
Support for Intel Pentium III FC-PGA (100 & 133MHz FSB)
& Intel Celeron PP-PGA processors (66 & 100MHz FSB)
2 168 3.3V SDRAM DIMM Sockets (supporting up to 512MB non ECC)
4 PCI (v2.2) Slots (support for PCI v2.3)
1 CNR Slot
Integrated Audio AC'97 Compliant solution with ADI1885 codec
Integrated Graphics Support with optional 4MB 133MHz SGRAM
(Samsung 7ns)
Intel 82562ET Lan Controller with RJ-45 connector (support for WfM2
and WakeOnLan)
1 serial port, 1 parallel port, 4 USB connectors, audio connectors,
PS/2 Mouse & Keyboard connectors
Onboard 2 IDE channels & 1 Floppy Disk connector
Intel Bios supporting: ACPI 1.0b, APM1.2, Suspend to Ram, PNP