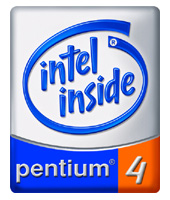 Product:

Pentium 4 2.2GHz - Intel D845BG Motherboards


Company:

Intel


Website: http://www.

intel.com


Estimated Street Price: $

529

.

00 (for the CPU)


Review By: Julien Jay
Intel D845BG Motherboard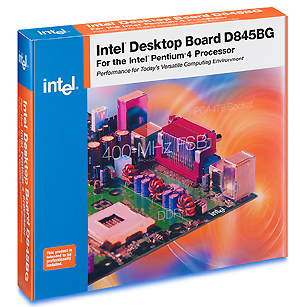 Intel has launched new motherboards to host the new i845 B0 chipset. We have received the Intel D845BG Motherboard. This Pentium 4 motherboard is highly integrated and uses the ATX form factor. The D845BG is powered by the i845 B0 chipset and comes with 6 PCI 2.2 connectors, 1 AGP 4x connector. The D845BG Motherboard uses four layers and features a nice gorgeous green PCB.
Installing the D845BG in an existing PC box is relatively easy since with the new fixing mechanism there's no need anymore to screw the retention part on the box.
The D845BG motherboard also requires an ATX 2.03 (ATX 12 Volts) 300 watt (300 watt is a minimum due to the power consumption of the CPU, the motherboard, etc.) compatible power supply. If your PC meets these requirements you can start installing the motherboard right away. Unlike Asus, Intel motherboards require the presence of an ATX 12volts power unit, otherwise you might experience lookups due to insufficient processor power. Inserting the Pentium 4 into the Socket 478 is a breeze and once you're done you'll have to apply a thermal paste or a thermal film to stick the heatsink over it, so the CPU heat will be dissipated and transmitted to the huge metallic heatsink itself covered by a wide and powerful fan. The whole system heats reasonably. Surprisingly the i845 chipset is even covered by a heatsink! During our tests at full charge the Pentium 4 2.2 GHz reached the temperature of 33° Celsius (80°F) proving the interest of the 0.13µ engraving. Nonetheless a Pentium 4 PC box will have to be correctly cooled by numerous fans (we used four inside our test system) to ensure the reliability of the whole system: as you know the more a PC heats more you have chance to encounter strange fatal errors due to overheating.
The Motherboard can support up to 2GB of DDR-SDRAM PC2100 (aka DDR 266) memory (with 512 MB technology). However only two DDR-SDRAM banks are available on the motherboard: this is a clear break that limits future evolution possibilities. Due to the new AGP voltage used by the i845 chipset some 3D graphic cards like the Voodoo 5500 or SIS cards won't work with the motherboard since they only support 1.7 volts mode and not 1.5 volts.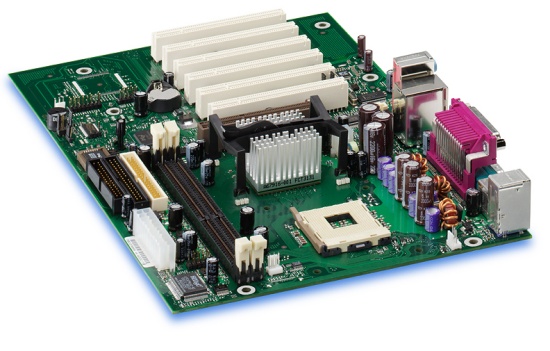 Intel D845BG Motherboard
The Intel D845BG comes with a total of four external USB ports thanks to two dual stacks: one is located near the PS/2 plugs for the mouse & the keyboard while the other is near the audio plugs. You can add three supplementary USB ports for a total of 7 USB ports, by taking advantage of the SIO hub: two front panel ports can be added (it requires a specific cable) and one port can be routed to the CNR connector. Integrators can add a NEC USB 2.0 chip to the motherboard to add support for the upcoming USB 2 transfer protocol since the ICH 3 isn't available yet. The D845BG motherboard comes with only one serial port which is regret since many people still use various serial devices. The usual parallel port is also included and supports EPP mode for fast bi-directional communications. As usual with Intel motherboards POST messages are hidden by a nice Pentium 4 Logo.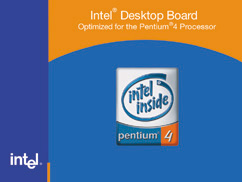 Pentium 4 BIOS Splash Screen
The firmware of the motherboard is stored on the Intel 82802AB 4 MB Firmware Hub component ensuring it can be updated. One really good thing is that the BIOS is Multilanguage enabled so it can speak English as well as German! Updating it is a child game since Intel provides an Express Bios Update that runs directly under Windows. Just like every actual Intel motherboard, the D845BG features a new unique technology named Intel Rapid Bios. This feature will surely interest every user: in order to reduce long booting time, user frustration and to increase the efficiency of today's computers the latest generation of Intel Bios now improves boot time without sacrificing features, quality, or reliability. The BIOS Power On Self Test (POST) was streamlined by parallelizing tasks, eliminating redundant code, reduction of legacy features, and selective hardware usage and configuration. To reduce the boot time you can even choose to disable hard disks tests so your PC will be ready to work faster than before. Underneath is an Intel chart showing the benefits of this new technology. This technology exceeds the PC 2001 Design Specification Guide and is compliant with Microsoft Windows Me (Millennium Edition) as well as Microsoft Windows XP.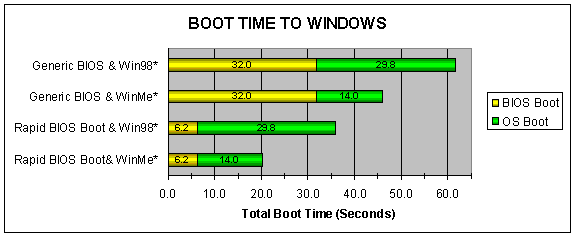 Like with every motherboard release, you'll have to install the latest Intel INF chipset drivers update so Windows can perfectly manage the motherboard you've just installed: it works great under Windows Me as well as Windows 2000 and Windows XP. Intel also provides UDMA ATA drivers to experience faster hard disk data transfers (increased by 15% in comparison when using Windows ones) especially if yours, use a UDMA 66 or UDMA 100 connection.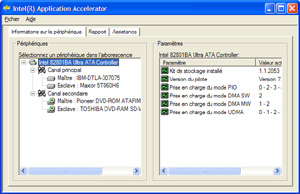 Intel Application Accelerator (click to enlarge)
Jumper less, the D845BG can't be overclocked at all. The weakest point of Intel motherboards remains since there's absolutely no way you can overclock the CPU: if this is good for system integrators to ensure the stability of their systems (and make sure their customers won't burn their processors/systems by being too bold), this limitation is clearly a no go for power users.
Windows XP

The D845BG motherboard is Windows XP ready and WHQL certified. It means it is already provided with Windows XP compliant drivers designed to get the most out of your platform to fully experience the rich features offered by this new breakthrough operating system. Microsoft Windows XP is the first truly optimized Pentium 4 operating system. Consumer enthusiasts and business professionals alike are demanding increasingly sophisticated tools and richer visual capabilities. Microsoft Windows XP caters to this demand by offering a new set of connected experiences that allow users to do more than ever before with the systemsbuilt around Intel platforms.
But every new generation of software has its price: it adds to the demands on the desktop processor. To fully utilize the most sophisticated features of the Windows XP operating system, and maximize headroom for future releases, users will want to deploy Windows XP on Intel® Pentium® 4 processor-based platforms. From speech-recognition interfaces to 3-D business analysis and visualization software, the Intel Pentium 4 processor helps customers take full advantage of the advanced features of Windows XP.
Technical Analysis
The Pentium 4 architecture reveals a strong potential specifically designed for video, high-demanding multimedia applications and rich 3D games. With so much power in this incredible revolutionary new architecture early adopters can see the future coming in all peace of mind. Pentium 4 processors also bring to reality speech recognition applications & encrypting tools while fastening ripping processes by example. But that's not all! Even though the Pentium 4 boosts every multimedia application it will also let developers create software or games you can't even dream about yet for example more sophisticated artificial intelligence, and things like that. Intel will be able to push the limits behind one more time just like the Moore's law says. With the release of the Northwood 0,13µ techies are now holding their breath until Intel unleashes a new high speed 533 MHz system bus that'll set the bar higher. With such a complete line of Pentium 4 processors every users can find joy in the range of Intel CPUs.
The addition of the i845 to Intel's family of chipset offers a new departure for the Pentium 4 and especially OEMs that are at last able to provide Pentium 4 platforms with descent prices. If with the original i845 was a performance killer, the new i845 B0 thankfully provide much better performance thanks to the use of DDR-SDRAM, as we will see in the benchmarks page. Intel has somewhat sacrificed performance with the i845 chipset with the only praiseworthy objective; the Pentium 4 platform would become an affordable computing system.