DirectX
ActiveMac
Downloads
Forums
Interviews
News
MS Games & Hardware
Reviews
Support Center
Windows 2000
Windows Me
Windows Server 2003
Windows Vista
Windows XP



News Centers
Windows/Microsoft
DVD
Apple/Mac
Xbox
News Search



ActiveXBox
Xbox News
Box Shots
Inside The Xbox
Released Titles
Announced Titles
Screenshots/Videos
History Of The Xbox
Links
Forum
FAQ



Windows XP
Introduction
System Requirements
Home Features
Pro Features
Upgrade Checklists
History
FAQ
Links
TopTechTips



FAQ's
Windows Vista
Windows 98/98 SE
Windows 2000
Windows Me
Windows Server 2002
Windows "Whistler" XP
Windows CE
Internet Explorer 6
Internet Explorer 5
Xbox
Xbox 360
DirectX
DVD's



TopTechTips
Registry Tips
Windows 95/98
Windows 2000
Internet Explorer 5
Program Tips
Easter Eggs
Hardware
DVD



ActiveDVD
DVD News
DVD Forum
Glossary
Tips
Articles
Reviews
News Archive
Links
Drivers



Latest Reviews
Xbox/Games
Fallout 3

Applications
Windows Server 2008 R2
Windows 7

Hardware
iPod Touch 32GB



Latest Interviews
Steve Ballmer
Jim Allchin



Site News/Info
About This Site
Affiliates
Contact Us
Default Home Page
Link To Us
Links

News Archive
Site Search
Awards



Credits
©1997-2012, Active Network, Inc. All Rights Reserved.
Please click here for full terms of use and restrictions or read our Light Tower Privacy Statement.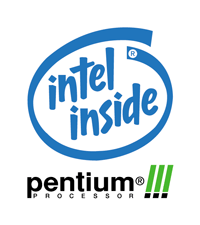 Product: Intel Pentium III 1.13GHz & D815EEA2 rev. B Review
Company: Intel
Website: http://www.intel.com
Estimated Street Price: $107 & N/A
Review By: Julien Jay
Motherboard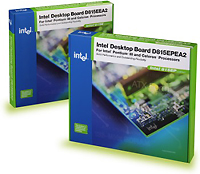 The Intel FayetteVille motherboard complies with the ATX form factor and features a FC-PGA socket connector letting you use Celeron & Pentium III Coppermine-T (aka Tualatin) processors. The motherboard comes with 5 PCI 2.1 connectors, three SDRAM banks to support up to 512 MB of PC133 memory, one AGP 4x port (depending on the model you may have or not a supplementary CNR port). As usual now there are no ISA ports to comply with the latest Microsoft/Intel specifications. One of the drawback of the design is that the AGP port is too near from the SDRAM banks so you can't use the AGP retention mechanism used to avoid wrong contacts with heavy graphics cards.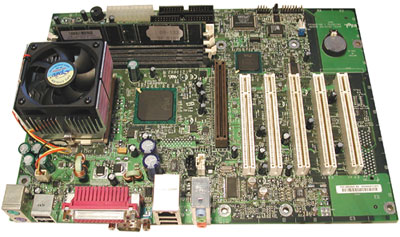 Intel D815EEA2 Motherboard (click to enlarge)
The D815EEA2 motherboard offers the following I/O: two PS/2 connectors for the mouse & keyboard, 4 USB ports (physically present on the rear connectors panel), only one serial port (but unlike on the D850GB you can plug a second COM port to the mobo and fix it in you PC box), one VGA graphics connector, one DVI graphics connector, one ECP/EPP parallel port supporting bi-directional connections, one RJ45 Ethernet connector for speedy network communications with two LED (a green and an orange one) indicating the status of the network controller. Finally near the network connector youíll discover a ramp of three audio connectors identified with different colors (thanks to the Easy PC norm). If thereís an onboard audio circuit thereís no MIDI Joystick port which is due to the fact most of today joysticks are USB ones, however itís a pity if you own old gamepads or joysticks that use a MIDI port. You can connect the analog audio output from your CD/DVD-Rom drive directly on the 4 pin connector of the motherboard but you canít use a digital connection to link the drive to the sound card. One surprising thing is that unlike with Asus CUSL2 motherboard, a fan doesnít surround the i815EE chipset or does a heatsink. Installing the D815EEA2 motherboard was a breeze. Due to the ATX form factor, mounting the motherboard in our bed case was done in 2 minutes: the longest thing was to screw everything. The motherboard uses standard ATX power adapter so we have no trouble in this area. I inserted the Tualatin 1,13GHz in the ZIF (zero insertion force) PPGA 370 socket and then I applied some thermal paste in order to better transmit the heat to the huge heatsink I stuck on it (itself surrounded with a powerful fan). During the mounthing session I noticed that the CPU Socket's plastic lever is really too fragile and can break if you force too much on it. I connected the floppy, hard disk and DVD-Rom cables to the appropriate IDE ports and then I insert some SDRAM memory into the memory banks. The final touch was to plug on the AGP 4x port the Matrox Millennium G550 graphics card. When I turn on the system the Pentium III 1,13GHz was instantly recognized as well as every devices of the configuration thanks to the jumperless technology the motherboard uses. Since the Intel Bios included is a friendly one, POST messages are replaced by a nice screen representing the Pentium III logo. We also tested the Intel D815EEA2 (what a sweet name, huh?) with a Pentium III 933MHz EB CPU and a Celeron 900MHz and it worked just fine. Like every new Intel motherboard, this one doesn't depart from the rule and comes with the Intel Rapid Bios Boot function. This feature will surely interest every user: in order to reduce long booting time, user frustration and to increase the efficiency of today's computers the latest generation of Intel Bios now improves boot time without sacrificing features, quality, or reliability. The BIOS Power On Self Test (POST) was streamlined by parallelizing tasks, eliminating redundant code, reduction of legacy features, and selective hardware usage and configuration. To reduce the boot time you can even choose to disable hard disks tests so your PC will be ready to work faster than before, thus you can experience Zero to OS in 20.2 seconds! Underneath is an Intel chart showing the benefits of this new technology. This technology exceeds the PC 2001 Design Specification Guide and is compliant with Microsoft Windows Me (Millennium Edition).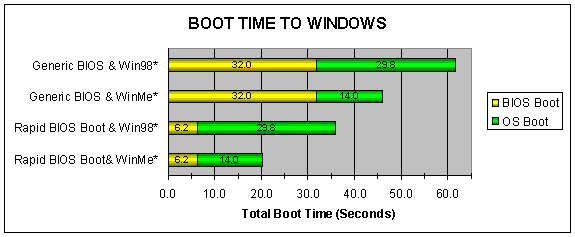 In terms of power management the Intel D815EPEA2 supports every current standard like APM & ACPI and can enter in various hibernate states (S3 is supported as well as suspend to ram). The Intel D815EEA2 Motherboard bios also features the Instantly Available PC (IAPC) technology to make the computer act like every consumer device. When you turn on your TV, the image appears instantly, so does the PC with this feature. Instead of shutting down the PC when the user doesnít need it for a while, the system will take a snapshot of its current state and then removes the power from most major devices, including processor and fans. Only a small amount of standby power is left to those devices capable of waking up the system like the mouse, keyboard or network adapter. In this low power state the PC is asleep but remembers its previous state while being totally silent. When you decide to wake it up, it resumes to every application you were working in, very quickly. This feature is nice and very useful but can be touchy if you use incompliant devices or drivers, thatís why the fact the chipset includes every major devices like sound cards & network adapters is a plus since every onboard devices are fully validated by Intel.
Since this is a Genuine Intel Bios it can display various languages (English, French, etc.), offers access to most current settings, provide advanced security features and much more. The firmware of the motherboard is stored on the Intel 82802ABB 4 MB Firmware Hub component ensuring it can be updated. Updating the bios is a childís game since Intel provides an Express Bios Update that runs directly under Windows: after launching the express updater (that weights only 1MB) the computer will be rebooted and your Bios will be updated in a few seconds. But I have to admit it doesnít give user an opportunity to overclock the processor like an Asus motherboard can do. If by a secret trick you can change the frequency at which the main processor will run and change the SDRAM CAS time thatís fairly all. Thereís no way to overclock the SDRAM frequency, nor adjusting by 1MHz step the CPU main speed. Many of you will find this bios limitation a drawback but itís also a major advantage since it ensure the system to be rock solid for maximum reliability. During our extensive tests we didnít notice any failures with the bios nor with the system. We tested the D815EEA2 motherboard using Microsoft Windows 2000 Professional Service Pack 1. Once we have installed Windows 2000 on it, we installed the latest Intel chipset drivers so Windows 2000 can take advantage of all the performances of the i815EP chipset. Then we installed the Intel UDMA storage drivers to beef up the hard disk performance (installing these UDMA drivers can enhance hard disk speed up to 20%). Finally we installed the SoundMax 3.0 drivers for the build in sound card as explained in the audio paragraph and the LAN drivers. Once these drivers were installed our system was fully operational and once again we didnít encounter any problem: it worked just fine (there wasnít any conflict with Windows 2000 nor hard time to install the drivers).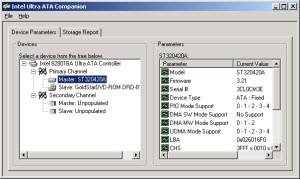 Intel Ultra DMA Storage Drivers (click to enlarge)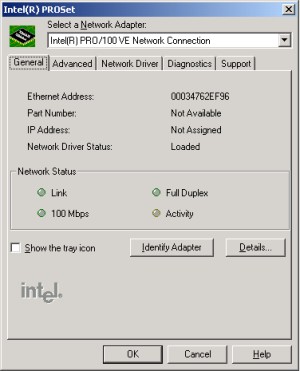 Intel Lan 10/100 Drivers (click to enlarge)

The i815EE chipset and so the D815EEA2 motherboard support the following Intel processors:
Intel Pentium III from the 500E MHz (with 256Kb of cache memory & 100MHz FSB) model to the 1.0GHz (with 256Kb of cache & 133MHz FSB) including support for Tualatin CPUs (1.13GHz)

Intel Celerons from 533A MHz (with 66MHz FSB) to 900MHz (with 100MHz FSB).
The D815EEA2 MotherBoard lets you overclock your CPU. However you have to know the secret trick to proceed. To proceed you have to move a magic blue jumper on the motherboard before starting the computer: the bios will prompt you to select the new frequency at which the CPU should operate from now on. That way we were able to push our Pentium III 933MHz EB to 1GHz without any problems: Windows 2000 didnít hang, fail and we didnít encounter any BSOD. If the Intel motherboard supports overclocking it isnít as flexible than the Asus ones that let you change the CPU frequency by step of 1MHz. Note that if the CPU you have can't be overclocked due to its core revision, you won't be able to push it behind its official limits.
Also in the motherboard package are provided for free, Norton Internet Security 2001 v2.5 Family Edition & Norton AntiVirus 2001. With this two major Symantec software that work under Windows 95, 98, Me, 2000 youíre sure to be protected against every kind of computer threats like viruses, hack attempts, Trojan horses, etc. This is a nice attention from Intel to provide its customers with security software in those paranoid days.