DirectX
ActiveMac
Downloads
Forums
Interviews
News
MS Games & Hardware
Reviews
Support Center
Windows 2000
Windows Me
Windows Server 2003
Windows Vista
Windows XP



News Centers
Windows/Microsoft
DVD
Apple/Mac
Xbox
News Search



ActiveXBox
Xbox News
Box Shots
Inside The Xbox
Released Titles
Announced Titles
Screenshots/Videos
History Of The Xbox
Links
Forum
FAQ



Windows XP
Introduction
System Requirements
Home Features
Pro Features
Upgrade Checklists
History
FAQ
Links
TopTechTips



FAQ's
Windows Vista
Windows 98/98 SE
Windows 2000
Windows Me
Windows Server 2002
Windows "Whistler" XP
Windows CE
Internet Explorer 6
Internet Explorer 5
Xbox
Xbox 360
DirectX
DVD's



TopTechTips
Registry Tips
Windows 95/98
Windows 2000
Internet Explorer 5
Program Tips
Easter Eggs
Hardware
DVD



ActiveDVD
DVD News
DVD Forum
Glossary
Tips
Articles
Reviews
News Archive
Links
Drivers



Latest Reviews
Xbox/Games
Fallout 3

Applications
Windows Server 2008 R2
Windows 7

Hardware
iPod Touch 32GB



Latest Interviews
Steve Ballmer
Jim Allchin



Site News/Info
About This Site
Affiliates
Contact Us
Default Home Page
Link To Us
Links

News Archive
Site Search
Awards



Credits
©1997-2012, Active Network, Inc. All Rights Reserved.
Please click here for full terms of use and restrictions or read our Light Tower Privacy Statement.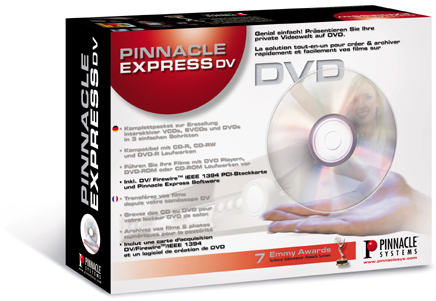 Introduction

During the past few years, a significant number of new technologies have appeared in the video domain. From the Mini-DV technology that brought digital video to the masses, to the Micro-DV, DivX and DVD formats the evolution has been very impressive. We can distinguish two different needs addressed by the most recent technologies: better video quality and the ability to link video devices to computers for advanced editing purposes. Today ĎVHSí is almost a souvenir that we will soon forget. With the wild development of the DVD and the emergence of somewhat affordable DVD burners a new race of software appeared; software that let you burn your favorite movies on DVD. There are multiple applications resulting from this concept; from the simple VHS backup to the creation of family DVDs for great occasions like weddings, baptisms, vacations, graduations, etc. Pinnacle has recently released a new product, named Pinnacle Express DV, that includes a basic IEEE1394 capturing card with their brand new Express software that helps users creat DVDs or VCDs. Weíll take an in-depth look at the Pinnacle Express Software in this review.
Installation
The most delicate step in the setup process of the Pinnacle Express DV is the installation of the DV card. After unpacking the Pinnacle Express DV, you can install the IEEE 1394 card into a free PCI slot of your computer. Once youíre done with the physical installation of the card you can remount your PC and start Windows. Windows 98SE, Windows Me, Windows 2000 and Windows XP will natively recognize the Pinnacle Express DV card as an IEEE1394 adapter and thus thereís no need to install any drivers. Next install the Pinnacle Express software; itíll take only a couple of minutes and youíll be prompted to reboot your PC. Then voila, youíre ready to capture and record your movies on DVD!
Ieee 1394 Card
The Pinnacle Express DV card has nothing spectacular except for its red PCB. Itís just a low cost, standard IEEE 1394 OHCI adapter that supports DV camcorders and VCRs as well as regular IEEE1394 devices like hard disk, scanners, etc. That means once the card is installed in your computer you can connect and use video devices and general purposes firewire devices simultaneously with no problem. The card uses an Agere IEEE1394 chip instead of the usual Texas Instruments chips and hosts two external FireWire connectors plus one internal connector. Pinnacle includes a mini molex connector on the card. That way if you plug it to the power adapter of your PC, energy will be dispatched to devices that might require it through the firewire ports. Itís especially useful for firewire devices like ZIP disks, burners, etc.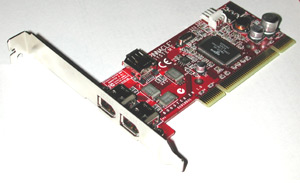 Pinnacle Express DV IEEE1394 Card