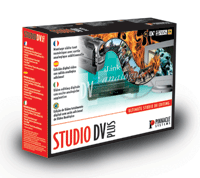 Product: Studio DV Plus
Company: Pinnacle Systems
Website: http://www.pinnaclesys.com/
Estimated Street Price: $285.00
Review By: Julien Jay
Features
Once your card and your camcorder are properly setup, it's a child game to capture videos! Launch the StudioDV software, click the capture tab and push the record button. The video will instantly start playing through your camcorder and you'll see it in the preview window. You'll be able to capture videos in real time with a resolution of 720*576 in real colors at the incredible speed of 3.6Mbps. With such an important data transfer rate, you'll have to have enough free hard disk space. Ten minutes of high quality video fits on 2.2 GB (for a 30 minutes film count at least 20GB of free hard disk space for movies, cut scenes, and sounds)! But the quality of the captured video is hopefully really good! Since Pinnacle thought to those of you who have a small hard disk, the Studio Software we'll review below comes with the exclusive Smart Capture technology that only capture in a first time the video in a previewing quality to reduce used hard disk space so users can mount up to one hour of film with only 150Mb of free hard disk space required!! Then when the film is mounted and you're ready to record it, Studio will reaquire, during the film generation process, in high quality videos but only parts you used (the parts you have ditched won't be captured thanks to the DV TimeCode).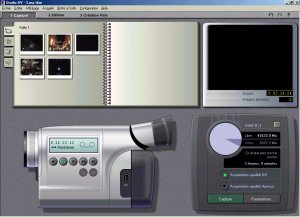 Capturing area of the Studio DV Plus Software
Well due to the digital Mini-DV standard the quality of the captured videos is great and unbeatable! You'll never see so beautiful videos from your computer or from your TV once you'll mount them. However like in previous releases of the Studio DV software we regret the small preview size when mounting the videos. Hopefully once the film is compiled the size of the video is normal!
Studio Software
As with other Studio Hardware, Studio DV Plus comes with the Pinnacle Studio software (version in the box: 1.06 but the last one available through the Web is 1.1). This great software is in fact "movie maker" software based on the Microsoft DirectShow technology that lets you preview video and special effects in real time! Plug your DV camcorder to your Studio DV Plus board and click capture! From using the buttons on the camcorder shown on your screen you'll have total control over your camcorder so you can Play, Stop, rewind or forward your video with just a mouse click while viewing it on your computer screen! The Studio software will also capture your video, and automatically detects scenes and fill in the album with thumbnail previews of the different captured scenes. At the same time, a graph shows you the hard disk used space. It'll allow you to change sounds or to add music from sound files or from your CD-Audio tracks to your favorite movies.
You'll even be able to record your own voice directly from Studio. You can choose transitions between each video scene (more than 100 transitions effects are available, thanks to SpiceRack!) and you can even add great titles by using the pinnacle award winning title software: TitleDeko (you'll also be able to make scrolling titles!): titles can be displayed over a fix background, over the video in transparent mode, etc. The time code toolbar will make your job easy to better manage the scenes. Sure you'll be able to cut, add, paste video pieces in one scene. You can change/adjust the brightness, contrast… before capturing videos.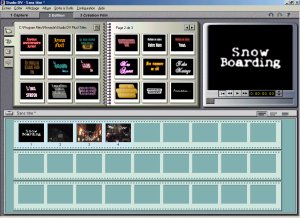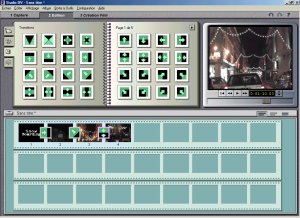 Titles & Transitions build in effects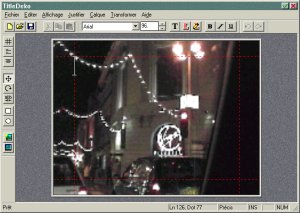 Title Creator
Obviously this Studio DV Plus board captures stereo audio from your camcorder (It supports PCM sound at 32 or 48 KHz) It's really a good, easy-to-use software. With this great device, you'll transform your bothering videos in funny ones that you'll be proud to show to family or friends. The final video can be saved in different file formats: AVI, MPEG1, MPEG2 (yes!!) or even RealVideo to send your videos over the Internet with streaming technology. The software can be automatically updated via Internet. Sometimes professional users will wonder themselves why they continue to use Premiere when the Studio software is so simple and user friendly while offering at the same time all the features Steven Spielberg regularly use!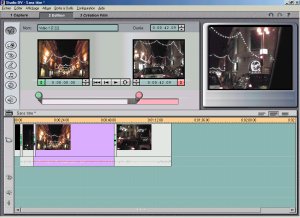 Cut tool with sound editor
To transfer your mounted film let your Mini-DV camcorder plugged onto your DV board and set in REC mode then in the create film tab push the record button. Your mounted and customized video will be automatically recorded on your mini-DV camcorder on the tape of your choice. Now you just have to transfer the film to a VHS VCR or to carry your camcorder to show your films to friends and family! If you have a DV OUT only camcorder, check the VCR Record checkbox and push the create button: your mounted film will be recorder on your VCR! Please also note that Studio DV Plus also allows you to capture fixed pictures from your video if you want to print the face of your friend after a celebrated dinner.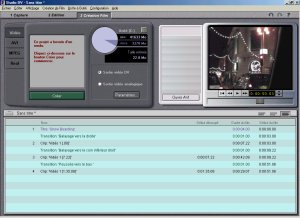 Exporting mounting video
Studio DV software will allow you to record your mounted films on your DV camcorder or your DV VCR, to create AVI or MPEG1/2 video files, to share your video on the Net with RealVideo (included), to create Video CD, or even to send videos by email!
Windows Me Integration
If you own Windows Me and if your camcorder uses the standard iLink protocol, when you plug it to the Studio DV Plus card, it'll be automatically detected so you'll be able to play videos or watch digital still pictures through the Windows Explorer!