DirectX
ActiveMac
Downloads
Forums
Interviews
News
MS Games & Hardware
Reviews
Support Center
Windows 2000
Windows Me
Windows Server 2003
Windows Vista
Windows XP



News Centers
Windows/Microsoft
DVD
Apple/Mac
Xbox
News Search



ActiveXBox
Xbox News
Box Shots
Inside The Xbox
Released Titles
Announced Titles
Screenshots/Videos
History Of The Xbox
Links
Forum
FAQ



Windows XP
Introduction
System Requirements
Home Features
Pro Features
Upgrade Checklists
History
FAQ
Links
TopTechTips



FAQ's
Windows Vista
Windows 98/98 SE
Windows 2000
Windows Me
Windows Server 2002
Windows "Whistler" XP
Windows CE
Internet Explorer 6
Internet Explorer 5
Xbox
Xbox 360
DirectX
DVD's



TopTechTips
Registry Tips
Windows 95/98
Windows 2000
Internet Explorer 5
Program Tips
Easter Eggs
Hardware
DVD



ActiveDVD
DVD News
DVD Forum
Glossary
Tips
Articles
Reviews
News Archive
Links
Drivers



Latest Reviews
Xbox/Games
Fallout 3

Applications
Windows Server 2008 R2
Windows 7

Hardware
iPod Touch 32GB



Latest Interviews
Steve Ballmer
Jim Allchin



Site News/Info
About This Site
Affiliates
Contact Us
Default Home Page
Link To Us
Links

News Archive
Site Search
Awards



Credits
©1997-2012, Active Network, Inc. All Rights Reserved.
Please click here for full terms of use and restrictions or read our Light Tower Privacy Statement.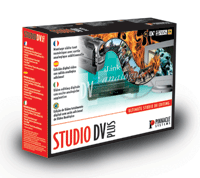 Product: Studio DV Plus
Company: Pinnacle Systems
Website: http://www.pinnaclesys.com/
Estimated Street Price: $285.00
Review By: Julien Jay
Introduction
In this day & age, since the release of personal camcorders more & more people turn to it in order to save their families sights. Until a few years back there was no great way to produce & mount videos like a Pro: users have to user the build in features of their camcorder or VCR. With the spread of Multimedia computer, editing videos is now a common thing and users can create films as if they were Steven Spielberg the ease of use in plus. Recent Mini-DV camcorders provide an unbelievable & unprecedented high quality video over classic camcorders: even TV channels use DV camcorders to make reports. Pinnacle the most well known video-capturing manufacturer has recently released on the market a new DV capturing board. This new FireWire card is called Studio DV Plus and replaces the previous Pinnacle Studio DV model providing a long awaited exceptional enhancement: the ability to output digital videos on classic VCR using an analogical video plug. Pinnacle was funded in 1986 and is based in Moutain View – California. They manufacture mainstream, broadcast, professional and internet video capturing products as well as TV decoder, with one goal in mind: providing users the most efficient and powerful way to capture, edit and share films! This review will study the Pinnacle Studio DV Plus package. Apple first introduced the Firewire standard. Camcorders manufacturers included it on their digital Mini-DV camcorders to share videos with a real and full digital quality. The Studio DV Plus PCI board's intended use is with Mini-DV digital camcorders. It's an IEEE 1394 board, based on a Texas Instruments' chip; it will bring to your computer 2 externals iLink/MiniDV/Firewire/IEEE 1394 connectors (contrary to the Studio DV there's no internal IEEE 1394 connector). The 'plus' feature of the Studio DV Plus is its new S-Video connector that let you record digital movies on a classic analogical VHS or S-VHS VCR. It even allows you to plug IEEE 1394 hard disks! (our Maxtor FireWire 40Gb or our ZIP 250 FireWire Drives work perfectly with it). With a bandwidth of 400Mb per seconds the Studio DV Plus board is definitely an interesting affordable solution to capture digital videos. It comes with the many times awarded 'Studio' software that allows users to mount, edit, their favorites videos by adding great effects (titles, transitions, sounds, music, and much more) in a few clicks.
Produce Hollywood-style movies from your DV or Digital8 video tapes

Installs with true plug-and-play ease

Capture an entire DV tape in only 150 MB of disk space

Choose from over 300 professional-style titles and hundreds of scene transitions for a polished look

Compose custom sountracks and voice-over narration to be in sync with the action

Make video tapes, or digital and streaming video for email or the Web

Studio DV adds 3 ultra-fast FireWire®/1394 ports to your PC
Requirements

First you have to know that this device only works with Windows 98/98SE (it works better under Windows 98SE) Windows Millennium and Windows 2000. Windows 95 and NT 4.0 aren't supported. The Studio DV Plus board looks like a classical board and doesn't feature the strange look of the previous Studio DV model. You'll have to plug the card in a free PCI (bus master, PCI 2.1 compliant) slot of your computer. To enter the new video world, your computer should be at least a Pentium II 233 with 64 MB of memory so you can enjoy good performance with this board. If usually you need to have a DV IN/OUT enabled camcorder to create digital movies, with the Studio DV Plus you can perfectly use DV OUT only camcorders! Indeed most of the first DV camcorders that were released since 1997 have only a DV OUT plug so you were only able to export the film to the computer but not record back from the computer to the camcorder: so once you have captured and edited the film if your camcorder didn't come with a DV-IN plug you were stuck and can't do anything with your production. There are still some DV-OUT only camcorders on the market that are generally cheap models but you'll notice that most of the recent DV-OUT camcorders can be unlocked with a small expensive (150$) optional device so you'll have a DV-IN/OUT camcorder (unfortunately this doesn't work with every camcorders). Now thanks to the Studio DV Plus those times are definitely over since you can record your movie on a traditional VCR using the S-Video Output plug of the card: this feature itself justifies the buying of this card. More over if you're lucky and have a recent DV IN/OUT camcorder you'll obviously be able to record your mounted movie on your camcorder but you'll still have use of the analogical video output! Indeed if you want to share films with family there's no other solution than recording the film on a VHS tape so once again the S-Video plug proves all its interest! Purists will say ok the S-Video output is practical and very neat but recording digital films on analogical tapes inevitably engenders quality loss. Right but remember most of actual TVs aren't able to show up the full resolution offered by DV recordings so the quality loss will be really small.
Setup
Plug the PCI card, reboot the computer, start your OS. As Windows Me features a state of the art IEEE 1394 technology support, the Studio DV Plus will be automatically detected so the correct driver will be installed. Now insert the Studio DV Plus 1.1 CD and launch the setup via the AutoPlay. The Studio DV Plus software will be installed in a breeze. This software will allow you to capture/edit/mount your digital videos. Once the setup is finished reboot the computer and plug your camcorder to the provided DV link cable (don't forget to use the AC power that came with your camcorder else it won't work). Thanks to the WIA & OHCI architecture of Windows Me, once your computer will be rebooted your camcorder will appear in the "my computer" window! So you can view your videos directly from the Windows Explorer or even see, save & share your pictures if your camcorder also supports digital still pictures. To run our various tests we used a JVC GR-DVL 9800 camcorder and we didn't encounter any compatibility problems! Thanks to the outstanding I-Link support J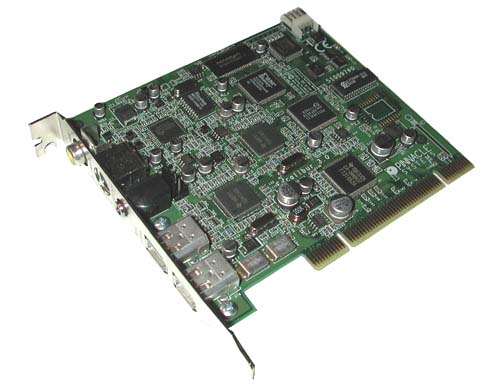 Studio DV Plus Board