DirectX
ActiveMac
Downloads
Forums
Interviews
News
MS Games & Hardware
Reviews
Support Center
Windows 2000
Windows Me
Windows Server 2003
Windows Vista
Windows XP



News Centers
Windows/Microsoft
DVD
Apple/Mac
Xbox
News Search



ActiveXBox
Xbox News
Box Shots
Inside The Xbox
Released Titles
Announced Titles
Screenshots/Videos
History Of The Xbox
Links
Forum
FAQ



Windows XP
Introduction
System Requirements
Home Features
Pro Features
Upgrade Checklists
History
FAQ
Links
TopTechTips



FAQ's
Windows Vista
Windows 98/98 SE
Windows 2000
Windows Me
Windows Server 2002
Windows "Whistler" XP
Windows CE
Internet Explorer 6
Internet Explorer 5
Xbox
Xbox 360
DirectX
DVD's



TopTechTips
Registry Tips
Windows 95/98
Windows 2000
Internet Explorer 5
Program Tips
Easter Eggs
Hardware
DVD



ActiveDVD
DVD News
DVD Forum
Glossary
Tips
Articles
Reviews
News Archive
Links
Drivers



Latest Reviews
Xbox/Games
Fallout 3

Applications
Windows Server 2008 R2
Windows 7

Hardware
iPod Touch 32GB



Latest Interviews
Steve Ballmer
Jim Allchin



Site News/Info
About This Site
Affiliates
Contact Us
Default Home Page
Link To Us
Links

News Archive
Site Search
Awards



Credits
©1997-2012, Active Network, Inc. All Rights Reserved.
Please click here for full terms of use and restrictions or read our Light Tower Privacy Statement.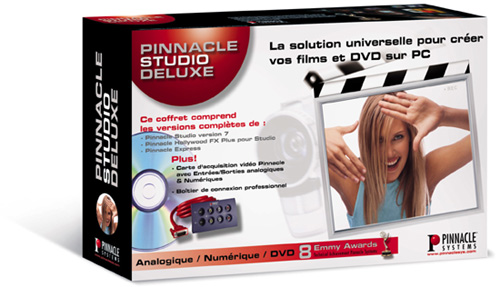 Introduction

In our multimedia era capturing and mounting videos on a PC has almost became a common task. The simplification of video editing software and the increased power offered by recent computers have greatly contributed in achieving such a momentum. Even if capturing and editing a DV film can be done in a snap with just a cheap firewire adapter, problems begin when you want to output the film to analogue sources like VHS tapes or insert into the current film scenes from Hi8 sources, for example. In that case you need a specific video capture card. Until recently such a card was extremely expensive (around $1000) and a bit complex to use. To address those needs, Pinnacle Systems, has released an all-in-one product named 'Studio Deluxe' that'll turn your computer into a real video studio for only $299. This kit includes an advanced super high quality AV/DV capture card that supports input from and output to digital and analog camcorders, VCRs or TV sets along with two acclaimed software: Studio 7 that'll be the video editor and Pinnacle Express that'll help you output your movies on DVDs or CDs.
Hardware Installation
Before you can enjoy playing with your videos you need to open your computer in order to install the AV/DV capture card. This operation might frighten novice users but it's really painless. You just have to open the PC case in order to connect the card to a free PCI slot and remount your PC. The back of the card unveils four connectors: two IEEE 1394 plugs, one audio out mini jack connector and a proprietary connector used to deport all the analogue connections on the breakout box you'll plug to it. Pinnacle had the good idea to provide the Studio Deluxe with an external device, dubbed BlueBox, that hosts all the analogue input and output connectors for audio & video. When you're done connecting your analogue video devices to the BlueBox and the Studio Deluxe you can start your computer. Windows XP will recognize a new hardware and you will be prompted to install adequate drivers using Pinnacle's CD (note you can skip Windows XP drivers installation, since Studio 7 CD will automatically install appropriate drivers).
Studio Deluxe Hardware
Before reviewing the sofware, let's take a look at the Studio Deluxe hardware also known as Pinnacle AV/DV card. Experienced users will remark the Studio Deluxe board looks a lot like Pinnacle's DV500 DVD professional solution. Well this is actually normal because the Studio Deluxe is in fact a light version issued from the 'Callisto' family to which belong the DV500 Plus/DVD boards. The only difference is that the Studio Deluxe card is powered by a C-Cube iDVx chip while the DV500 uses a C-Cube DVXpress MX chip that offers more features.
The Studio Deluxe is built around three major components: first you have the Philips SAA7146A chip that manages analogue audio & video signals, then the C-Cube iDVx chip containing the DV codec used to speed up DV rendering and the Intel 21152BB PCI-to-PCI bridge. Pinnacle has trusted Texas Instruments for the management of IEEE 1394 connections. The card also comes with onboard memory (the amount isn't disclosed) that'll be used as a buffer when rendering or outputing videos. The design of the card includes an internal third DV connector along with a power connector where to connect a mini-molex power plug in order to dispatch sufficient power to high demanding firewire devices. Studio Deluxe supports PAL, SECAM (as input where this standard is in use) & NTSC standards.
Software Installation
In order to start using the Studio Deluxe you need to install Pinnacle's software set. First you need to install Studio 7 using CD number 1, then Pinnacle Express using CD number 2. Setting up both applications is quite simple and will be done in a snap. When Studio and Express are installed you need to reboot your computer. Since Pinnacle often updates its software to incorporate bug fixes or new features it's strongly advised that you check out Pinnacle's website to download eventual software updates or use the inline update mechanism both applications contain.