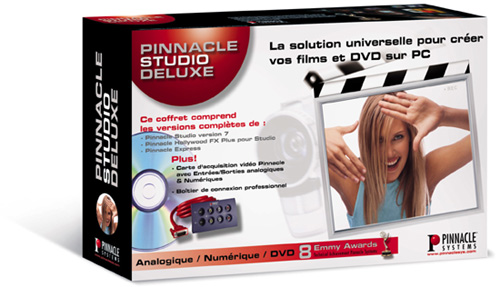 Studio 7
Studio 7 sports a nice silver interface that is very pleasant to use. The software is divided in three activities you can switch to using the tabs: Capture, Edit and Create Video. The Capture tab shows a preview screen where you can see the video you're capturing as well as a camcorder or a console (depending on the capturing source) to control the capture. DirectShow compatible the software perfectly supports DV camcorder using the iLink norm: that way you can control them from the capture tab accurately: it's possible to pause the current video, rewind or forward the band without even touching the camcorder. The Edit tab is THE place! It's there you'll accomplish the maximum work on your video. The video you've just captured is divided in scenes you can resort to your convenience through the timeline editor that looks like a film. The edit tab displays an other monitor to view in real time the video you're mounting as well as the special effects or titles you've added. Finally several sliding control panels contain advanced editing commands and harbour different special effects from special sounds, to 3D transitions and titles. The 'Create Video' tab represents the latest step of your video mounting job: it's there you will choose on what kind of media you want to export your work to (Internet Streaming Video, MPEG 2 File, DV Camcorder, S-Video, etc).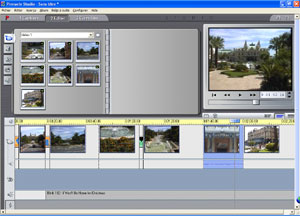 Pinnacle Studio 7 GUI (click to enlarge)
Studio 7 transparently manages the Studio Deluxe hardware. When you connect a DV camcorder to the Studio Deluxe card Studio 7 will automatically display the DV console in the capture mode, otherwise you'll need to select the analogue input source you want to use in the capture console (composite or S-video). As stated before the 'capture' tab will display different controls depending on the entry source. If you use a digital camcorder (or VCR) you'll be able to control the device directly from your screen thanks to the FireWire technology. The capture tab also lets you select what kind of capture you want to perform: preview quality capture or DV quality capture. The first mode is a Pinnacle exclusivity called 'SmartCapture'. This technology only captures in a first time the video in a previewing quality to reduce used hard disk space so users can mount up to one hour of film with only 360Mb of free hard disk space required (when other programs would require up to 14GB)! Comparing to previous Studio releases, Pinnacle claims they have made the process 35 times more efficient! Then when the film is mounted and you're ready to record it, Studio will record, during the film generation process, in high quality only the parts of the video you used (the parts you have ditched won't be captured thanks to the DV TimeCode). Then the software will proceed with the rendering of special effects and titles... When using the Studio Deluxe with analog camcorder the steps are more simple since the capture tab lets you select first the quality of the video you'll capture: you can choose in fact from different sizes the highest quality correspond to a TV quality so you'll be able to export your mounted on a VHS tape while lower qualities are most likely intended to be used for internet or multimedia means. But you can manually set the following capturing options: sound levels (stereo…) and video colors, brightness levels. You can obviously mix into your video project, footage from DV and analogue sources. If your hard disk is NTFS formatted, there's no size limitation for the video that is being captured. Otherwise the video size is limited to 4GB per file.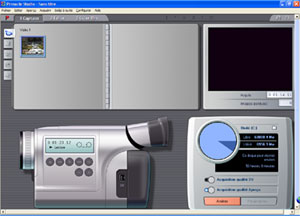 Pinnacle Studio 7 DV Capturing Tab (click to enlarge)
Once your video is captured, the software will automatically slice it in small scenes and will fill the 'edit' tab album with thumbnails of each video. From now on editing your video will be a child's game! You'll have to drag and drop the scenes you want to keep on the bottom film of the software. To mount a specific scene and cut parts of it you don't want to keep, you just have to click the small camcorder button displayed on top of the negative. It'll instantly display the video toolbox that contains a complete mounting controller with two monitors: the left one shows the video scene that begins the clip and the right one displays the last scene of the rush you're working on while the preview monitor stays on the screen so you can preview what your video looks like at any moment on this third monitor. There you can change the entry point for the current video scene as well as the ending point by simply sliding two cutters: thus everything that is before and after the sliding cutters won't be kept in the final movie. The mounting pad lets you play continuously the current video footage; get back to the beginning (cut or not) of the clip. For those of you who want to perform a highly accurate editing, Studio 7 lets you control the video millisecond per millisecond. That way you have total control over your videos.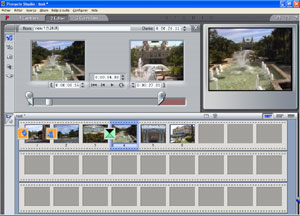 Pinnacle Studio 7 Video Mouting Tools (click to enlarge)
You can also work on the sound of your movie by changing the volume level of the three different tracks independently: set it at the lowest level and the comments of a boring family meeting can't be heard anymore freeing the way to replace them by some cool music. There's two way to change the volume of a video scene: you change the volume for the whole scene that is to say that from the beginning to the end of the scene the volume will be set at the same level, else you can create points in the sound graph displayed in the timeline editor to change the volume level as mush as you want during the same clip.
The bottom negative area of Studio 7 where you drag and drop video scenes offers several features. One button lets you divide an existing scene in two an other one lets you delete a scene. Plus you can switch from the storyboard view to the timeline editor. The timeline editor is useful for highly experienced users cause it displays each clips proportionally depending on its length and shows the soundtrack below each thumbnail.
Thanks to the Studio 7 innovative architecure you can preview what the final video will look like (including effects, transitions, titles, etc.) at any time without rendering processes or so. Studio 7 enables you to dissociate the audio from the video in order to create inserts: that way you can take the audio sound track of a video scene and mix it with a totally different video scene. Studio 7 supports 3 different sound tracks for each scene: sound effects, music, and original audio that was captured with the video. Studio 7 supports MP3 files so you can import MP3 and drag them on the storyboard to make it the background music. From the 'audio' tab you can browse MP3 files contained in a folder.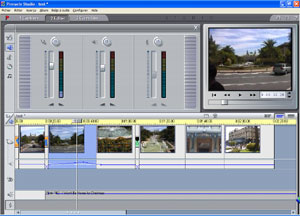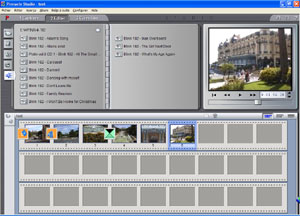 Pinnacle Studio 7 Audio Tools & MP3 Support (click to enlarge)
Studio 7 offers some nifty editing features: it lets you speed up or slow down the rhythm of a video scene to your convenience! The presence of filters let you dynamically adjust brightness, contrast and color to give your video a vintage or arty look. The great thing is that the Studio Delux hardware is able to process color correction effects in real time. Exclusive effects like emboss, mosaic, posterize and blur will make your productions worthy of being signed by Steven Spielberg! Those new special effects can be accessed through the video toolbox. More casual features are also packed in Studio 7: you can record your own voice directly from Studio, or record one or several songs from an Audio CD directly within the software. Notice that songs can be recorded during the rendering process to save hard disk space. Plus the video toolbox let you capture still images from the source off your choice to drag them into the storyboard.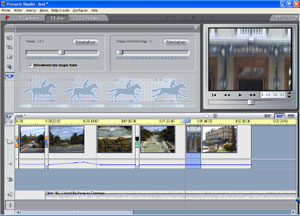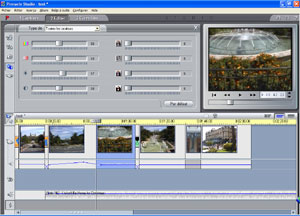 Pinnacle Studio 7 Video Speed Controls & Video Filters (click to enlarge)
Studio 7 holds it promises since it really brings Hollywood to your PC! The software offers a wide variety of amazing special effects. Studio 7 includes high quality 3D transitions thanks to the Hollywood FX plugin in addition to the 140 regular 2D transitions. Studio 7 revolutionizes the mainstream video mounting software market since it is provided with tons of high quality 3-D animated transitions like page turns, spinning balls, and breaking glass! Using those transitions in your videos will definitely turn them into impressive movies. Adding a transition is very simple: you just have to pick it in the transitions listing and drag & drop it between two scenes in the storyboard! Since there are several available 3D transitions you can preview them into the monitor before adding them to the project. If ever you need more 3D transitions effects you can find some new ones on the internet or purchase the HollyWood FX Plus or Pro packages that'll offer tools to create your own transitions as well as new predefined effects like money spin, many flags, stop watch and more! One important thing to notice is that the 3D transitions don't require any special hardware to work: they can be rendered by the software or eventually using your 3D graphics card (if drivers are compatible with DirectShow).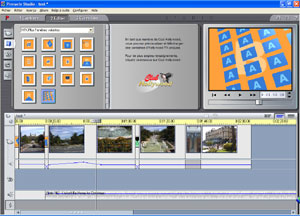 Pinnacle Studio 7: Hollywood FX Effects (click to enlarge)
Adding titles to a movie is very important. Whether you want to add subtitles or full scene credits, Studio 7 includes the ultimate video title maker dubbed 'TitleDeko'. 'TitleDeko' offers more than 300 predefined title styles that range from Neon and Metallic to Stretched and Condensed to the new Roll and Crawl effects. Sure you can customize your titles the way you want, change the font, color, etc. Titles can be animated since you can scroll sentences over the screen and you can display them over a fix background or over the video in transparent mode.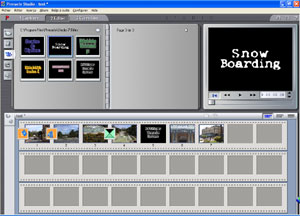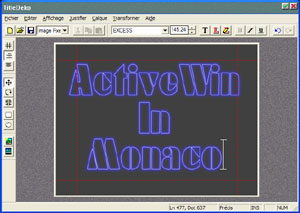 Pinnacle Studio 7 Build-In Titles and TitleDeko Titler (click to enlarge)
Finally Studio 7 offers a library of sounds called 'Smart Sound'. In there you'll find several sound-effects as well as various music tracks to wire your movie for sound: you simply have to select a kind of music: jazz, pop, classical, country and Studio 7 will do the job for you adding the music to your film automatically!
Studio 7 lets you export your mounted video to a wide variety of output sources. For the best video quality you can export your DV mounted video by recording it on your camcorder (if this one offers a DV In/Out plug). In this case Studio 7 will take charge of everything from rendering to recording and you'll just have to wait before the final video is on your DV tape. For a more conventional exploitation of your video, you can obviously export it on every kind of analogue recording device: like VCR, analogue camcorder, etc. The process is easy once you've plugged the analogue video recorder to the output plug of Studio Deluxe's BlueBox you just have to set the VCR (or any other device) in a paused record mode and push the create button of the software's export tab. Studio 7 will render your video and then broadcast it to the recording device. Depending on how powerful is your computer you may have to change the export options to get a better or lower quality final video.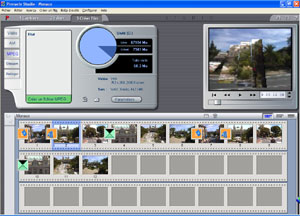 Pinnacle Studio 7 Export Tab (click to enlarge)
For those of you who are online addicts Studio 7 lets you export your videos, online, on the dedicated Studio Online website. Studio 7 owners can store videos up to 10MB; they also have access to the most useful video sharing tools and video file management. Storing videos online is great to share instantly with your family and friends those immortalized memorable instants. If you want to broadcast your videos over your own website, you'll be glad to know that Studio 7 lets you create videos using the RealVideo 8 or Windows Streaming Media formats. Plus you can send videos you've just rendered via email directly from the software. For a more professional use, Studio 7 also supports MPEG 1 & 2 file formats as well as the casual AVI (through AVI DV codec).
Compatibility
During our extensive tests our JVC GR-DVL9800e DV camcorder worked like a charm with the Studio Deluxe and Studio 7 perfectly controlled it: videos were captured and exported without a hitch. Importing or outputing analogue videos using Studio Deluxe wasn't a problem and just worked great. One regret however: the Studio Deluxe hardware doesn't work with non Pinnacle applications. I mean Pinnacle doesn't provide drivers that are compatible with Adobe Premiere 6.0, for example. Under Premiere 6.0 only the IEEE1394 capture will be available, thus you'll have to forget analogue videos.