DirectX
ActiveMac
Downloads
Forums
Interviews
News
MS Games & Hardware
Reviews
Support Center
Windows 2000
Windows Me
Windows Server 2003
Windows Vista
Windows XP



News Centers
Windows/Microsoft
DVD
Apple/Mac
Xbox
News Search



ActiveXBox
Xbox News
Box Shots
Inside The Xbox
Released Titles
Announced Titles
Screenshots/Videos
History Of The Xbox
Links
Forum
FAQ



Windows XP
Introduction
System Requirements
Home Features
Pro Features
Upgrade Checklists
History
FAQ
Links
TopTechTips



FAQ's
Windows Vista
Windows 98/98 SE
Windows 2000
Windows Me
Windows Server 2002
Windows "Whistler" XP
Windows CE
Internet Explorer 6
Internet Explorer 5
Xbox
Xbox 360
DirectX
DVD's



TopTechTips
Registry Tips
Windows 95/98
Windows 2000
Internet Explorer 5
Program Tips
Easter Eggs
Hardware
DVD



ActiveDVD
DVD News
DVD Forum
Glossary
Tips
Articles
Reviews
News Archive
Links
Drivers



Latest Reviews
Xbox/Games
Fallout 3

Applications
Windows Server 2008 R2
Windows 7

Hardware
iPod Touch 32GB



Latest Interviews
Steve Ballmer
Jim Allchin



Site News/Info
About This Site
Affiliates
Contact Us
Default Home Page
Link To Us
Links

News Archive
Site Search
Awards



Credits
©1997-2012, Active Network, Inc. All Rights Reserved.
Please click here for full terms of use and restrictions or read our Light Tower Privacy Statement.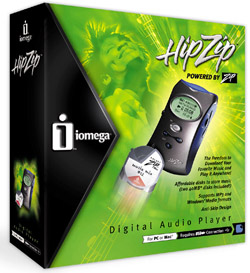 Product: HipZip
Manufacturer: Iomega
Website: http://www.iomega.com/
Estimated Street Price: $299.95
Review By: Julien Jay
PocketZIP
Behind the Pocket ZIP name lays the old good Click! disks from Iomega. That means you can use your old Click! disks with the HipZip if you have any. Using Click! disks in Pocket ZIP is to take advantage of the fame Zip name but the Click advantages stay the same that is to say a very small disk size, an affordable price, and an high performance access speed. A Pocket ZIP is in fact magnetic storage where you can store up to 40 MB of data that is to say a maximum of 70 minutes of music (depends on the compression level). The second point I want to land is that with the HipZip, Iomega perfectly recycles its old Click! format refreshing it innovatively to play MP3s. The main advantage of Pocket ZIP disks is their price: generally you get two 40 MB Pocket ZIP disks for approximately $35.00 while a 64 MB Compact Flash memory card or Sony Memory Stick costs more than $150.00: the money saved is obvious!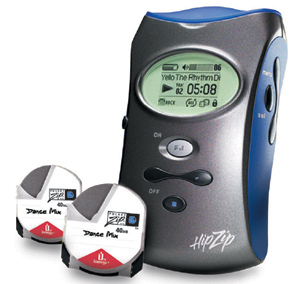 Iomega HipZip with two Pocket ZIP
Features
The HipZip is powered by a Cirrus Logic Maverick Audio Decoder System Chip that uses an embedded digital audio operating system called Dadio. It is developed by Interactive Objects, Inc (IObjects) in collaboration with Red Hat. As matter of fact, Dadio is partly based on Linux and provides enhanced functionalities to users such as the ability to create and manage play lists or to control/program the build-in equalizer. Due to a huge buffer memory of 4 MB HipZip users donít have to be worried about shocks or things like that and they wonít hear the mechanism working once it starts to transfer the current MP3 song to the buffer. Another strong point of the HipZip is its upgradeable firmware that will allow users to play back files in formats other than MP3 and WMA starting this year. Two formats that Iomega targets next are AAC (Advanced Audio Coding) from Dolby Labs and Audible from Audible.com. 'Audible' is a digital format designed specifically for spoken words rather than music. It's particularly attractive for electronic books - as it offers a higher compression rate compared to MP3 or WMA. It allows storing large narrated novels on fewer disks than using any other format. Iomega recently released a firmware update for the HipZip that added new critical features like the ability to resume songs, the intro-scan play mode, etc. With a better-designed architecture the HipZip promises to evolve in the future. If you cannot change nor access the batteries of the HipZip, I can ensure you it includes a rechargeable Li-Ion battery which provides up to 12 hours of continuous playback: this incredible long autonomy is much more than you get with conventional players and will let you have hours of music. Recharging the battery requires 2 hours (if it's been completely discharged): when doing so a small bat icon will blink on the HipZip screen. Note that the battery has no 'memory effect' and can be recharged without limit using the provided AC adapter.
Sound
For the moment, the HipZip plays MP3 and WMA files. Everyone knows what is MP3 so I wonít hold forth on the technical specifications of this format. The only thing you may want to know is that the HipZip is perfectly able to play MP3 files that are encoded differently (I mean thereís no problem to read a 128 kbps MP3 file or a 160 kbps one) however if you want to get the max out of the available space on a PocketZIP youíll have to encode files not higher than 128Kbps. Window Media Audio files are an interesting alternative to MP3 since theyíre smaller than MP3 files and reproduce a higher quality sound (or at least the same than with MP3 for a smaller size). The only drawback of WMA files is that this made in Microsoft format isnít as wild spread than MP3 (just search Napster to convince yourself). Iomega provides the unit with a headphone, but frankly you can directly throw it in the bin and uses a good one worth of that name like Sony headsets, since the one provided is really a downmarket model.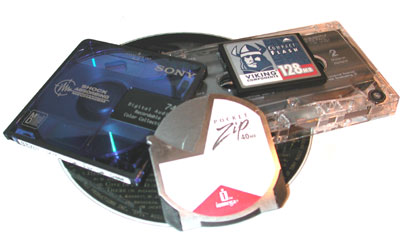 New Medias & Old Ones