DirectX
ActiveMac
Downloads
Forums
Interviews
News
MS Games & Hardware
Reviews
Support Center
Windows 2000
Windows Me
Windows Server 2003
Windows Vista
Windows XP



News Centers
Windows/Microsoft
DVD
Apple/Mac
Xbox
News Search



ActiveXBox
Xbox News
Box Shots
Inside The Xbox
Released Titles
Announced Titles
Screenshots/Videos
History Of The Xbox
Links
Forum
FAQ



Windows XP
Introduction
System Requirements
Home Features
Pro Features
Upgrade Checklists
History
FAQ
Links
TopTechTips



FAQ's
Windows Vista
Windows 98/98 SE
Windows 2000
Windows Me
Windows Server 2002
Windows "Whistler" XP
Windows CE
Internet Explorer 6
Internet Explorer 5
Xbox
Xbox 360
DirectX
DVD's



TopTechTips
Registry Tips
Windows 95/98
Windows 2000
Internet Explorer 5
Program Tips
Easter Eggs
Hardware
DVD



ActiveDVD
DVD News
DVD Forum
Glossary
Tips
Articles
Reviews
News Archive
Links
Drivers



Latest Reviews
Xbox/Games
Fallout 3

Applications
Windows Server 2008 R2
Windows 7

Hardware
iPod Touch 32GB



Latest Interviews
Steve Ballmer
Jim Allchin



Site News/Info
About This Site
Affiliates
Contact Us
Default Home Page
Link To Us
Links

News Archive
Site Search
Awards



Credits
©1997-2012, Active Network, Inc. All Rights Reserved.
Please click here for full terms of use and restrictions or read our Light Tower Privacy Statement.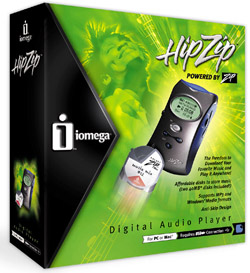 Product: HipZip
Manufacturer: Iomega
Website: http://www.iomega.com/
Estimated Street Price: $299.95
Review By: Julien Jay
Introduction
Iomega is a well-known, worldwide backup solution manufacturer. The Iomega brand is more famous than any other due to their awesome ZIP disk that definitely buried the old 3.5-inch floppy disk. Recently Iomega has begun to diversify its activities by producing CD burners, backup software and announcing a whole set of new amazing products. Their new baby called HipZip, which weíll review here, is a portable MP3 player. Since they are not in show business they donít have to be hypocritical like certain worldwide brands (Sony) that fall to tears when their CD Audio sales fall due to MP3s while at the same time manufacturing MP3 players. The HipZip is a versatile digital audio player that has the specific characteristic to not use expensive memory cartridges (like Compact Flash, Multimedia Card, etc.) but instead uses a very small PocketZip disk that can store up to 40 MB of data. The main advantage is that PocketZIP disks are cheap and affordable so you can buy as many as you need to have hours of music in your pocket. Why is it versatile? Simply because you can also store on PocketZIP disks whatever data you want like exe files and read them on your computer by plugging the HipZip to your USB port.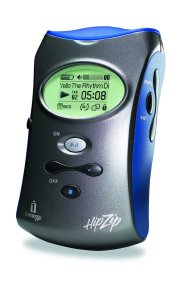 Iomega HipZip
Design
As usual, Iomega tried to produce a cool looking device and I must admit they achieved a nice one! The HipZip unit features a sober grey shell. The front panel shows a very large and easy-to-read back lighted screen and a set of four buttons to directly command the play mode (Play/Pause, Stop, Next, Previous). Both sides of the unit are covered by a blue rubber surface so you can firmly hold the device in your hand. The left side of the unit includes three connectors: one to plug the AC adapter, one to relay the unit to the computer using the nice transparent USB cable provided, and finally a jack to plug your headphone. There is also a small lock button while the right side of the unit contains the menu button and the volume adjustment button. The top part of the HipZip unveils a small blue trap you can open to insert or eject the Pocket ZIPs: ejecting a Pocket Zip disk is easy as you simply have to firmly push it so it goes out. The top part also unveils a reset button you can push with a pen tip in case of problem or to apply firmware updates. Holding the unit makes you feel itís robust (and believe me it is) but youíll also notice a larger weight compared to actual MiniDisc or Walkmans.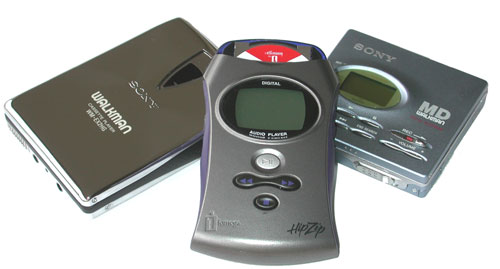 A new Walkman Generation...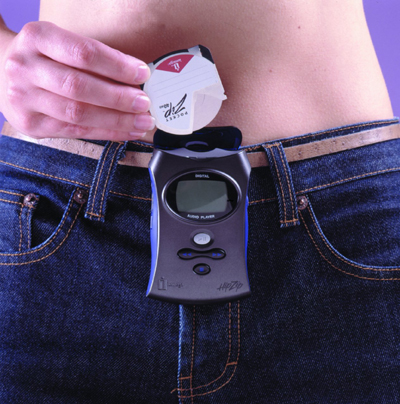 No: the lady isn't provided with the HipZip...