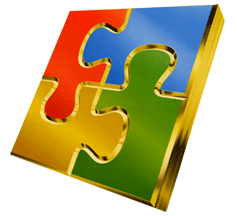 Product: Office XP Beta 2
Company: Microsoft
Website: http://www.microsoft.com/office
Estimated Street Price: NA
Preview By: Active Network
Microsoft PowerPoint 2002
As every application in the suite, Microsoft PowerPoint has evolved! For those of you who don't already know what is Powerpoint I'll briefly describe its use here. Microsoft PowerPoint is a presentation making software that lets you create animated slideshows that can contain multimedia objects like videos, sounds, etc to illustrate for example your corporate profile. This application is widely used in business environments to promote products or to present sales results thanks to its unrivalled powerful but easy to use features: Microsoft stopped counting how many CDs containing PowerPoint based show have been created in the world. PowerPoint 10 also comes with the famous task panes that are divided three different ways: the slide design task pane, the Animation Scheme & the Custom Animation. The first pane 'Slide Design' gives users a quick was to dig into their design options such as color schemes, animation schemes. Obviously when users select a new scheme it's automatically previewed in real time. The Animation Schemes pane answers to a redundant problem of previous PowerPoint versions: it was hard to find all the different animations options! The Animation Schemes task pane now lists all the animation possibilities and users can get a preview of each animation. Finally the Custom Animation pane contains every powerful animation effects Powerpoint has to offer like the new 'path animation' that lets you move objects along a path simultaneously or slide transitions effects. Animation performance has been enhanced and now takes advantage of hardware acceleration if available: this is especially interesting for bitmap rotation & transparency blending. The major new feature of PowerPoint 10 is surely the fact you can now print preview your scenes before printing them! This is a true & long awaited relief for those of you who create press books based on an existing PowerPoint show. To reduce the size of PowerPoint shows, Office 10 Compress Pictures feature has been added so users can choose to compress images within PowerPoint to save size but not visual quality. In terms of presentation designing features, PowerPoint comes with several enhancements like the ability to rotate images, a multiple picture file selector that lets users select several pics to import into slideshows and more! To help you accurately draw in PowerPoint you can choose to enable the visible grid on which you can snap objects to it but you can also display drawing guides on screen.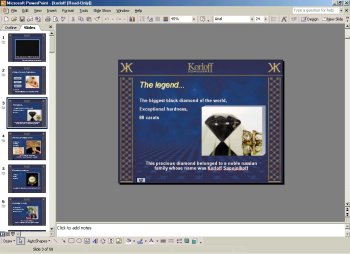 Microsoft PowerPoint XP
Below is the features list of PowerPoint 10:
Slide Design - The Slide Design Task Pane gives users an easier way to discover their design options. These options include design templates, color schemes, and animation schemes—all easily previewed at the time a selection is made.
Animation Schemes - As part of the Task Pane, Animation Schemes give users one-click access to professionally designed animations. Users can easily get a preview of each animation scheme and can cycle through various options until they find the animation they want.
Custom Animation - PowerPoint 10 adds high-quality custom animations that help make presentations come alive. Examples of these animation effects include moving multiple objects simultaneously, "path" animation (moving objects along a predescribed path), and easy sequencing for all effects on the slide, including exits. Animation performance is also improved and takes advantage of hardware acceleration if available (such as hardware bitmap rotation and transparency blending in many 3-D video cards). Finally, PowerPoint adds new, more exciting slide transitions and enables users to add animation schemes to their entire presentation with one click.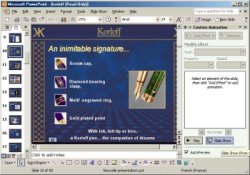 Microsoft PowerPoint XP Animation Task Pane
Multiple Masters - PowerPoint users can easily create more than one slide, title master, or slide master within one file. This makes it possible for users to combine multiple presentations in one file or create separate sections within the same presentation.
Presenter Tools - Users presenting their PowerPoint slides will always be prepared, thanks to the new Presenter Tools. Presenters have their own view, not visible to the audience. This view includes details on what bullet or slide is coming next, enables a presenter to see their speaker notes, and lets them jump directly to any slide.
Apply Automatic Layout - Apply Automatic Layout automatically snaps content into placeholders when inserted or pasted into an already existing slide. For example, when a user is working on a slide with the bulleted list layout applied and they insert a table, PowerPoint automatically changes the layout to the Text and Object layout so that the table and text are side by side. Furthermore, a Smart Tag icon is displayed to enable the user to undo the automatic layout or access more AutoCorrect options.
Print Preview - Print Preview enables users to get a preview of how their presentations will look when printed. Users have the option to switch between various views such as notes, slides, and handouts, or even switch between landscape and portrait view.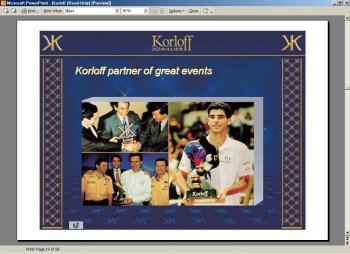 PowerPoint XP Print Preview Feature
Thumbnails in Normal View - From within the Normal View (also known as the Tri-Pane View), users can switch between a presentation's outline view and thumbnail views of the slides, just as they can in the PowerPoint Slide Sorter. This graphical representation makes it easy for users to navigate through their presentation.

Diagrams - Users can easily choose from a variety of built-in diagrams (including organization charts, pyramid, cycle, radial, and Venn diagrams) from within PowerPoint without needing to have an OLE server. Benefits of these native diagrams include the ability to execute in-place chart editing, smaller file sizes, and improved international text handling.
Compress Pictures - The Office 10 Compress Pictures functionality enables users to compress images within their PowerPoint (or other Office application) files. Users can select the intended use of the file (Web, print, screen display, etc.) and designate whether one or all images in the file should be optimized. The image(s) are then shrunken and compressed in a manner that minimizes the size of the image without minimizing the visual quality of the image.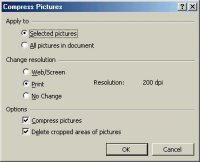 Pictures Compression Settings
Image Rotation - Provides users with the ability to flip and rotate all images in documents.
Visible Grid - A new visible grid makes it easier to create a drawing within PowerPoint. Within the Grid and Guides dialog boxes, users can select from a variety of options such as snapping objects to the grid or other objects and displaying drawing guides on-screen.
Document Password Encryption - When users save their presentation, they are now offered the choice of using the standard CryptoAPI. CryptoAPI is a stronger encryption algorithm than previous versions. Default encryption remains the same (for backward compatibility) while the stronger encryption is offered as a choice. In addition, users can now set a password on the document that protects the user's data while allowing others to still view the presentation.