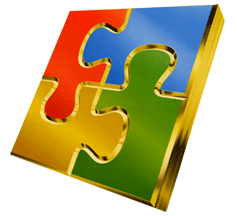 Product: Office XP Beta 2
Company: Microsoft
Website: http://www.microsoft.com/office
Estimated Street Price: NA
Preview By: Active Network
Microsoft Publisher 2002
Business and home users have expressed the need over the years to create high impact documents such as brochures or flyers using a more adapted software than a word processor so they can draw text areas where they want on a page, put a picture on a specific part of the page, draw a line here and not there, create page backgrounds, etc. For this need Microsoft has created in 1991 Publisher: powerful and flexible desktop publishing software. Microsoft Publisher 10 represents a good alternative to expensive and very complex professional page layout programs like QuarkXPress. Microsoft Publisher 10 is now more integrated to the Microsoft Office series than ever so you can customize the toolbars adding or removing icons, tweak the menu bar hide or display commands, etc. Each time you start Microsoft Publisher 10, the application displays an incredibly rich list of papers designs to choose from to create a new document (you can even retrieve new ones on the 'net). Once you have chose a paper design a wizard appears and asks you to type your name, address, etc. so Publisher will include them in the layout (if needed by the layout) and memorize them for future uses. Microsoft Publisher 10 lets you choose for each design the color scheme of your choice from a list of predefined ones (you can create your own color schemes) ensuring each template looks the way you want to. You can also choose fonts schemes for the current template: each font scheme contains a specific font for the title, another on for the texts, etc. So after you have selected a font scheme all the fonts of your current document will be changed to the ones you've just chosen. Best of all, Publisher automatically embeds all fonts used in a document so you'll be able to share the document in all peace of mind. Microsoft Publisher 10 supports multi level undo & redo feature so you can freely design documents without worrying about making mistakes. Just like in Microsoft Word 10, when you're typing text in Publisher 10 spell errors are underlined in red so you know when you've made a mistake: right clicking the underlined word displays a menu that suggests correction. Microsoft Publisher 10 perfectly supports different languages so you can create a French document using the English version of the software with no problem. Microsoft Publisher 10 obviously supports the new Office clipboard so you can copy several items to the clipboard and reuses them at your convenience (you can obviously share items between the different Office applications). There are many cool features in Publisher 10 like the rotate one that lets you rotate text areas by simply moving your mouse. WordArt has been at least refreshed in this release of Publisher letting you create great looking text effects by simply selecting one of the predefined text model or creating your own one. If WordArt was at least modernized, Publisher 10 now comes with the very popular OfficeArt drawing tools: so users can now easily add connectors, autoshapes into publications. The picture toolbar is also included so you can bright up/down a photo, crop a picture, change line or border style, by a simple click of a button. You can change each WordArt object font, font size or font color and create vertical text, and much more like letter spacing, etc. Task Panes were implemented into Publisher so you can enjoy their benefits for multiple tasks. Publisher 10 comes with a revamped Media gallery: the media gallery is your ultimate resource to illustrate documents adding cliparts. Office 10 comes with thousand of cliparts you can browse and insert from the media gallery applet. If that wasn't enough you can subscribe to the Clip Gallery Live service to get monthly new cliparts to extend your design possibilities.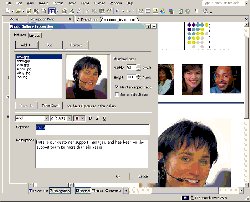 Microsoft Photo Gallery
Intensive Publisher users will be glad to know that automatic recovery has been added meaning Publisher automatically saves files in the background. Publisher 10 now lets users opening several documents at a same time: switching from a document to an other can be done clicking one of the Microsoft Publisher buttons that appear in the Windows taskbar. For those of you that heavily use the Internet, you'll be fulfil with joy to see that Publisher 10 comes with a neat feature to directly send the document as an attachment (or embedded within the email) you're working on through email. As usual Microsoft Publisher 10 lets you create websites from your documents: if publisher is clearly not adapted like FrontPage is to this kind of task, it provides novice users a quick & easy to design cool looking websites. Publisher also includes vital tools to enable corporate users send their creation to printer: due to the CMYK & Pantone color support users can print their publications in full four-color process at a commercial printer for high quality results.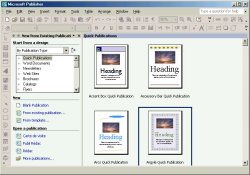 Microsoft Publisher XP New Publication Catalog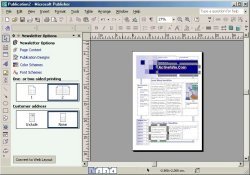 Design Screen of Microsoft Publisher XP
Here is the complete list of the new Publisher XP features:
New Publication Task Pane - As with all the Office 10 applications, the Task Pane provides a single location where users can create a new file or open an existing file. For Publisher, the "New Publication" Task pane combines the Publisher Catalog (the visual browsing point for choosing a new publication) and the Wizard pane.
Users can choose to create a new publication by starting with a Design Set (for example: Scallops, Bars) or with a Publication Type (for example: newsletter, brochure). Users can also start with a Blank Publication.
Publisher 10 includes a visual gallery for choosing publications.
Office Clipboard Task Pane - Publisher 10 now supports the Office Clipboard. The improved Office Clipboard enables users to copy up to 24 pieces of information at once across all the Office applications and store them on the Task Pane. The Task Pane gives users a visual representation of the copied data and a sample of the text so that they can easily distinguish between items as they transfer them to other documents.
Search Task Pane - As part of the Task Pane, the new search capabilities of Publisher 10 make it simple to find text in a document. Users can also find files or folders—regardless of where they are stored—without needing to leave the document they are working on. Furthermore, users can index the files on their machine. The result is faster and more comprehensive searches.
Font Schemes Task Pane - Font Schemes make it quick and easy for users to choose a set of fonts that look good together. Font Schemes are based on Styles and support the Styles within Word. Users can apply a Font Scheme to imported Word documents or to native Publisher publications. Publisher intelligently applies the Font Scheme to the entire publication.
Styles and Formatting Task Pane - Styles and Formatting uses the Task Pane to show available styles and formatting options that users can apply to text in their document. As the user changes any of the options, those changes are immediately reflected in the document. If the user creates a unique style, it is automatically added to the list of available options.
Print Preview - At last, users can check the design, layout, and content before printing! It's a real relief for long time Publisher users. They can also use Print Preview to preview color separations and trapping.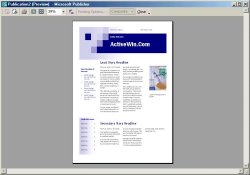 Microsoft Publisher XP Print Preview
Horizontal Rules - This customer-requested feature enables users to add a rule before or after a paragraph, as well as set the appearance, color, and position within the document.
Publisher XP has also added a lot more functionality for commercial preinting, creating and editing Website, and sending a Publisher production via e-mail:
More Spot Colors - Publisher 2000 introduced cost-effective spot-color, commercial printing by creating or converting publications to one or two colors (plus black). Customers who wanted to precisely match Pantone colors to business colors often needed more options than two plus black.
Commercial Printing Support - Publisher 2000 introduced full support for commercial printing, including automatic conversion to spot or process (CMYK) color with automatic color separations, font and graphic management tools, and trapping. Publisher 10 adds support for more than three spot colors, as well as for combined spot and process colors.
Process Plus Spot Color - Publisher 10 enables users to combine process colors and spot colors within the same publication. This can be useful for publications such as brochures that include color photographs (printed using process printing) and specific business colors for logos and layout (using Pantone spot colors).
Open Publisher Web Pages - Publisher 10 supports opening Publisher-generated and Word-generated HTML files, enabling users to update their Web sites quickly and easily while maintaining the original fidelity of the Publisher publication.
Save to Team Web Site - This is function, shared throughout the Office 10 suite, allows users to save documents to the team Web site.