DirectX
ActiveMac
Downloads
Forums
Interviews
News
MS Games & Hardware
Reviews
Support Center
Windows 2000
Windows Me
Windows Server 2003
Windows Vista
Windows XP



News Centers
Windows/Microsoft
DVD
Apple/Mac
Xbox
News Search



ActiveXBox
Xbox News
Box Shots
Inside The Xbox
Released Titles
Announced Titles
Screenshots/Videos
History Of The Xbox
Links
Forum
FAQ



Windows XP
Introduction
System Requirements
Home Features
Pro Features
Upgrade Checklists
History
FAQ
Links
TopTechTips



FAQ's
Windows Vista
Windows 98/98 SE
Windows 2000
Windows Me
Windows Server 2002
Windows "Whistler" XP
Windows CE
Internet Explorer 6
Internet Explorer 5
Xbox
Xbox 360
DirectX
DVD's



TopTechTips
Registry Tips
Windows 95/98
Windows 2000
Internet Explorer 5
Program Tips
Easter Eggs
Hardware
DVD



ActiveDVD
DVD News
DVD Forum
Glossary
Tips
Articles
Reviews
News Archive
Links
Drivers



Latest Reviews
Xbox/Games
Fallout 3

Applications
Windows Server 2008 R2
Windows 7

Hardware
iPod Touch 32GB



Latest Interviews
Steve Ballmer
Jim Allchin



Site News/Info
About This Site
Affiliates
Contact Us
Default Home Page
Link To Us
Links

News Archive
Site Search
Awards



Credits
©1997-2012, Active Network, Inc. All Rights Reserved.
Please click here for full terms of use and restrictions or read our Light Tower Privacy Statement.



Product: MapPoint 2001
Company: Microsoft
Website: http://www.microsoft.com
Estimated Street Price: $249.00
Buy Microsoft MapPoint 2001 Now - Low Price!
Review By: Julien JAY
Advanced Features
Microsoft MapPoint 2001 is now COM compliant: that is to say developers can extend its capabilities by adding Ďplug-insí designed to automate certain MapPoint tasks. MapPoint 2001 comes with a Visual Basic reference guide that explains to developers the properties & methods of the MapPoint objects. We regret the fact that MapPoint 2001 doesnít include VBA 6 that would further simplify the customisation of the software by avoiding using external programming language. GPS (global positioning system) are now in the wind so MapPoint 2001 supports them! Itís great to see exactly where you are on the map and track your moves: MapPoint 2001 automatically checks every 15 seconds your current position. MapPoint 2001 manages NMEA 2.0 or later compliant GPS receivers. Best of all for adventurers and explorers users MapPoint 2001 can even displays longitude & latitude coordinates if a GPS is connected to the system! Microsoft MapPoint 2001 comes with different map models and you can even create your own ones. MapPoint 2001 can export the map youíre viewing to web page: it generates HTML code and exports the map to the GIF file format. It can also send the maps through email using the send to email feature of the file menu. However recipient should have MapPoint 2001 installed in order to view the map. A cool new feature of MapPoint 2001 is Internet related: once a user has defined an area the software can check the net and retrieve all the existing websites that are related to this location. New drawing tools give everyone the ability to customize the map by adding commentaries and miscellaneous drawings to the map such as shapes or legends. Drawing tools allow drawing: circle, squares, rectangles, ovals and more. The new pushpin feature is designed to add personal commentaries in a bullet pinned to the location that it concerns on the map. Unlike other competitor mapping software Microsoft MapPoint 2001 offers undo & redo features (just like in Microsoft Office 2000 other software) that keep in memory the last 10 changes you made on a map. A nice productivity feature has been added to MapPoint 2001: like in Internet browsers using the previous and next buttons you can go back to some parts of the map youíve already seen. Data can now be exported to Microsoft Excel with just a mouse click: select the area of the map that contains the data you want to export and simply click the Export to Microsoft Excel button. Sure you can easily link data between Microsoft Excel and MapPoint using the Link wizard. MapPoint 2001 can even export data contained in a circle you have drawn on the map. As Microsoft MapPoint 2001 is a part of the Microsoft Office software family you can include maps into Word or Excel documents for example and editing it simply by double clicking on it. Then the MapPoint interface will be displayed in Word or Excel to enable users modifying their maps.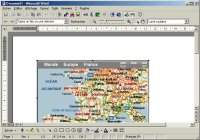 Microsoft Word 2000 Integration
Demographic Data
One of the major new features of this new MapPoint release is the inclusion of more than 8 million pieces of demographic data to help users in their business to identify quickly and easily new opportunities. 136 categories of data (from small to large US & Canadian areas) are included in the software as well as 43 for countries outside the US. Claritas Inc provides some of this data. You can display for a country the inhabitants number, the household size, the household number, the household income, the age of the population, and the number of people for each age classes. This numbers cover four different periods: 1980, 1990, the actual year and a 5 year projection. Notice that comparing to the previous release, MapPoint 2001 has been really improved in terms of performance, as itís fastest than ever to display maps with various data on them.
Microsoft Pocket Streets 2001
MapPoint 2001 is provided with the windows CE version of Microsoft Streets. This small applet you can install on a pocket PC allows users to create their maps under MapPoint 2001 and to download them and view them on the road using their Pocket PC. Itís a major feature that every Pocket PC user will surely love.
Importing Data
At the data level we can say that Microsoft has done a great job to help users organizing its professional decisions. Indeed MapPoint 2001 can easily show specific data that come from other software onto a map. The Importing data wizard simplify the data importing process that come from various sources such as Microsoft Excel, Microsoft Access, SQL Server or even text with separators file. For other data kind, MapPoint 2001 will use Microsoft Access to turn them into a compliant MapPoint format. When users introduce new data in the system, MapPoint 2001 will automatically analyse them to distinguish columns with geographical related contents. Data can be imported by address, zip code, state, country or another criterion. Then the wizard will suggest different ways to show data on the map: if these representation possibilities arenít liked by user he can define himself the way data should be shown on the map. Then the wizard will analyse each data and put them onto the map: theoretically MapPoint 2001 should be able to put on the map 80% to 90% of the data if we take care of incomplete address and other causes that gives the localisation to be impossible. Itís a great advantage since competitorís software can only correctly import and place onto the map 55% to 65% of the data. When MapPoint canít place data on the map it offers users approximate values and prompts him to choose the correct one. At the end of the process MapPoint shows every records that werenít recognized or converted on the map.
IDC Analysts opinion on mapping software
Has spatial information become necessary or desirable to productivity in the business environment?
Personal productivity software has traditionally comprised office suites, packages that include a word processor, spreadsheet, presentation manager, and desktop database. Does adding spatial capabilities to these applications add benefit? Our research indicates yes, if an individual needs to handle spatial data along with test, numbers, or graphics in daily work. Spatial information management (SIM) has moved into mainstream businesses in the last 18 months. Today, most growth in the SIM market is happening in business systems rather than in traditional GIS. As a result, we are seeing a sharp increase in the amount of spatial data in corporate data stores. Spatially enabled office suites let individuals use this spatial data to enhance their personal productivity. We see real value here, value that will drive a market for spatial technology in personal productivity applications. We believe that Microsoft MapPoint is currently in the best position to address this market.