DirectX
ActiveMac
Downloads
Forums
Interviews
News
MS Games & Hardware
Reviews
Support Center
Windows 2000
Windows Me
Windows Server 2003
Windows Vista
Windows XP



News Centers
Windows/Microsoft
DVD
Apple/Mac
Xbox
News Search



ActiveXBox
Xbox News
Box Shots
Inside The Xbox
Released Titles
Announced Titles
Screenshots/Videos
History Of The Xbox
Links
Forum
FAQ



Windows XP
Introduction
System Requirements
Home Features
Pro Features
Upgrade Checklists
History
FAQ
Links
TopTechTips



FAQ's
Windows Vista
Windows 98/98 SE
Windows 2000
Windows Me
Windows Server 2002
Windows "Whistler" XP
Windows CE
Internet Explorer 6
Internet Explorer 5
Xbox
Xbox 360
DirectX
DVD's



TopTechTips
Registry Tips
Windows 95/98
Windows 2000
Internet Explorer 5
Program Tips
Easter Eggs
Hardware
DVD



ActiveDVD
DVD News
DVD Forum
Glossary
Tips
Articles
Reviews
News Archive
Links
Drivers



Latest Reviews
Xbox/Games
Fallout 3

Applications
Windows Server 2008 R2
Windows 7

Hardware
iPod Touch 32GB



Latest Interviews
Steve Ballmer
Jim Allchin



Site News/Info
About This Site
Affiliates
Contact Us
Default Home Page
Link To Us
Links

News Archive
Site Search
Awards



Credits
©1997-2012, Active Network, Inc. All Rights Reserved.
Please click here for full terms of use and restrictions or read our Light Tower Privacy Statement.



Product: MapPoint 2001
Company: Microsoft
Website: http://www.microsoft.com
Estimated Street Price: $249.00
Buy Microsoft MapPoint 2001 Now - Low Price!
Review By: Julien JAY
Use Interest
In business, expressing sales activities is an important thing to better understand the results and prospect for new markets opportunities. In the past businessmen used to stick a map on the wall and put coloured pins on the towns where they have accomplished sales to track their geographical positioning. Software like Microsoft MapPoint 2001 definitely buries these ancestral practices in order to provide a real powerful geographical analysing tool that can even help users to take vital business decisions. Big administrations didnít mistaken as they often use GIS (Geographical Information System). Unfortunately GIS applications are generally complex, heavy, and expensive and can be only used, most of the time, by highly qualified employees. Microsoft MapPoint 2001 answers to consumers waiting: it offers Small Business or big corporate users, from salesmen to technical analysts, the ability to analyse and communicate on a geographic based view of their data.
Getting Started
The first thing youíll notice when launching Microsoft MapPoint 2001 for the first time is the fact that it really looks like Microsoft Streets & Trips 2001 (called Microsoft AutoRoute in Europe) the little-brother software of MapPoint. In fact itís absolutely normal as both software use the same mapping data provided by NavTech as well as complementary data from AND & the Ordnance Survey Navigation Technologies for the European version. The US version of the software features the following credits:
GDTNavtech

Statistics Canada computer files

Compusearch Micromarketing Data and Systems Ltd.

Info USA

University directory data provided courtesy of Princeton Review Publishing.

Road construction information provided by Traffic Station Inc.

Woodall's Campground Directory
When you launch Microsoft MapPoint 2001 a map of the continent where youíre living is displayed (US & Canada or Europe). You can do multi level zoom-in/out on selected areas of the map. When viewing a map the localisation toolbar indicates accurate data: for example if youíre seeing the map of Saxe in Germany the toolbar will display World, Europe, Germany, Saxe. This toolbar also shows the actual scale of the map. Microsoft MapPoint 2001 offers five different map types: political (borders), physical, roadmap, statistic, roadmap & statistic. The roadmap kind of plans is the one that contains the most accurate details by showing streets, highways, and geographical indicatorsÖ This new release includes street names for great towns like Paris, Lyon, London, etc. If youíre seeking for a specific location simply type its name into the toolbarís list and push enter: MapPoint 2001 will instantly displayed all the localities that correspond to the name you provided. Like in Microsoft Streets & Trips you can plan a route by simply clicking the routing button: itís great for representatives that often make long ways from a point to an other and that need to know the fastest drive to reach their destinations. When using this feature users are prompted to enter their departure locality and the town they want to reach (they can also add intermediate stages if the road is too long): in only a few seconds the most effective and fastest route will be displayed on the map and text detailed in a specific window of the program. Obviously the way can be printed in different manners: map with texts, text only, etc. Printing always shows detailed intersections map, and directories instructions. To make sure the software gives accurate information and mapping I planned a routing from Lyon to Paris: in a seconds MapPoint 2001 gave me a new map with turn by turn driving instructions: I checked them all and the fact was that they were all accurate (same thing for the costs, duration, length information). However everything is not perfect yet: indeed when planning a moving using Microsoft MapPoint 2001 to a small village it may council to use speedways that can make the routing longer in miles than if taking small roads. Microsoft MapPoint 2001 also offers some interesting features that calculate the length of the way in miles, evaluate the time when youíll arrive to the location, as well as the price itíll cost you in gasoline & highway fees (depending of the car consumption and gas price you have entered). An other feature salesmen will like is the nearby places locating feature that can displayed all the known restaurants, hospitals, hotels, train stations, gas stations, convention centres, airport, etc. near to the zone you have defined. Itís great except that for example we were surprised to learn that in Paris or Lyon there arenít any subways, which is more than false! Worst the software indicated some railway stations that donít exist anymore inalmost 40 years in Belgium and in France: I guess some data have to be updated. Strangely BMW GPS devices show the same mistakes.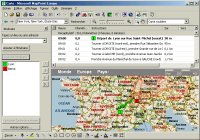 GUI
The User Interface of Microsoft MapPoint 2001 is similar to the ones of the Microsoft Office 2000 software suite. However we regret the fact that you canít customize menus or toolbars.