DirectX
ActiveMac
Downloads
Forums
Interviews
News
MS Games & Hardware
Reviews
Support Center
Windows 2000
Windows Me
Windows Server 2003
Windows Vista
Windows XP



News Centers
Windows/Microsoft
DVD
Apple/Mac
Xbox
News Search



ActiveXBox
Xbox News
Box Shots
Inside The Xbox
Released Titles
Announced Titles
Screenshots/Videos
History Of The Xbox
Links
Forum
FAQ



Windows XP
Introduction
System Requirements
Home Features
Pro Features
Upgrade Checklists
History
FAQ
Links
TopTechTips



FAQ's
Windows Vista
Windows 98/98 SE
Windows 2000
Windows Me
Windows Server 2002
Windows "Whistler" XP
Windows CE
Internet Explorer 6
Internet Explorer 5
Xbox
Xbox 360
DirectX
DVD's



TopTechTips
Registry Tips
Windows 95/98
Windows 2000
Internet Explorer 5
Program Tips
Easter Eggs
Hardware
DVD



ActiveDVD
DVD News
DVD Forum
Glossary
Tips
Articles
Reviews
News Archive
Links
Drivers



Latest Reviews
Xbox/Games
Fallout 3

Applications
Windows Server 2008 R2
Windows 7

Hardware
iPod Touch 32GB



Latest Interviews
Steve Ballmer
Jim Allchin



Site News/Info
About This Site
Affiliates
Contact Us
Default Home Page
Link To Us
Links

News Archive
Site Search
Awards



Credits
©1997-2012, Active Network, Inc. All Rights Reserved.
Please click here for full terms of use and restrictions or read our Light Tower Privacy Statement.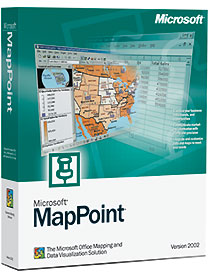 Features
The first feature of the software a rep will use is certainly the routing and driving one! Nothing can be easier than planning a route with MapPoint 2002: you just have to click the button that shows a car icon, type the departure and arrival addresses and then hit the calculate button. In an instant MapPoint will determine the best itinerary for you to use, and will display directions on a re-centred map. Obviously the way can be printed in different manners: map with text, text only, etc. Printing always shows detailed intersections and other instructions. To make sure the software gives accurate information and mapping I planned a routing from Lyon to Monaco: in a second MapPoint 2002 gave me a new map with turn by turn driving instructions: I checked them all and the fact was that they were all accurate (same thing for the costs, duration, length information).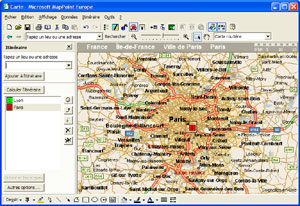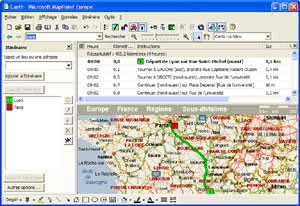 Microsoft MapPoint 2002 Used To Plan A Route Between Lyon and Paris (click to enlarge)
However everything is not perfect yet: indeed when planning a route using Microsoft MapPoint 2002 from a big town to a small town it may decide to use highways that can make the route longer in miles (and more expensive) than if taking small roads. Microsoft MapPoint 2002 also offers some interesting features that calculate the length of the way in miles, evaluate the time when youíll arrive to the location, as well as the price itíll cost you in gasoline & highway fees (depending of the car consumption and gas price you have entered in the settings). Internet hasnít been forgotten by Microsoft since you can save a map/route as a web page. To do so you have to go through a wizard that offers several settings (like including the map legend, thumbnail view, route sheet, hypertext links, changing the size and title, etc.). This is especially useful to share maps with people that donít have Microsoft MapPoint 2002 or to display, for example, directions to reach your business on a website to attract potential customers. Those maps can also be sent via email without leaving MapPoint: however the recipient should have MapPoint 2002 installed to view the map. Microsoft MapPoint 2002 can check the Internet to retrieve websites that deal with the currently selected area.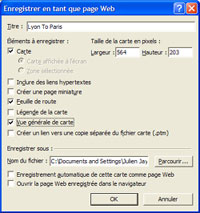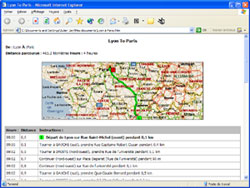 Microsoft MapPoint 2002 Save For The Web Wizard (click to enlarge)
Another feature salespeople will like is the nearby places locating feature that can display all the known restaurants, hospitals, hotels, train stations, gas stations, convention centers, airports, etc. near to the zone you have defined. Itís great except that we were surprised to learn there arenít any subways in Lyon, which is more than false! Worst the software still indicates a few railway stations that donít exist anymore (or arenít in use) foralmost 40 years in Belgium or in France: I guess some data have to be updated. Strangely BMW GPS devices show the same mistakes. The bottom toolbar of MapPoint 2002 offers familiar Microsoft Office Drawing tools enabling users to draw circle, squares, rectangles, ovals and other various shapes directly on the map. The pushpin feature has been enhanced so you can replace the regular pin image by one of the 256 other symbols MapPoint 2002 natively offers or by the logo of your company (you can import BMP, ICO & CUR files). You can assign comments in small bullets to each pin you put on a map. For the ultimate level of productivity Microsoft MapPoint 2002 offers undo & redo features (just like in Microsoft Office 2002 other software) that keep in memory the last 10 changes you made on a map. Just like in a browser using the previous and next buttons you can go back to some parts of the map youíve already seen.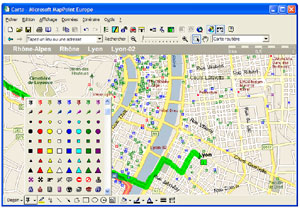 Microsoft MapPoint 2002 New PushPins (click to enlarge)
The European edition of MapPoint 2002 offers a Euro converter so you can know with a single glance how much 10Ä value in each of the twelve old European moneys (you can also convert your local currency to Euros using this web wizard). Even though we principally reviewed the European version, the United States/North America version is essentially the same, with the only real difference being the maps. Finally youíll be glad to know MapPoint 2002 comes with a small glossary that contains several hundreds of sentence in various languages so you can be understood everywhere you go.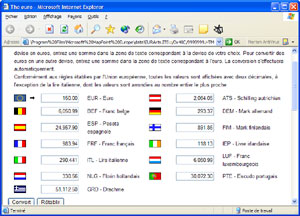 Euro Converter (click to enlarge)