DirectX
ActiveMac
Downloads
Forums
Interviews
News
MS Games & Hardware
Reviews
Support Center
Windows 2000
Windows Me
Windows Server 2003
Windows Vista
Windows XP



News Centers
Windows/Microsoft
DVD
Apple/Mac
Xbox
News Search



ActiveXBox
Xbox News
Box Shots
Inside The Xbox
Released Titles
Announced Titles
Screenshots/Videos
History Of The Xbox
Links
Forum
FAQ



Windows XP
Introduction
System Requirements
Home Features
Pro Features
Upgrade Checklists
History
FAQ
Links
TopTechTips



FAQ's
Windows Vista
Windows 98/98 SE
Windows 2000
Windows Me
Windows Server 2002
Windows "Whistler" XP
Windows CE
Internet Explorer 6
Internet Explorer 5
Xbox
Xbox 360
DirectX
DVD's



TopTechTips
Registry Tips
Windows 95/98
Windows 2000
Internet Explorer 5
Program Tips
Easter Eggs
Hardware
DVD



ActiveDVD
DVD News
DVD Forum
Glossary
Tips
Articles
Reviews
News Archive
Links
Drivers



Latest Reviews
Xbox/Games
Fallout 3

Applications
Windows Server 2008 R2
Windows 7

Hardware
iPod Touch 32GB



Latest Interviews
Steve Ballmer
Jim Allchin



Site News/Info
About This Site
Affiliates
Contact Us
Default Home Page
Link To Us
Links

News Archive
Site Search
Awards



Credits
©1997-2012, Active Network, Inc. All Rights Reserved.
Please click here for full terms of use and restrictions or read our Light Tower Privacy Statement.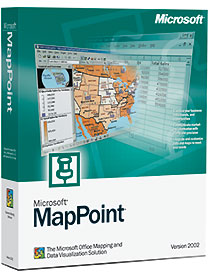 User Interest

In business, understanding sales activities is vital prospecting for new customers while targeting unexplored market areas for new opportunities. In the past businesses used to stick maps on the wall and put colored pins on the towns where they have accomplished sales to track their geographical positioning. However the pins never showed them the amount of sales per locality nor showed demographic data of any locations. Software like Microsoft MapPoint 2002 definitely buries these ancestral practices in order to provide a real powerful geographical analyzing tool that can even help users to make vital business decisions. Indeed today business requires flexibility and speed that can be affected by geographic matters. If a shop wants to resell your product in a town that has only 450 citizens it's surely not the best opportunity: MapPoint 2002 will help you determine quickly what geographic locations can be valuable for your business! Much easier than traditional GIS (Geographical Information System) applications Microsoft MapPoint 2002 provides Small Business or big corporate users, from salesmen to technical analysts, the ability to analyze and communicate on a geographic based view of their data.
Interface
Since MapPoint 2002 shares its core engine with Microsoft Street & Trips it's no surprise to see MapPoint 2002 displays somewhat the same interface as its little sibling. Interface might be the same, but the level of features is definitely different between those two products. To launch MapPoint 2002 the number 2 CD has to be in the drive in order for the software to boot and extract map data. MapPoint 2002 interface slightly evolves: the menu and toolbars are now Office XP like which is neat. Like the previous version, MapPoint 2002 features its own Office Task Pane where you can perform geographic location searches, and more. Unfortunately, unlike Office XP, there's no way to customize the toolbar and menus of MapPoint.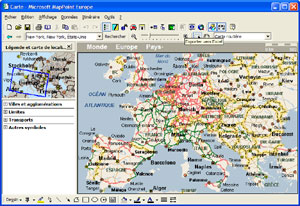 Microsoft MapPoint 2002 GUI (click to enlarge)
Office XP Integration
Microsoft MapPoint 2002 is more integrated than ever with the latest office suite from Microsoft. First of all, the big new feature is that MapPoint installs a set of smart tags: that way in any Microsoft Office XP application (like Word, Excel, Outlook, etc.) when you type an address, the software automatically underline it and offers you to insert a map of this location into your current document, or to plan a route based on this address. Smart Tags are great in that case to reduce the number of manipulations users have to perform in order to access geographic data. Just like the previous versions you can integrate a map into Word or Excel effortlessly thanks to the COM compatibility of the software. New to this version is the 'MapPoint' button and menu shortcut that'll be added to the installed Microsoft Office Applications (including Outlook). When clicking this button you'll be able to insert a map in your document, start planning a route or export and link data to an existing or new MapPoint map!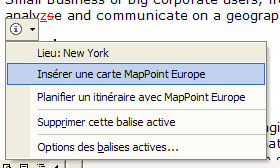 Microsoft MapPoint 2002 SmartTag in Word 2002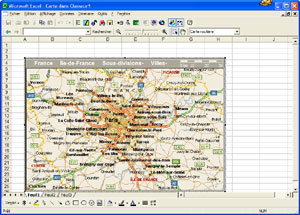 MapPoint 2002 Integration with Microsoft Excel 2002 (click to enlarge)

First Start
When you launch Microsoft MapPoint 2002 a map of the country where you're living is displayed in the centre part of the window. The left task pane shows a reduced but complete view of the continent you're living in (US & Canada or Europe). Below it are listed the legends used by maps (borders, towns' size, etc.). From this task pane you can move a blue rectangle selector over the continent to display a closer look of a country in MapPoint. The software offers you several controls to modify the view of the map: you can zoom in or out the whole map, double click a location to zoom on it. Just like in Adobe PhotoShop you have a hand tool that lets you move the current map to readjust the current display.
Each border of the map displays an arrow to move the map in the direction of the four cardinal points. You can change the size of the font used by the various map's labels. When viewing a map the localization toolbar indicates accurate data: for example if you're seeing the map of London the toolbar will display World, Europe, United Kingdom, London. This toolbar also shows the actual scale of the map. Microsoft MapPoint 2002 offers five different map types: political (borders), physical, roadmap, statistic, roadmap & statistic. The roadmap kind is the one that contains the most accurate details by showing streets, highways, and geographical indicators… Nonetheless, depending on which edition of MapPoint you have the streets of outside towns won't be displayed (if you have the European edition you can't view the streets of Chicago and conversely). As we've also reviewed the European version, we were able to see every street of various towns like Paris, Lyon, Bruxels, Berlin. Each street is displayed with its name along with its number: great driving axis are often named A6, N11, D76, etc.