DirectX
ActiveMac
Downloads
Forums
Interviews
News
MS Games & Hardware
Reviews
Support Center
Windows 2000
Windows Me
Windows Server 2003
Windows Vista
Windows XP



News Centers
Windows/Microsoft
DVD
Apple/Mac
Xbox
News Search



ActiveXBox
Xbox News
Box Shots
Inside The Xbox
Released Titles
Announced Titles
Screenshots/Videos
History Of The Xbox
Links
Forum
FAQ



Windows XP
Introduction
System Requirements
Home Features
Pro Features
Upgrade Checklists
History
FAQ
Links
TopTechTips



FAQ's
Windows Vista
Windows 98/98 SE
Windows 2000
Windows Me
Windows Server 2002
Windows "Whistler" XP
Windows CE
Internet Explorer 6
Internet Explorer 5
Xbox
Xbox 360
DirectX
DVD's



TopTechTips
Registry Tips
Windows 95/98
Windows 2000
Internet Explorer 5
Program Tips
Easter Eggs
Hardware
DVD



ActiveDVD
DVD News
DVD Forum
Glossary
Tips
Articles
Reviews
News Archive
Links
Drivers



Latest Reviews
Xbox/Games
Fallout 3

Applications
Windows Server 2008 R2
Windows 7

Hardware
iPod Touch 32GB



Latest Interviews
Steve Ballmer
Jim Allchin



Site News/Info
About This Site
Affiliates
Contact Us
Default Home Page
Link To Us
Links

News Archive
Site Search
Awards



Credits
©1997-2012, Active Network, Inc. All Rights Reserved.
Please click here for full terms of use and restrictions or read our Light Tower Privacy Statement.



Introduction
In this day and age, if in the home or the office you need to write a letter, send an email, create a marketing presentation or do a spreadsheet, most people turn to Microsoft Office. As newer versions of Office have come out over the years, we have seen tighter integration between the different applications making it quicker, far easier and simpler to transfer that spreadsheet you did with Excel into your Microsoft Word application.
About six years ago domination of Microsoft Office wasnít so important as there were several competing office software suites like WordPerfect & Lotus SmartSuite that offered a real plus over Microsoft Office: thatís why Microsoft applied itself to catch up by adding more features in its suite. Over the past few years, Microsoft Office completely changed its look by including some revolutionary applications that most users werenít even able to dream about, like Schedule + the first PIM that was then replaced by Outlook, Microsoft FrontPage a leading website authoring tool, Microsoft PhotoDraw to let corporate users quickly edit & touch up their pictures and many more. Microsoft Office XP should be the first angular stone of the pre-Microsoft .NET strategy even if according to recent reports itíd be less elaborated than expected.

So what is new in this version of Office? Is it better? Well thatís where I come in. As youíll see many things are new and will definitely change the way you work thanks to a smarter office suite. To build the best Office version ever released, Microsoft has focused its development efforts based on customer feedback. Following is a breakdown of the different parts, and what is new and few screenshots as well! So let the review begin.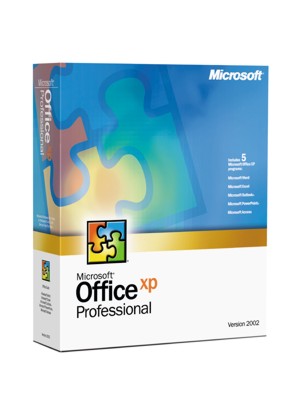 Setup
Installing Office XP is as easy as with the previous release while being somewhat fast for such huge software. The setup has a slightly new look but is still built around the Windows Installer Technology to ensure a high level of administration. When you launch it, if you have older Office applications installed like Word 97, Access 2000, the Microsoft Office XP setup wizard will list those old applications and offer you to remove them. To offer IT managers the flexibility they need, the Office setup is entirely customizable and you can choose each component of the suite you want or not to install, but we regret this process is so painful due to the new way you have to enable or disable components and their sub components. Installing the whole suite takes no more than 25 minutes (reboot included!) so It is almost instantaneous to deploy the suite. Microsoft Office XP developers have focused themselves on application security, so corrupted executable files can be repaired automatically by the application avoiding the need to contact technical support or internal support staff to uninstall and reinstall the application.
We installed Office XP on both a clean system and an upgrade system and had no problems installing Office XP on either system, the only difference being that the upgrade system took longer to install the program than the other clean system as expected.
Overall New Office Features
One of the key Microsoft Office XP goals was to make the whole suite fit to most userís needs. Base on studies that show customers use less than 20% of the full potential of each Microsoft software included in the whole suite, Microsoft has further simplified things to make Office easier to use. If ease of use was a key goal during the development stage of the suite, Microsoft has also focused on compatibility, that way Microsoft Office XP keeps a high compatibility level with its predecessor Office 2000. Some of the new features are: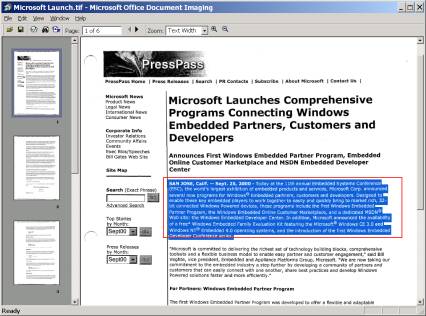 Microsoft Office Document Imaging
Streamlined User Interface Ė As with every new version, Microsoft Office XP shows a new look and feel that improves userís Office experience and slightly dusts off applications. This includes removing visually competing elements, visually prioritizing items on a page, increasing letter spacing and word spacing for better readability, and defining foreground and background color to bring the most important elements to the front.
Document Recovery - Microsoft Word, Excel, Access and PowerPoint give you the option of saving their current files at the time an error occurs in an application. As a result, you spend less time recreating their documents, spreadsheets, databases, and presentations.
Application Error Reporting/Smarter Crash Ė Ok weíd like Microsoft to totally eradicate crashes in Office XP but instead they included a smart anti-crash system. They should keep some enhancements in stock for Office 11! In Office XP, the applications can automatically report any errors that occur directly to Microsoft or the userís corporate IT department. This gives Microsoft (or organizations) the data needed to further diagnose and correct these errors as well as to provide you with direct access to workarounds or other information on the error.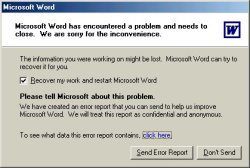 Smarter crashes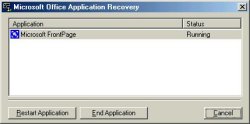 Recovery Console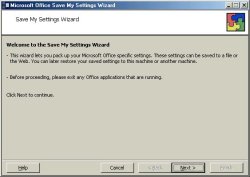 Microsoft Office Save My Settings Wizard
Please note that these are only a few of the new features that have been added to Office to improve the productivity, security and ease of use of Office.
Internet Orientation: Was it possible for Microsoft to make Office more Internet enabled? The answer is definitely yes! This new release of Office contains links to a myriad of templates, clipart, sounds, photos, and animations located on the Internet servers of Microsoft. Collaborating work wasnít forgotten since Microsoft now uses a MSN service to offer users a remote storage space (Xdrive) so users can save documents to a remote server and share them with colleagues.
The first thing youíll notice after installing the whole suite is the regrettable absence of Microsoft PhotoDraw. Then before you start working with this new suite you'll have to activate it over the internet or by phone to unlock it. Until you activate it you'll be able to launch components of the suite a limited number of times. This new feature which is a clear hassle for most users is intended to reduce software piracy since you can activate the suite only on the same computer. What if you change your computer? Apparently you'll have to call Microsoft to update your user profile. We have to say that so far no problems have arisen with our gold version after we activated it over a month ago, so it is a good sign.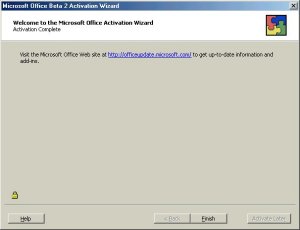 Microsoft Office XP Activation Wizard


After Activation