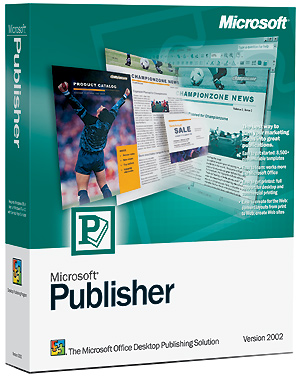 Features
When you first start Microsoft Publisher youíll see the software sports the same interface as the rest of the Microsoft Office XP suite. Toolbars are now absolutely flat and you can choose to hide or show buttons clicking directly on the arrow to check or uncheck commands you donít want to use. Menus display icons in front of each command so you can better understand their purposes. One of the development goals for Publisher 2002 was to make the software more seamlessly integrated to the Microsoft Office series. The result is a success since you can customize the toolbars by adding or removing icons, tweak the menu bar, hide or display commands, etc.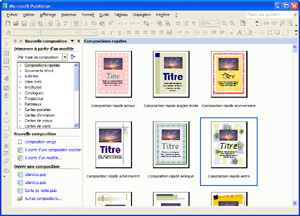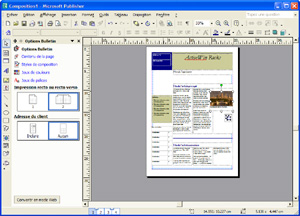 Microsoft Publisher 2002 GUI (click to enlarge)
As a member of the Office XP family, Microsoft Publisher 2002 naturally features the Office Task Pane that give users easy access to important tasks in a single integrated view. From the Task Pane, which appears on the left side of your Publisher screen, (instead of the right side of every other Office applications) users can perform searches, open or start a new document, format their document or use the Office Clipboard. Microsoft Publisher 2002 obviously supports the new Office clipboard so you can store up to twenty four items in the clipboard and reuse them at your convenience. You can obviously share items between the different Office applications and view them through the task pane.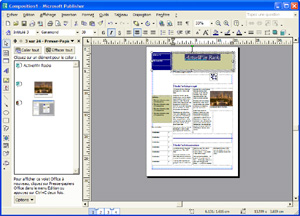 Microsoft Publisher 2002 Task Pane (click to enlarge)
Each time you start Microsoft Publisher 2002, the application displays a visual gallery populated with an incredibly rich list of visual representations to choose from to create a new document (you can even retrieve new ones on the ĎNet). Thus the process of choosing a new design is faster. To the left of the visual gallery the Office Task Pane shows the wizard pane that helps you sort the available designs in the visual gallery by design set (scallops, bars) or publication type (newsletter, brochure). Users can obviously open an existing file or create a blank document from the task pane.
The gallery offers visually appealing templates that are ready to be used and printed: these high quality designs have been created by professionals since Microsoft has teamed up with designers to bring novice users the fruits of their experience (thatís why throughout the software youíll receive from time to time advice to make your design better). Once you have chosen a paper design a wizard appears and asks you to type your name, address, etc. so Publisher will include them in the layout (if needed by the layout) and memorize them for future use. As introduced in Microsoft Publisher 2000, the Publisher Objects Galery is still there! From this place you can view every available Publisher objects and add them to your composition at your convenience.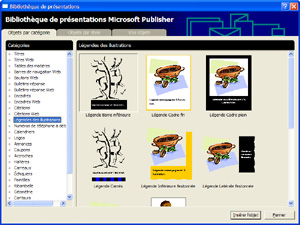 Microsoft Publisher 2002 Objects Gallery (click to enlarge)
Microsoft Publisher 2002 lets you pick for each design the color scheme of your choice from a predefined list (you can create your own color schemes) ensuring each template looks the way you want. You can also choose font schemes for the current template making it quicker and easier to pick a font combination that looks good: each font scheme contains a specific font for the title, another one for the text, etc. So after you have selected a font scheme all the fonts of your current document will be changed to the ones youíve just chosen. Best of all, Publisher automatically embeds all fonts used in a document so youíll be able to share the document in all peace of mind. The font schemes are based on Styles used by Microsoft Word so you can perfectly apply a font scheme to an imported Word document or view the existing Word styles into Publisher.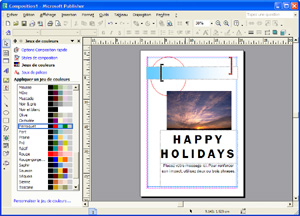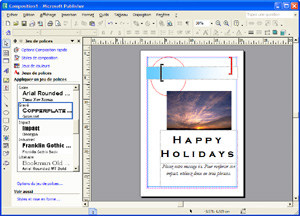 Microsoft Publisher 2002 Color & Font Schemes Task Panes (click to enlarge)
Microsoft Publisher 2002 supports multi level undo & redo feature so you can freely design documents without worrying about making mistakes. Just like in Microsoft Word 2002, when youíre typing text in Publisher 2002 spell errors are underlined in red so you know when youíve made a mistake: right clicking the underlined word displays a menu that suggests a correction. Microsoft Publisher 2002 perfectly supports different languages so you can create a French document using the English version of the software with no problem. Plus Publisher 2002 now comes with the same thesaurus functionality found in Word.
Microsoft Publisher is compatible with the Microsoft Office Smart Tags that are shared by other Office XP applications. Publisher supports two Smart Tags: the paste options smart tag and the autocorrect options smart tag. The Paste Options Smart Tag appears when users attempt to paste data into Publisher and let them decide whether they want to paste their data as they originally copied it or change the style so that it fits the style of the document. The AutoCorrect smart tag helps users undo an undesired automatic correction, but they can also disable the correction in the future and access the AutoCorrect options.
Miscellaneous Features
The well known Office Wizard is disabled in Microsoft Publisher 2002 and appears only when help is enabled. Like other Office XP applications, users can type a question in the ĎAsk A Questioní field that appears on the right side of the menu bar, directly from the software without launching the Answer Wizard of the Office Assistant.
Microsoft Publisher 2002 is the first version to ever support the Visual Basic for Applications (VBA) programming language!!! That means advanced users will be able to connect to a web site and add additional Publisher functionality such as one-button publishing tools. Currently available services are bCentral LinkExchange Banner Network and bCentral FastCounter. Supporting VBA also implies you can also customize or extend the software to accomplish certain tasks of your own. However there's no quick command to record macros like you can do in Microsoft Word 2002.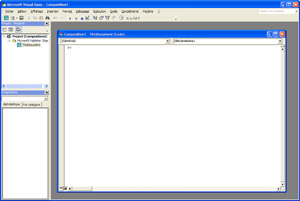 Microsoft Publisher 2002 VBA Module (click to enlarge)
You can add horizontal rules before or after a paragraph and define their appearance (color, position). The Word Import Wizard simplifies further the process of opening basic Word files into Publisher and preserves the formatting and inline graphics. Publisher specific features (color/font scheme, design) can be applied to the imported document without any fear. A neat feature introduced by Publisher 2002 is the ability to save a group of objects put on a page as a picture! That way you can create logos from Publisher and modify them later in PhotoShop without any headaches.
Publisher 2002 is absolutely wonderful but that doesnít mean it is perfect. Anyway perfection doesnít exist in our world. Iíd address two critics to the excellent Publisher 2002: thereís no table toolbar like in Word so you canít hand draw your tables as easily as you would do with Microsoft Word 2002 (note that you can insert diagonal into cells). The second major drawback that isnít very new is the fact the software canít perform calculations within a table. Indeed many business users that may use Publisher to create invoices or prices lists will regret the fact they canít even ask the software to automatically add the amounts in a column and provide a result.