DirectX
ActiveMac
Downloads
Forums
Interviews
News
MS Games & Hardware
Reviews
Support Center
Windows 2000
Windows Me
Windows Server 2003
Windows Vista
Windows XP



News Centers
Windows/Microsoft
DVD
Apple/Mac
Xbox
News Search



ActiveXBox
Xbox News
Box Shots
Inside The Xbox
Released Titles
Announced Titles
Screenshots/Videos
History Of The Xbox
Links
Forum
FAQ



Windows XP
Introduction
System Requirements
Home Features
Pro Features
Upgrade Checklists
History
FAQ
Links
TopTechTips



FAQ's
Windows Vista
Windows 98/98 SE
Windows 2000
Windows Me
Windows Server 2002
Windows "Whistler" XP
Windows CE
Internet Explorer 6
Internet Explorer 5
Xbox
Xbox 360
DirectX
DVD's



TopTechTips
Registry Tips
Windows 95/98
Windows 2000
Internet Explorer 5
Program Tips
Easter Eggs
Hardware
DVD



ActiveDVD
DVD News
DVD Forum
Glossary
Tips
Articles
Reviews
News Archive
Links
Drivers



Latest Reviews
Xbox/Games
Fallout 3

Applications
Windows Server 2008 R2
Windows 7

Hardware
iPod Touch 32GB



Latest Interviews
Steve Ballmer
Jim Allchin



Site News/Info
About This Site
Affiliates
Contact Us
Default Home Page
Link To Us
Links

News Archive
Site Search
Awards



Credits
©1997-2012, Active Network, Inc. All Rights Reserved.
Please click here for full terms of use and restrictions or read our Light Tower Privacy Statement.



Product: Visio 2000 Professional
Company: Microsoft
Website: http://www.microsoft.com
Estimated Street Price: $399.00
Buy Visio 2000 Professional Now!
Review By: Julien JAY
Network Diagramming
Microsoft Visio 2000 helps every network manager to diagram its network efficiently. Users can keep their network diagrams up to date by working with the latest networking technologies shapes, including network equipment and directory services structures. Indeed Microsoft Visio 2000 comes with probably the most complete on earth library of network shapes: exactly more than 18,000 network hardware pictures that represent a lot of various stuff such as Ethernet hub, switches, VPN (virtual private network), Firewall, flat LCD monitors, etc. are provided in this release of the software. One of the several improved features of this release allows to custom property fields to diagrams to keep track of specific and additional data. Best of all, as Microsoft Visio 2000 perfectly supports the new network enhancements introduced by Microsoft Windows 2000 you can design your Microsoft Active Directory based directories, such as Microsoft Exchange Server to plan and manage directory-enabled networks more efficiently. Note that Novell Directory Services (NDS), or other Lightweight Directory Access Protocol (LDAP) are also supported as well as Netscape Directory Server. This new directories support offers a graphic & hierarchical approach to organize, schematise, and communicate your directories structures. Finally Microsoft has thought to ease your life by including the exclusive AutoDiscovery technology that scans your network and recognizes the most current equipments such as Hubs, routers, switches, etc. Then a comprehensive database of layer 2 (data link), layer 3 (IP Network) and frame relay network information will be automatically builds. AutoLayout for its part instantly turns discovered network into a nice map of your network: can you ever dream better? For big networks users can hopefully schedule the operation to be done at night by example. We tested this feature on a middle range network of 25 computers running Windows 2000 Server and everything was correctly recognized and mapped from printers to computers! You can really trust on the AutoDiscovery technology. Notice that an other new feature can turns discovered networks into professional documentation using one of the 20 new reports templates.

Database diagramming
A real headache for developers is to build Data Conceptual Models of their database: it's complex and takes an incredible amount of precious time that can be better used to complete the database work. Visio 2000 can automatically analyse your Microsoft Access databases, find the resources, the tables, the data and build a diagram of it in a few mouse click: can you dream of a better diagramming tool?? Advanced users will like the Visio 2000 databases reverse engineering that offers code-level detail, displaying keys, check clauses, triggers, stored procedures, and views that the. It also works for client/server databases. Visio is a tool that really allows a better comprehension of existing databases structures: you can even produce a detailed documentation. Supported databases are IBM DB2, Informix, Microsoft SQL, Oracle. The professional release of Visio helps software developers to organize their development projects using the vast UML (Unified Model Language) 1.2 diagrams types. It is thus possible for developers that use Microsoft developing tools to reverse engineer existing software projects from Microsoft Visual Basic®, Microsoft Visual C++®, and Microsoft Visual J++® and that produces Unified Modeling Language (UML)–class diagrams: this diagrams will show the structures of the static classes included in existing software. Advanced data flux schemas help users to create accurate and complete diagrams with automatically decreasing series to the process details. All this various features make Visio 2000 an essential and wonderful software for computer projects chief.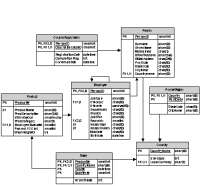 Miscellaneous Diagrams
Microsoft Visio 2000 Professional supports a wide variety of diagrams such as PERT diagrams that are useful to analyse each required task to accomplish in order to achieve a project as well as ROOM, Jackson, IDEF0, Nassi-Schneiderman, Fusion, Gantt, Yourdon & Coad, etc. diagrams. The professional edition is also an essential tools for HVAC engineering and electrician workers: the ease of use of this drag & drop enabled tool first introduced first in 1992 stayed intact through its numerous evolutions. Even architects can take advantages of the several Microsoft Visio 2000 features to draw floor maps and put desktops, flowers, computers where they want to organize a nice working area. And the smart provided shapes will ease users' work as some of the Visio 2000 shapes "know" how to interact with neighbouring ones. If you use Visio 2000's geographical shapes to draw US states: they'll automatically snap together correctly! Adjacent states will automatically connect, but nonadjacent states won't. Microsoft Visio 2000 can also help you define data flows more quickly and with greater accuracy. This new model-based DFD functionality, based on the Gane-Sarson notation, supports automated level balancing and a Navigator window for fast access to all levels of your process model. For ambitious users, Visio 2000 allows them to create their own custom templates as well as defined shapes and to define how they should interact between them: the feature is a bit hard to use as you previously need to know all the exact behaviours you want to be adopted by each shape. The diagram-wide support and its evolution possibilities makes Microsoft Visio 2000 the most complete software out today on the market to create professional diagrams.