DirectX
ActiveMac
Downloads
Forums
Interviews
News
MS Games & Hardware
Reviews
Support Center
Windows 2000
Windows Me
Windows Server 2003
Windows Vista
Windows XP



News Centers
Windows/Microsoft
DVD
Apple/Mac
Xbox
News Search



ActiveXBox
Xbox News
Box Shots
Inside The Xbox
Released Titles
Announced Titles
Screenshots/Videos
History Of The Xbox
Links
Forum
FAQ



Windows XP
Introduction
System Requirements
Home Features
Pro Features
Upgrade Checklists
History
FAQ
Links
TopTechTips



FAQ's
Windows Vista
Windows 98/98 SE
Windows 2000
Windows Me
Windows Server 2002
Windows "Whistler" XP
Windows CE
Internet Explorer 6
Internet Explorer 5
Xbox
Xbox 360
DirectX
DVD's



TopTechTips
Registry Tips
Windows 95/98
Windows 2000
Internet Explorer 5
Program Tips
Easter Eggs
Hardware
DVD



ActiveDVD
DVD News
DVD Forum
Glossary
Tips
Articles
Reviews
News Archive
Links
Drivers



Latest Reviews
Xbox/Games
Fallout 3

Applications
Windows Server 2008 R2
Windows 7

Hardware
iPod Touch 32GB



Latest Interviews
Steve Ballmer
Jim Allchin



Site News/Info
About This Site
Affiliates
Contact Us
Default Home Page
Link To Us
Links

News Archive
Site Search
Awards



Credits
©1997-2012, Active Network, Inc. All Rights Reserved.
Please click here for full terms of use and restrictions or read our Light Tower Privacy Statement.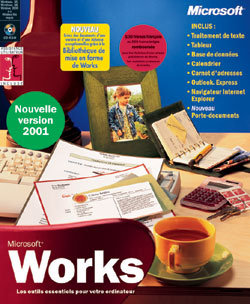 Product: Works 2001 aka Works 6.0
Company: Microsoft
Website: http://www.microsoft.com/works
Estimated Street Price: $54.95
Review By: Julien Jay
Features
The first new major feature of Works 2001 youíll instantly remark after youíve rebooted the computer once the setup was finished is the brand new portfolio applet. This new application starts each time you start Windows (you can disable the autostart feature if it bugs you) and displays a small docked button: if you click this button a window is displayed and unveils a portfolio where you can collect and organize photos or texts. You can also add in your personal portfolio some documents and extracts from websites. The cool thing about the Portfolio is first of all its great looking interface and the fact you can easily hide or show it to not clutter your screen with unused windows: as it offers three different view modes it'll fit the way you're working. Obviously once youíve add items in the portfolio you can reuse them later in Microsoft Works 2001 documents simply by dragging them! But you can also select an item and send it to a folder, a Works 2001 document, include it in an email or print directly from the portfolio. Best of all you can attach comments for each item in your portfolio! We really liked this small but interesting feature!


Anchored Portfolio view
Another new feature introduced by this new release of Works, is the format gallery. This new possibility lets you quickly change fonts, colors, and styles of any documentsí texts through a vast gallery where youíll pick up the style you like. The Format Gallery is preloaded with hundred of various colors & fonts styles so you can easily produce high impact, great looking documents!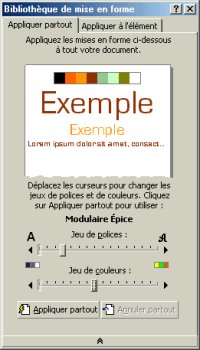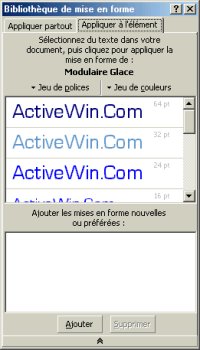 Microsoft Works 2001 Format Gallery
Microsoft Works has always been weak in terms of proofing tools: if it always came with a spell checker, it was more than basic! Microsoft Works 2001 now comes with an auto correct build in spell checker thatíll correct any mistakes while youíre typing underlining errors in red just like its great brother, the word processor tenor Microsoft Word. The Microsoft Works word processor module now supports every standard image file format so you can import pictures in your document easier then before (GIF, JPG, BMP and more are supported). For internet fans, the word processor now lets you create hyperlink in your documents so you can directly jump from a Works letter to an internet website: great to share electronic documents intended to be read only with a computer through the corporate. Another thing internet aficionados will love is the Microsoft Word like send to email feature that lets you send a document through email directly from Works simply pushing a toolbar button: itís not a killer feature nor an essential one but itís appreciable. Works 2001 lets you open Microsoft Word files so you can work on them. If you often have to create documents with tables, youíll surely be glad to know that Works 2001 tables can now be spanned over pages.
An amazing thing of Works is the fact everyone will know how to use it, and get the max out of it, in just a few minutes: from child to grand mom this software is really an easy to use one that provides users powerful tools in disguise, since Works 2001 advanced tools always look simple. If that wasnít enough Microsoft included in this new release more quick tours aimed to guide users steps by steps so they can achieve their work in all peace of mind. Sure the HTML help file is very complete and will answer every questions you can have about Works 2001 features. With more than 10,000 included cliparts and a great ClipArt Gallery applet, illustrating documents will be as easy as changing the font of a title. One major drawback of the Works spreadsheet was that it used a special file format so when novice users started to be better and wanted to start using Excel they were forced to first convert (as they can) their Works spreadsheets into Excel ones. Hopefully Microsoft has finally removed this Achillesí heel since Works 2001 now saves spreadsheet files using the Microsoft Excel file format: awesome! Microsoft Works 2001 still comes with an outstanding calendar program that lets you manage your time and appointments efficiently: from it you can follow events you donít want to miss, schedule meetings, and set reminders. As the reminding applet of Works is automatically launched with Windows, youíll always be reminded that the meeting youíre about to attend is near even if the calendar isnít running.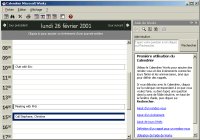 Microsoft Works 2001 Calendar