DirectX
ActiveMac
Downloads
Forums
Interviews
News
MS Games & Hardware
Reviews
Support Center
Windows 2000
Windows Me
Windows Server 2003
Windows Vista
Windows XP



News Centers
Windows/Microsoft
DVD
Apple/Mac
Xbox
News Search



ActiveXBox
Xbox News
Box Shots
Inside The Xbox
Released Titles
Announced Titles
Screenshots/Videos
History Of The Xbox
Links
Forum
FAQ



Windows XP
Introduction
System Requirements
Home Features
Pro Features
Upgrade Checklists
History
FAQ
Links
TopTechTips



FAQ's
Windows Vista
Windows 98/98 SE
Windows 2000
Windows Me
Windows Server 2002
Windows "Whistler" XP
Windows CE
Internet Explorer 6
Internet Explorer 5
Xbox
Xbox 360
DirectX
DVD's



TopTechTips
Registry Tips
Windows 95/98
Windows 2000
Internet Explorer 5
Program Tips
Easter Eggs
Hardware
DVD



ActiveDVD
DVD News
DVD Forum
Glossary
Tips
Articles
Reviews
News Archive
Links
Drivers



Latest Reviews
Xbox/Games
Fallout 3

Applications
Windows Server 2008 R2
Windows 7

Hardware
iPod Touch 32GB



Latest Interviews
Steve Ballmer
Jim Allchin



Site News/Info
About This Site
Affiliates
Contact Us
Default Home Page
Link To Us
Links

News Archive
Site Search
Awards



Credits
©1997-2012, Active Network, Inc. All Rights Reserved.
Please click here for full terms of use and restrictions or read our Light Tower Privacy Statement.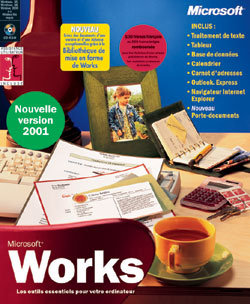 Product: Works 2001 aka Works 6.0
Company: Microsoft
Website: http://www.microsoft.com/works
Estimated Street Price: $54.95
Review By: Julien Jay
Introduction
Back in 1990, Microsoft Works was the outstanding and universal DOS software used around the world by thousand of users to create spreadsheets as well as letters. This integrated software brings computers into a new era where users can do several & various tasks using only one & affordable software. Later on, came Microsoft Windows, so Microsoft Works was ported to support this new multitasking interface and Microsoft began an epic war against its main competitor in this domain that is to say Claris Works. The benefit was a widely improved integrated software. But since 1996 and the release 4.5, Microsoft Works stagnated and didn't suffer any major upgrade until last year with the release of something new: Works 2000. Microsoft seemed to have found back interest in Works and personally I'm really glad of this situation since Works is a powerful, feature rich software that fits everyone needs from home users to small corporate workers. Best of all Works is simple to learn that's why it's included with so many new PC. The new release 2001 of Works (equal to version 6.0) brings several enhancements like the format library, the portfolio and much more!
Works 2001 helps you achieve several tasks:
Write letters, reports, and résumés with the Word Processor. The AutoCorrect feature checks and corrects your spelling as you type.

Create a home budget, analyze your mortgage or loan, or make chore lists, using the Works Spreadsheet.

Use the Database to organize lists of collections, organization members, home inventories, recipes, and much more.

Manage your schedule, keep track of special events, and set up reminders, with the Calendar.
Includes:
Features:
Share files seamlessly with Excel

:

The Works spreadsheet is now Microsoft Excel format so you can share seamlessly with Excel and Office. No more saving as different formats to exchange data.
Full-featured Word Processor

:

The Word Processor now includes autocorrect, tables that can span pages, support for hyperlinks, and the ability to include all standard image formats in your document.
Format Gallery

:

The Format Gallery helps you quickly change the design of your documents - choose from hundreds of great-looking combinations of color schemes and text styles.
Portfolio

:

The Portfolio gives you a place to organize and collect photos, information from web sites, documents, and more - it makes future reference and retrieval easy.
Spreadsheet

:

Create a home budget, analyze your mortgage or loan, or make chore lists, using the Works Spreadsheet.
Word Processor

:

Write letters, reports, and resumes with the Word Processor.
Templates

:

Dive into a host of projects with more than 250 professionally designed and customizable templates - create party plans, certificates, recipe books and more.
Setup
Installing Microsoft Works 2001 is a breeze thanks to the Windows Installer based setup. You can obviously choose the destination folder where Works 2001 will be installed as well as some minor settings. During the setup, billboards will inform you about the new potential of Works 2001. At the end of the setup you're prompted to reboot the computer. Once it's done you're ready to discover this new all-in-one software.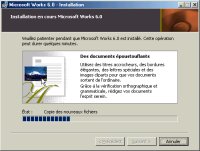 Works 6 Setup