DirectX
ActiveMac
Downloads
Forums
Interviews
News
MS Games & Hardware
Reviews
Support Center
Windows 2000
Windows Me
Windows Server 2003
Windows Vista
Windows XP



News Centers
Windows/Microsoft
DVD
Apple/Mac
Xbox
News Search



ActiveXBox
Xbox News
Box Shots
Inside The Xbox
Released Titles
Announced Titles
Screenshots/Videos
History Of The Xbox
Links
Forum
FAQ



Windows XP
Introduction
System Requirements
Home Features
Pro Features
Upgrade Checklists
History
FAQ
Links
TopTechTips



FAQ's
Windows Vista
Windows 98/98 SE
Windows 2000
Windows Me
Windows Server 2002
Windows "Whistler" XP
Windows CE
Internet Explorer 6
Internet Explorer 5
Xbox
Xbox 360
DirectX
DVD's



TopTechTips
Registry Tips
Windows 95/98
Windows 2000
Internet Explorer 5
Program Tips
Easter Eggs
Hardware
DVD



ActiveDVD
DVD News
DVD Forum
Glossary
Tips
Articles
Reviews
News Archive
Links
Drivers



Latest Reviews
Xbox/Games
Fallout 3

Applications
Windows Server 2008 R2
Windows 7

Hardware
iPod Touch 32GB



Latest Interviews
Steve Ballmer
Jim Allchin



Site News/Info
About This Site
Affiliates
Contact Us
Default Home Page
Link To Us
Links

News Archive
Site Search
Awards



Credits
©1997-2012, Active Network, Inc. All Rights Reserved.
Please click here for full terms of use and restrictions or read our Light Tower Privacy Statement.



Product: WinFax Pro 10.0
Company: Symantec
Website: http://www.symantec.com
Estimated Street Price: $119.95
Review By: Julien JAY
Advanced Features
You can design your own faxes cover pages by adding shapes, frames, pictures of your choice and even stamps (like urgent, confidential, etc.) to give a professional impact to your faxes. If youíre one of those fax users annoyed by permanent faxes advertising that cumbers your phone line the new Ďjunk-faxí feature of WinFax Pro 10 will automatically moves the undesired faxes to the wastebasket using the CSID or caller ID black list you defined. Cool even if weíd prefer that WinFax Pro hangs up straightforwardly when a fax from an undesired source arrived so it doesnít waste phone line, etc. WinFax Pro 10 now includes a report feature that allow you to track all the faxes that were sent and received as well as their costs for billing analysis purpose. WinFax Pro hopefully allows you to backup all your stuff: received faxes/sent faxes/personal cover pages, etc. through a simple but efficient wizard. You can select the things you want to save and WinFax Pro will generate one backup file. Later you can restore its contents on other PCs etcÖ and access your stuff: itís very useful. In the same idea order: new to WinFax Pro 10 is thee ability to save faxes anywhere on your hard disk, in any folder like if there were standard documents. Itís really useful! As always this release of WinFax Pro features an advanced integration with ACT! 2000. The pager wizard is always faithful to the station and enables users to be alerted on their pagers (sure they can tweak the pager number) when they receive faxes. Moreover WinFax Pro proves once again that itís the Ėonly- real fax software worthy of this name as it can automatically forward received faxes to the number of your choice. One feature is really appreciable for those of you who have got an intensive fax use and a computer dedicated to the reception of faxes all the time: WinFax Pro 10 supports the fax remote retrieval: that is to say you call your computer you enter you code and WinFax will send to the number you provide all the received faxes. WinFax Pro is also clever enough to share one modem with multiple PCs to send faxes: itís great in a corporate environment because it prevents each PC to have its own fax-dedicated modem. WinFax Pro 10 also offers an OCR feature that can recognizes the received faxes to transform them in editable documents: it works great for typed faxes that arrived with a correct quality but for hand faxes of poor quality ones it doesnít work at all. Finally WinFax Pro 10 supports phone cards so you can send faxes on the road!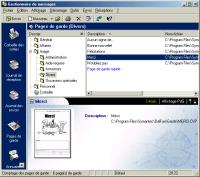 Email management & Internet Support
We wrote before that WinFax Pro 10 uses the same kind of GUI than Outlook 2000. Itís not totally innocent! Indeed WinFax Pro 10 supports email: so you can receive your emails in it as well as sending emails through WinFax Pro 10. In all honesty this feature isnít really useful except that it centralizes faxes and emails management in the same place. But due to the many advantages of Microsoft Outlook Express 5.5 and its ease of use almost nobody will use the WinFax Pro email features. However WinFax Pro offers one really interesting email enabled feature: you can forward any faxes you received to colleagues through the software. WinFax Pro 10 supports the GSM phones: so when you received a fax you can setup WinFax to alert you by sending a SMS message to your portable phone.
LiveUpdate: an exclusivity of Symantec
As every Symantec software, WinFax Pro 10 is provided with LiveUpdate, the internet enabled software extension thatíll check the net to retrieve potential available updates for the software and apply them automatically. Many software manufacturer competitors tried to imitate LiveUpdate but no one managed to make an update module as good as the original LiveUpdate first introduced in 1996 in Norton AntiVirus 2.0 for Windows 95. LiveUpdate is a lifetime warranty for your software that ensures itís up-to-date.