DirectX
ActiveMac
Downloads
Forums
Interviews
News
MS Games & Hardware
Reviews
Support Center
Windows 2000
Windows Me
Windows Server 2003
Windows Vista
Windows XP



News Centers
Windows/Microsoft
DVD
Apple/Mac
Xbox
News Search



ActiveXBox
Xbox News
Box Shots
Inside The Xbox
Released Titles
Announced Titles
Screenshots/Videos
History Of The Xbox
Links
Forum
FAQ



Windows XP
Introduction
System Requirements
Home Features
Pro Features
Upgrade Checklists
History
FAQ
Links
TopTechTips



FAQ's
Windows Vista
Windows 98/98 SE
Windows 2000
Windows Me
Windows Server 2002
Windows "Whistler" XP
Windows CE
Internet Explorer 6
Internet Explorer 5
Xbox
Xbox 360
DirectX
DVD's



TopTechTips
Registry Tips
Windows 95/98
Windows 2000
Internet Explorer 5
Program Tips
Easter Eggs
Hardware
DVD



ActiveDVD
DVD News
DVD Forum
Glossary
Tips
Articles
Reviews
News Archive
Links
Drivers



Latest Reviews
Xbox/Games
Fallout 3

Applications
Windows Server 2008 R2
Windows 7

Hardware
iPod Touch 32GB



Latest Interviews
Steve Ballmer
Jim Allchin



Site News/Info
About This Site
Affiliates
Contact Us
Default Home Page
Link To Us
Links

News Archive
Site Search
Awards



Credits
©1997-2012, Active Network, Inc. All Rights Reserved.
Please click here for full terms of use and restrictions or read our Light Tower Privacy Statement.



Product: WinFax Pro 10.0
Company: Symantec
Website: http://www.symantec.com
Estimated Street Price: $119.95
Review By: Julien JAY
GUI
WinFax Pro sinned until now by a heavy interface (from the point of view of its handling) because of a lack of clear conviviality. With this new version Symantec made a close-cropped table of the past and presents to us a new perked-up WinFax Pro that raises from now on the Office 2000 look and feel with, cherry on the cake, an Outlook shortcutsí bar that gives quick access to every area of the program like received faxes, sent faxes, etc. The main toolbar is easily customisable and you can add buttons to launch, for example, scanner software in order to send a fax. The new GUI offers three different faxes display mode directly from the main interface (so you donít have to open faxes separately to see what they say): you can choose to display faxes:
In thumbnails so you can view the different pages

In full size display (limited to the size of the view faxes area of the message manager so youíll have to scroll a lot)

In details: this view mode doesnít display the fax but its information about it like the reception date, the sender name, the object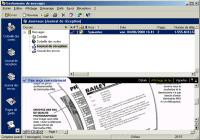 Modems
WinFax Pro 10 supports all TAPI (Microsoft Telephony API) compliant modems as well as ISDN modems through CAPI 2. Alas, three times alas, the CAPI 2 support for ISDN enabled modems is capricious and we didnít manage to make function our Bewan USBooster 128 modem with WinFax Pro 10. Symantec and Bewan return the ball each other saying that the CAPI protocol isnít totally respected by otherÖ What a pity! This being known, let us note that WinFax Pro 10 now supports autonomous smart modems especially those of 3Com but unfortunately no others are supported: so you wonít be able to use the advanced smart features of the well known French Olitec modems. However we tested the support of smart modem with our 3com Professional Message Modem and it works great: all offline received faxes were retrieved and displayed correctly by WinFax. Due to the Symantec commitment to provide mobile users with solution that fit their need nomad needs WinFax Pro perfectly support PCMCIA modems to enable users to send & receive faxes on the road.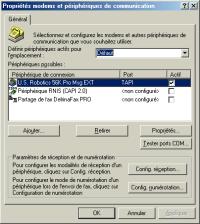 Faxes
There are many ways to send faxes with WinFax Pro 10. One of the new features of this release is that you can directly drag & drop a document on the ĎWinfax depotí desktop icon to send it: then a wizard appears and youíre prompted to type a phone number. Once itís done click fax and take a look at the fax sending status screen that indicates the accomplished percentage of the sending as well as other information. WinFax Pro 10 perfectly supports the contacts database of ACT! 2000, Outlook Express and Outlook: you can easily import them directly and WinFax Pro will turn it in an address book. In fact when youíll first start WinFax Pro youíll be prompted to import third party address book, so the next time youíll send a fax to someone just open your contact list youíll just have to select him in the wizard and thatís all: itís great for those of you who donít correctly remember fax numbers. An other more traditional way to send faxes is to call WinFax Pro via the print command of the software you used to create your fax: itís direct and fast. As always the print command will invoke the WinFax Pro 10 sending wizard thatíll guide you to send your fax. In the sending wizard you can also choose to add a cover page to your fax by using one of the predefined ones: when doing so you can fulfil the cover page directly from the wizard by typing the text you want. Youíll be happy to know that WinFax Pro 10 includes a spell checker to ensure your faxes are errors free! Attaching files to your fax in the sending wizard (it works only for excel, word, RTF? Wordperfect, Lotus 123, Quattro Pro files) is another possibility offered by WinFax Pro. Note that the sending wizard permanently displays a thumbnail of the fax youíre currently working on so you can see in real-time what it looks like. The annotation feature of the sending wizard allows everyone to tweak, change, add pics, resize, add stamps, etc. to faxes. If you use Microsoft Office 2000 software youíll be glad to know that a macro integrates WinFax Pro 10 to Microsoft Office 2000 software like word. This macro adds a fax button to your main toolbar near the email-sending button to directly send fax using WinFax Pro. However we notice some macros errors under Word 2000 at each Word start. But thatís not all there are other ways to send faxes! If you donít want to take time creating faxes simply launch WinFax Pro select the new fax button, choose a cover page and then type your text in it: you can choose the font, the size, etc. of the text and you can even add pictures. A new feature introduced in this tenth release is the auto signature button: create and scan your signature once for all and then add it to all the faxes you send using the signature button: itís an awesome enhancement! The quality of the faxes you sent is now simply Ėthe best- and really astonishing since WinFax Pro 10 includes (at least) a laser quality engines that produces near-laser quality faxes especially concerning the photos: if before using WinFax Pro you may have had to resend faxes containing pictures because they were printed by the recipient fax machine as dark paving stones itís not the case anymore with this new release! Phew! Notice that when you send faxes you can ask WinFax Pro 10 to print a sent receipt automatically. Receiving faxes is simple with WinFax Pro 10: indeed when you launch it the automatic receiving feature is enabled so any incoming fax call will be answered (if the modem can distinguish fax from voice calls). When a new fax arrives the tray icon of the WinFax Pro controller will blink with a little and nice star: double clicking on it will display the just received fax. If your modem supports the Caller ID feature WinFax pro will show you from which phone number the fax comes from.