DirectX
ActiveMac
Downloads
Forums
Interviews
News
MS Games & Hardware
Reviews
Support Center
Windows 2000
Windows Me
Windows Server 2003
Windows Vista
Windows XP



News Centers
Windows/Microsoft
DVD
Apple/Mac
Xbox
News Search



ActiveXBox
Xbox News
Box Shots
Inside The Xbox
Released Titles
Announced Titles
Screenshots/Videos
History Of The Xbox
Links
Forum
FAQ



Windows XP
Introduction
System Requirements
Home Features
Pro Features
Upgrade Checklists
History
FAQ
Links
TopTechTips



FAQ's
Windows Vista
Windows 98/98 SE
Windows 2000
Windows Me
Windows Server 2002
Windows "Whistler" XP
Windows CE
Internet Explorer 6
Internet Explorer 5
Xbox
Xbox 360
DirectX
DVD's



TopTechTips
Registry Tips
Windows 95/98
Windows 2000
Internet Explorer 5
Program Tips
Easter Eggs
Hardware
DVD



ActiveDVD
DVD News
DVD Forum
Glossary
Tips
Articles
Reviews
News Archive
Links
Drivers



Latest Reviews
Xbox/Games
Fallout 3

Applications
Windows Server 2008 R2
Windows 7

Hardware
iPod Touch 32GB



Latest Interviews
Steve Ballmer
Jim Allchin



Site News/Info
About This Site
Affiliates
Contact Us
Default Home Page
Link To Us
Links

News Archive
Site Search
Awards



Credits
©1997-2012, Active Network, Inc. All Rights Reserved.
Please click here for full terms of use and restrictions or read our Light Tower Privacy Statement.



Product: Systran Professional Standard
Company: Systran Soft
Website: http://www.systransoft.com
Estimated Street Price: $195 for the downloadable version
Review By: Julien JAY
First Start
When you'll first start Systran Professional 3 you'll discover a sober but real efficient GUI with two windows in it. The source window is the place where you should type your text (or paste it from its original application) to be translated and the target window is where you'll read the result of the translation. When you launch the software the primarily selected translation engine is 'English to French'. If you want to start a translation you just have to type a text in the source window, select the appropriate language engine and click the 'translation' button of the toolbar. The target window will display a few seconds later (the time for the Systran appropriate language engine to load and initialize: once done it appears in the tray). When you see the translation in the target window you can change the font & the size of the writing (but not the color) in order to directly print it. Search and replace features will help you to find specific words and to eventually replace them. Best of all is the empty list in one toolbar of Systran that allows to type or pick up in it the words you want to search for: it's an appreciable feature. If you translate documents in various languages like French to English and English to German, you'll see two Systran engines icons in the tray area of Windows each one raising the appropriate flag of the language pair. A Language Pair is the two languages that are involved in a specific translation. One feature allows translation to a hard drive file by simply selecting the file in a browse dialog (Systran supports the following file formats: TXT, RTF, HTML, SHTML, DOC.) Translated documents can be saved directly from Systran to the RTF, TXT or DOC formats. Systran obviously supports traditional cut/copy/paste commands so you can use it with unsupported applications like for example Corel WordPerfect.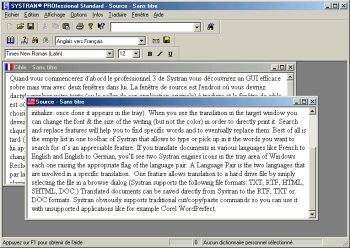 Translation efficiency
The most important thing for translation software is obviously to make correct translations. We have to say that Systran gave us some mitigated results even if we fully understand the following Systran advertisement: "SYSTRAN strives to achieve the highest possible accuracy, however no automated translation is perfect nor is it intended to replace human translators. Users should note that the quality of the source text significantly affects the translations." The first thing that shocked us is that unrecognised words aren't translated (which is normal as they're unknown) but are just copied into the target window as is without any warning: it can create big confusion as you may thought the word may be 'a wrong friend, or cognate' which is not the case… Hopefully advertised users will quickly turnover the difficulty by changing the problematic word by a synonymous. Sure you can create your own personal translation dictionary using the WinCSD: a really non user friendly furnished applet that offers basic tools to add custom words to Systran to the language pair of your choice: click the '+' button and choose the category of the word to add (adjective, noun, verb…) then type it in the source tab and type in the target tab its translation (don't forget to define the gender of the word): this feature is a great one as it enhanced the accuracy of the translation engine by adding words it doesn't know, so more you'll use the software more it'll be clever. The second thing we regret is the fact that if you can translate English to French or Spanish to English text you can't translate by example Spanish to French… This limitation reduces the interest of the software for European users as they'll have to translate first the Spanish text in English and then translate the English result in French. More than painful as you can easily understand. At the level of translation quality Systran is good to fair… It can manage to translate correctly business documents, commercial letters/documents, etc. but if you want to translate technical, literary or expressions then Systran isn't very well in this job. Indeed Systran can gives you bad translations like this: if you type the French word 'littéraire' that means 'literary' and click to translate in English the result is 'arts person'… So the main defect of Systran is that it isn't smart enough to adapt itself to the context meaning of a word to produce an accurate translation. It's really too bad but it reminds everyone that a computer is –only- a machine and not a living brain. For word-to-word translations, Systran is really efficient as well as for short & small translations. Here is another example of the incorrect translations generated by Systran: we took an ActiveWin US article and we asked Systran to translate it in French.
Here is the original article in english:

'Microsoft Corp. today announced the release to manufacturing of the Microsoft® Windows® 2000 Datacenter Server, completing the product family for the Windows 2000 operating system. The Windows 2000 Datacenter Server and its complementary Windows Datacenter Program delivers today's enterprise a high level of reliability, scalability and serviceability for line-of-business, e-commerce solutions and hosting environments. Windows 2000 Datacenter Server provides businesses with the best business value for enterprise computing today and also provides a platform for tomorrow's .NET applications, which require the highest degrees of scalability and reliability, support for a wide range of devices, adherence to key standards like XML, and support for software as a Web service.'




Here is the french translation powered by Systran:



'Microsoft Corp. a aujourd'hui annoncé le dégagement à la fabrication du serveur de Datacenter du ® 2000 de Windows de ® de Microsoft, accomplissant la famille de produit pour le logiciel d'exploitation de Windows 2000. Le serveur de Windows 2000 Datacenter et son programme complémentaire de Windows Datacenter fournit l'entreprise d'aujourd'hui un niveau élevé de fiabilité, de scalability et d'utilité pour des ligne-de-affaires, solutions d'e-commerce et des environnements d'accueil. Le serveur de Windows 2000 Datacenter fournit à des entreprises la meilleure valeur marchande pour l'entreprise calculant aujourd'hui et fournit également une plateforme pour les applications de demain de NET, qui exigent des degrés les plus élevés de scalability et de fiabilité, de l'appui pour un éventail de dispositifs, de l'adhérence pour verouiller des normes comme XML, et du soutien du logiciel comme service d'enchaînement.'
As I'm French I can ensure you that the translation Systran gave us is what we use to call "Chinese French" in France… As you can read the 'scalability' word isn't translated in French, there are a lot of typos, grammar errors and more. The 'verouiller' word contains two R in correct French and worst most of the time the grammatical accordance with link words are wrong. If you can manage to understand the global meaning of the text it's really not easy and pleasant to read due to the numerous errors included in it. We also tested Systran to translate some Spanish emails we use to receive and the result was a bit better: we encountered only a few non translated and unrecognised words that were technology related. In fact the origin of most of the Systran translation errors come from meaning errors where words are incorrectly translated by their wrong meaning as a word can have several meanings depending on the context of its use. We're confident that Systran will continue to enhance further their AI to turn these permanent translations errors into a bad memory! One good point is that Systran knows a wide range of abbreviations: Fox Mulder will surely love this software as UFO is translated to the appropriate expressions for every language!


Systranet and Systran language pairs in the Windows tray